By: Ozgur Cokyuce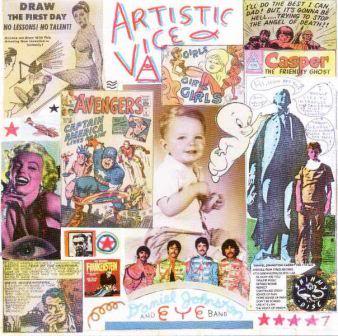 Late last month, I had the chance to interview the indie folk legend Daniel Johnston. He has spent the last 20 or so years exposing his heartrending tales of unrequited love, cosmic mishaps, and existential torment to an ever-growing international cult audience. His songs have been covered by more than 150 artists including Tom Waits, Calvin Johnson, Gordon Gano (Violent Femmes), The Flaming Lips, Mercury Rev, Pearl Jam, Sonic Youth, Wilco, Teenage Fanclub, Eels, Beck, Bright Eyes, Vic Chesnutt, Yo La Tengo, Sparklehorse and Tv On The Radio . He has been mentioned as one of the greatest living songwriters by David Bowie. He has collaborated with the likes of Jad Fair (Half Japanese), The Butthole Surfers, Bongwater/Shimmydisc guru Kramer and members of Sonic Youth. Daniel gained his widest public exposure to date when, at the 1992 MTV Music Awards, Nirvana leader Kurt Cobain (who constantly touted Daniel in interviews) wore a Johnston T-shirt. Dean Ween of the band Ween says, "most songwriters would have given anything to have written one song as good as any Daniel Johnston tune, and he has hundreds". Late 80s and the 90s were difficult for Daniel because of being in hospitals due to his mental illness but will probably be regarded as the years that medical relief was achieved. His wonderful artwork is shown at galleries in London, Liverpool, Zurich, Berlin, Los Angeles and many cities throughout the world.

The Devil and Daniel Johnston - Jeff Feuerzeig's documentary, four years in the making, collated some of the vast amount of recorded material Johnston (and in some case, others) had produced over the years to portray his life and music. The film won high praise, receiving the Director's Award at the 2005 Sundance Film Festival. *We urge you to watch this movie before you read this interview.*

It was very kind of Daniel and his family for taking their time to do this interview. Here's what the Legendary Daniel Johnston told us :


Punk Globe is proud to present – The Daniel Johnston Interview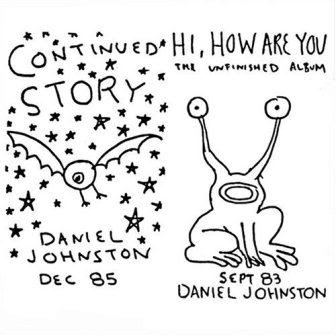 PUNK GLOBE : Daniel, first, thank you so much for taking your time and accepting this interview. How are you and how is 2011 going for you so far?
DANIEL JOHNSTON : Well, it's going great! Everything is really spectacular. We just did a lot of touring last year and this year we're planning on building a studio in my backyard. And I wanna get to some serious recording again; I'm planning to record with Paul Leary from Butthole Surfers.
PUNK GLOBE : You'll be launching your first ever comic book "Infinite Comic Book Of Musical Greatness". You also launched a Kickstarter project for financing it. As far as we know it is an interactive comic that will debut in both a classic, printed version, as well as an online version that combines your artwork with downloadable music, additional storylines, and the chance for fans to add their own contributions to provide an "infinite" experience. We're very excited about it. When will it be out?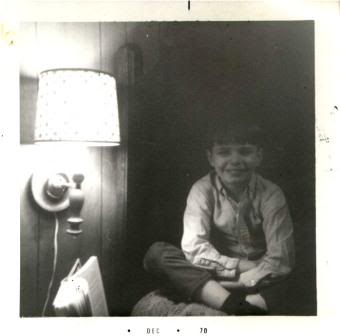 Daniel – 9 years old
PUNK GLOBE : Your last studio album "Is And Always Was" came out in 2009 and you toured many countries in the recent years including the BEAM Tour in Europe, ATP Festival in UK, plus Japan and Australia in early 2010. What are the plans for summer 2011 and the rest of the year?
DANIEL JOHNSTON : After we get the studio ready, I'd like to just record as much as possible and try to get really famous. Try to tour when we're real famous and play the bigger places. That's just a dream, but in a couple years—I mean, they always pack them in when I go play. They're sold out, so--
PUNK GLOBE : Are there any new album plans soon? During an interview in 2009, you mentioned the plans of making "Fun 2" album with Paul Leary and we know you also have a band called "Danny And The Nightmares".
DANIEL JOHNSTON : Yeah, we've got a new album from Danny and The Nightmares called "The Death of Satan." And the Fun 2 album with Paul Leary…. Well that's gonna be called "Weird". I haven't been in contact with Paul for a long time, but he--it must have been three or four years ago--he said he would do the album with me, you know. I hope so 'cause he is really cool to play with.
PUNK GLOBE : Let's go back to the early days. Which bands, were your favorites when you were a teen and maybe influenced the general sound of Daniel Johnston music later?
DANIEL JOHNSTON : We had a lot of really cool 45s! And I used to buy 45s. My momma would put them on and I would just listen to them all and I go: "These two are my favorites!!" And I looked at them and they're both by Paul McCartney. "Who's Paul McCartney?! Who's Paul McCartney?" Then I have a memory of seeing "The Beatles" at a store, going up and seeing "The Beatles" there and "Oh! This is Paul McCartney's old group. I wonder if they're any good?" :))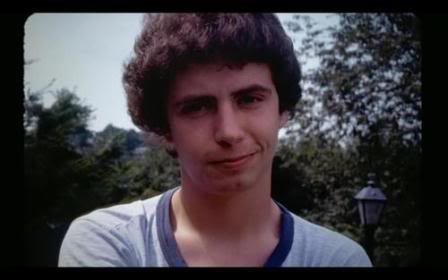 PUNK GLOBE : Which cartoons on TV and other TV series were your favorites back then?
DANIEL JOHNSTON : Well, I just about watch everything, you know. I wonder why all the re-runs are the same re-runs that have been on there for twenty years. You know, you got Magnum, P.I., you got that James Garner guy, right? You got--a bunch of them are the same people that -- None of the re-runs are like new people actually--they're just the same old people. That's why they're called re-runs! Yeah, I guess! Haven't they had enough already, or what?
PUNK GLOBE : Daniel, it seems that all these years you have channeled many things that were going on in your life into your songs and if it didn't go into the song, into your artwork. Looking back, do you say "This album or song was my best?
DANIEL JOHNSTON : Yeah, I always have a favorite or two, you know. "Grievances" really was the one that I was happiest with! Because The Beatles would write a song and then they'd refer to another one of their songs. Like when George said, when they say: "Ob-la-di Ob-la-da / But can you show where you are" or "Ob-la-di Ob-la-da / Life goes on " and other songs and "Jo-Jo". And so, I started referring to lyrics in the song like "Almost got hit by a truck / Climbed up a mountain" and you know all these references to "Grievances." And usually a variation of the chords too.
PUNK GLOBE : Do you also say "The best is yet to come from Daniel Johnston; I haven't created my masterpiece yet" to your fans and followers?
DANIEL JOHNSTON : Oh yeah! It's gotta be. I hope so! I am sooo lazy, that's my problem. 'Cause, you know-- Then, like, I'll put in a movie, I get up--it's dark outside! And what happened, Man?! : ) A 15-minute day just don't last very long for me for some reason.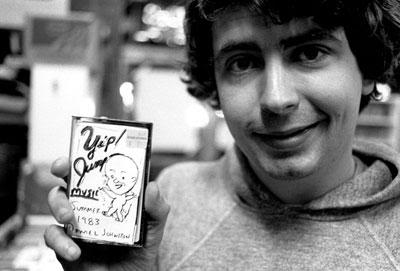 PUNK GLOBE : Here is a funny question: You are in the music scene for thirty years now, you are one of the most unique and highly respected artists of all time and we know your love for the Beatles but if you were to create your all time dream band, who would you choose to be the members?
DANIEL JOHNSTON : Well, Bill Anderson, my friend Bill Anderson. He really plays guitar great. And he loves The Beatles too. It sounds like Beatle music to me. I love working with him. As far as a bass player and a drummer, I'm not really sure, but we want--with him, I wanna try to get to the big time because the guy can play!
PUNK GLOBE : When we look at the complete discography of Daniel Johnston, the honesty is always there. The recording quality has also increased with each album. Especially starting with the "Artistic Vice" album, you started to have a backing band. Have better recording conditions and backing bands changed your songwriting compared to your 80s records? And do you have any new plans to experiment more with your sound including more instruments and maybe recording with big orchestras?
DANIEL JOHNSTON : Oh yes, definitely. You know we went on a tour with an orchestra and that was a lot of fun. As far as, you know, having more instruments, I would like to have the sound improved better and better--so it could be like FM : )))
PUNK GLOBE : Many artists have covered your songs and again many of them declared how much they've been inspired by your art and music. Among these, musicians like Eels, Kurt Cobain, Elliott Smith and Beck, were some of the more praised singer-songwriters during the last ten or twenty years. What do you think of them and do you have any favorite songs by them. Do you listen to any new bands that you would recommend us to check out?
DANIEL JOHNSTON : Yeah, well, all my friends is really what I listen to, besides The Beatles. The Butthole Surfers, Glass Eye – Kathy's group. And, I usually listen to the Beatles and Queen. I love Queen a lot too.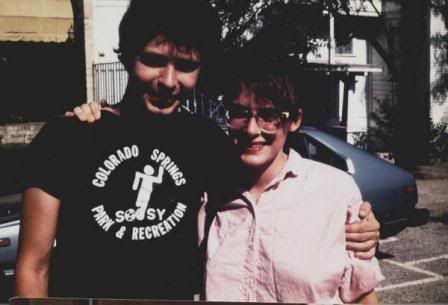 Daniel Johnston with Kathy McCarty in the early days.
PUNK GLOBE : There's a Biopic in the Works about Daniel Johnston and in various interviews you had mentioned how much you loved King Kong and Frankenstein. As of 2011, which movie would you count as your favorite movie of all time?
DANIEL JOHNSTON : King Kong!
PUNK GLOBE : Daniel, if you were a superhero, what special power would you like to have? Invisibility like Casper, super strength like The Incredible Hulk, flying like Superman, Teleport or X-Ray Vision to see people naked & win at cards?
DANIEL JOHNSTON : I dunno. I'm not sure about that. Oh, the Hulk! I wanna be the Hulk! That's for sure!
PUNK GLOBE : The most important question for me in this interview. I see Daniel Johnston as a boy who refused to grow up, an artist who searches freedom through his songs and artwork and is a true legend with a beautiful spirit that still has so much to tell to this world with his wonderful vision. But we would love to hear from Daniel Johnston how he describes himself, and how he would like to be remembered fifty years from now, in his own words?
DANIEL JOHNSTON : I just wish that my records would become, like, collectible and even like a box-set of bunches of them sometimes that people would have them to play forever and children would like it too. And my eulogy? Umm… Daniel Johnston was a funny guy that was into horror movies and, you know, The Beatles, extreme - and we just hope that he made it to the great beyond. :))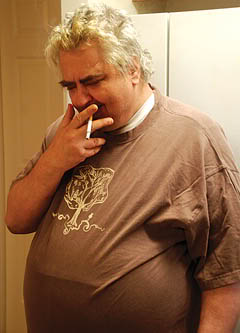 PUNK GLOBE : Last question. There was a kid who once got very excited to be on MTV and wanted to be famous. If you met or saw that kid today, what would you think of him and what would you like to tell him as the 50 year old legend Daniel Johnston?
DANIEL JOHNSTON : I'm supposed to be 50 years old but I don't feel like that. I just feel like a little kid and--what would I say to myself if I ran into myself? I would say "Go to Texas!" Soon as I got here I got famous right away. Texas is where it's at. That's where I got some advice in the first place. This guy from Epic Comics, he said : "You ought to go to Austin, Texas; they've got the underground comic scene!" And I thought that was what was going to go on. And I'd been recording for my friends some tapes and stuff and I started passing out my tapes on the street and then I found out that the whole town has all these clubs playing original music. It was so great, we were all about the same age. And then MTV came to town and we were all on MTV. It was like-- I was working at McDonalds, so it was a bit crazy.
PUNK GLOBE : Alright. Well, I think that's it :) Thank you very much Daniel for this wonderful interview.
DANIEL JOHNSTON : Thank you so much :) You take care and good luck to you!!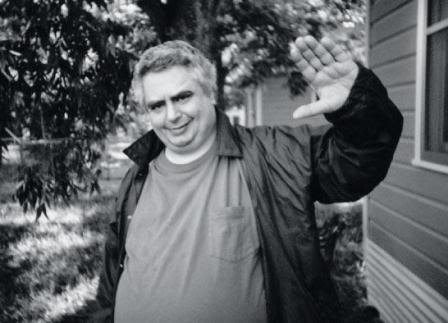 Important Note from Punk Globe to the Readers : If you are planning to purchase any Daniel Johnston merchandise or music we strongly encourage you to buy it through HiHowAreYou.com (official D.J. site) or download it through the site YipEyeTunes.com. This is the one sure way, aside from buying directly at his concerts, to make sure that your money is actually going to support Daniel. The official fansite,RejectedUnknown.com is another very good source for Daniel Johnston, inlcuding updates, interviews, links, etc.
Let's finish with some lyrics from DANIEL JOHNSTON :


*Your picture is still on my wall, on my wall
The colors are bright, bright as ever
Red is strong and blue is pure
Some things last a long time
Some things last a long time

Your picture is still on my wall, on my wall
I think about you often, often
I won't forget all the things we did
Some things last a long time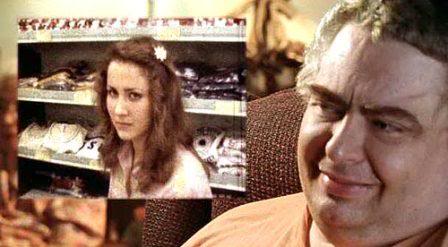 Daniel Johnston watches his muse / childhood love Laurie Allen in a scene from the documentary about him – The Devil and Daniel Johnston. (He drew pictures and wrote many songs for her over the years.) – Sony Pictures Classics


*He was smiling through his own personal hell
Dropped his last dime down a wishing well
But he was hoping too close
And then he fell
Now he's Casper the friendly ghost

No one never treated him nice
While he was alive
You can't buy no respect
Like the librarian said
But everybody respects the dead
They love the friendly ghost

And so the legend grew
And all the people that he knew
Go and spread the news of
Casper the friendly ghost

*Climbed up a Mountain and I looked around
Some kind of circus with all them clowns
I said hey wait a minute can't we slow down a bit
And I almost got hit by a truck
Well it just goes to show you that we're all on our own
Scrounging for our own share of good luck
Stab your brother in the back
And pick up your pay check

*The best things in life are truly free
*I'm a baby in my universe
I'll live forever….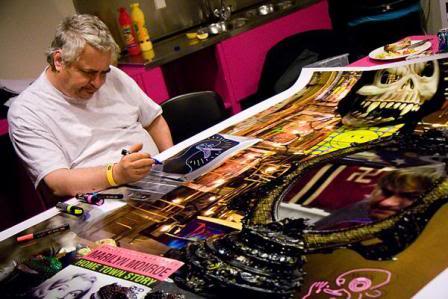 ** Punk Globe would like to thank once again for this amazing interview to Daniel Johnston and to his family. We wish him the best in the rest of his journey & we thank him so much for being an inspiration to us and for the honest adventures he took us through his music and artwork.

We Love You Daniel!!

( MAY 2011 – PUNK GLOBE ) – OZGUR COKYUCE

With the help of my wonderful friend Bibbe Hansen (Beck's Mother) – Thank You.