Never say die! Dreams are like assholes: everybody's got one. Most people flush theirs like yesterdays news. They get on with their lives, putting food on the table never to look back. Their dream in the end is about conformity. They join the poor huddled masses waiting in that long, long line to the grave. There is always that rare individual who sees past the lie of conformity. This individual drinks from the cup of life like an alcoholic with a bottle. They walk through the roses and the rain tasting all of life's pleasures, celebrating family, friends and live their dream. Meet Cynthia Ross.
Cynthia Ross's dream started backstage at a Thin Lizzy concert 40 years ago. We could go on about her relationship with Stiv Bators, friendship with Sid and Nancy, opening for The Clash, Blondie, etc., or the Massy Hall riot. We are not here to review the past, but to see a dream of 40 years realized. The 'B' Girls are back.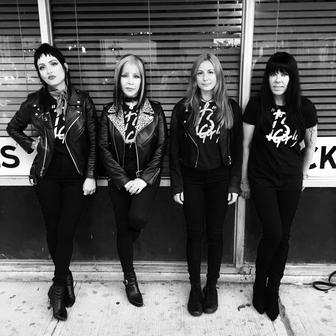 PUNK GLOBE: How did The 'B' Girls reunion come into existence after 40 years?
Cynthia: It's really a celebration and re-creation rather than a reunion. It's the 40th Anniversary of The 'B' Girls forming and the release of our first and only single 'Fun at the Beach' and 'B Side' on Greg Shaw's label BOMP! in 1977. It's the realization of a dream 40 years later! We finally have a full length LP out in 2017! It's pink vinyl and it's on BOMP, back where we started and ended all those years ago. Back where we belong. It's so perfect that it feels surreal. I never gave up on our dream and always believed we needed to claim our rightful place in '77 music history and get the recognition we should have had all along. I'm writing us back into the narrative. The invisible ink has disappeared and we're having a blast.
The way it came about is crazy. The lesson I learned from this is: when you give up trying so hard to make things happen, they often do ... and it's better than you ever could have envisioned! I had tried to get a 'B' Girls reunion happening for years, but none of the other girls were available. Life sometimes gets in the way. And sometimes life forces us to look at what we're doing and take a risk.
One night in early 2017, Lucasta, our original lead singer and rhythm guitar player, posted on social media that she'd had a rough year and was ready to have some fun. We'd kept in touch loosely over the years, but weren't really that close. She had been in a band after The 'B' Girls, but hadn't played or sung in a band for 33 years. She'd gone back to school, completed two University degrees, and had a career singing jingles. I'd gotten married, gone back to school, worked in the public sector, raised children and stopped playing for some of that time, but have been back playing again for nine years now. I responded to Lucasta's post by asking, "How much fun are you ready to have Lucasta Ross? As much fun as doing a 'B' Girls reunion?!" Lucasta came back with: "When is that happening?" I replied, "When you say yes!" Lucasta said, "YES!" And so it began. Finally a yes. Exciting as hell, plus it was like the band was on reset.
Lucasta was the first person I had asked, while hanging out in Phil Lynott's hotel room for a party after a Thin Lizzy concert in 1977, if she'd ever thought of starting a band. I would see her and her friend Xenia at every good concert in Toronto, both dressed to kill and looking amazing. So we really started the band together (she had a great voice and sang jingles since she was a child, unbeknownst to me, but none of us knew how to play). Once Lucasta said yes, we enlisted her best friend Xenia on guitar and backup vocals and my sister Rhonda on drums. Lucasta was the lead singer/rhythm guitar player because she could sing. I was the bass player because I knew I was. By the time we left that hotel bathroom in 1977, we had a band! A fun fact about The 'B' Girls original lineup: we all had either 'Cynthia' or 'Ross' in our name and I have both. How strange is that?
Fast forward to 2017. Now we're starting all over. This time instead of screaming ecstatically about The 'B' Girls face to face, we're talking on Skype, texting and emailing ideas, laughing, gabbing on cell phones and getting to know each other again. None of these technologies had been invented back when we first started. That's a whole other topic.
By 2016, I had pretty much given up on the other girls doing a reunion after eight years of asking; but when Lucasta committed I immediately called Xenia and emailed Marcy with the news. As background, they were the two 'B' Girls - along with Renee and I - who had done most of the gigs, the Clash Tour, recording and so on. Xenia and I were in the band from start to finish. Rhonda left first after four or five months and Marcy eventually replaced her on drums. When Lucasta left at around a year, Xenia moved over to lead vocals and rhythm guitar. We added Renee on lead guitar and backup vocals at that point. I just realized, I've done a 'B' Girls Family Tree for the book I'm writing and now I have to add a whole new branch to include the current lineup!
Anyway, back to February 2017 and trying to get the band going with four of the original members… Me, Lucasta, Xenia and Marcy. That seemed to be the path in front of us. I asked. They wished us luck, but the timing didn't work for either of them, so I went to plan 'B'. This entailed recruiting two new 'B' Girls on guitar and drums. I live in NYC and Lucasta lives in Toronto, so logistically it made sense to find two girls in New York to rehearse and learn the songs, with Lucasta coming down for blocks of rehearsals and practicing on her own in Toronto.
I immediately asked Elisa Moldanado, my friend and co-owner of The Cast (the rock'n roll clothing and custom leather shop where I work), to be our guitar player. It's funny because Elisa is a go-getter, has style for days and is absolutely gorgeous, but I never knew she played until walking in the shop one day and hearing her play 'Rumble' by Link Wray. When I asked if she would play guitar in The 'B' Girls, Elisa said, "Oh, I don't really play, I took guitar lessons when I was 12 and just decided to pick it up again." I laughed because her "not playing" was a hundred times better than the way we played as a band at our first gigs. She can play! She has feel. And she said yes! I began to get excited.
Elisa and I started talking about drummers. I asked friends in local New York bands. One suggested Lyla Vander, who already played in two bands (one an all-girl band on Burger Records). I messaged her and she was interested. We met and talked. She was super sweet and also looked right for the band. Elisa and I got together with Lyla and played a few 'B' Girls songs. She came prepared and was kickass on drums. It was fun. Magic. The 'B' Girls were reborn 40 years later!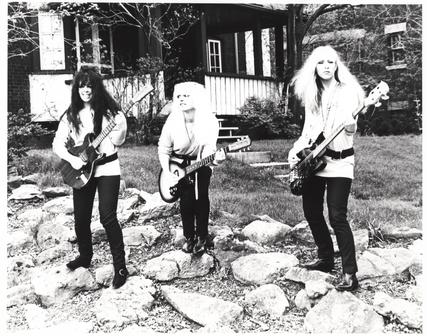 PUNK GLOBE: Can you describe how female energy translates to an audience?
Cynthia: I'm happy that I delayed answering this question until after our second 40th Anniversary gig last week in New York City. This was a very strategically curated lineup with three girl bands (Baby Shakes, The 'B' Girls and Melvins - Japan) plus The Fadeaways, a three piece garage band also from Japan. It's important to have a current girl band on every show that we do. When I first began talking about a possible 'B' Girls reunion, I got a lot of encouragement, excitement and interest from several younger girl bands who knew about and loved The 'B' Girls. This was a surprise to me. They all had our 1977 single on BOMP named "Fun at the Beach," backed with "B Side" and some said they had photos of us on their bedroom wall growing up.
So, in the same way that I looked up to The Shangri-Las, The Ronettes, The Crystals, The Cookies, The Runaways and Suzi Quatro. These girls actually saw us as role models and inspiration. They expressed interest in opening for The 'B' Girls if and when I put something together. Baby Shakes and my friend Bonnie Bloomgarden's band, The Death Valley Girls, were on my list of bands that The 'B' Girls should play with if we reunited.
The first gig we did with the current lineup was Burger Beach Bash July 22nd at Coney Island. It was six songs and so much fun that my face hurt for a week afterwards from smiling. Baby Shakes and all of our friends were out front. Daddy Long Legs went on right after us. The Zeros, our old label mates from BOMP headlined. The energy was electric. The band was great! We did it! Once again, we worked hard and it paid off. Forty years later, it still feels relevant and current.
Female energy is the triumphant expression of Rock 'n Roll in our case. Kick ass, bad ass and fun. That's how I think we translate to an audience, because that's who we are. One can't generalize about female energy because, just like guy bands, every girl band is different. They're the sum of their personalities, history, culture, songs, influences, the political climate and more. It's complex.
The thing that makes any band magnetic is their combined energy and authenticity. It's way more important than technical ability or the individual. People come to see bands. You have to look and feel like a band. If it's not real, it's going to show. A band is a gang with a mission to gain members: your audience. It's not being apart and better than. It's not about gender either. The 'B' Girls always were and still are inspiring to girls and women and that means a lot. We seem to get respect from guys as well because we are serious about playing but fun to listen to. When you're friends and you like each other and what you're doing, people can tell. That energy is contagious!
PUNK GLOBE: The world seems to be dealing with the same issues as when the band stated. What does The 'B' Girls world look like now vs then?
Cynthia: Well the whole evolution and reliance on technology I alluded to earlier makes the world very different. There are waymore bands and way more girl bands out there and we know about them because of social media. Back then, there was a reliance on the almighty record deal and getting signed by the guys who ran the business. Now the music business has retreated as an important player in the systems map of key actors and institutions enabling underground music. The same is true with established, mainstream media. Now we have social media.
Politically and socially I feel we are dealing with an oppressive backlash towards women's rights and human rights around the world right now. It's sad. But at the same time it's an opportunity for women and girls to connect and speak out, play music, stand up and be clear that we're not going to allow things to slide backwards to the 1950s. It's happening. Art and culture are beginning to reflect the position of strength and power that we have. There are still less women than men on any list of public figures in the arts on all levels, but there isn't less talent. So something is inherently wrong and we have to fix it. My goal with The 'B' Girls is to write us back into the narrative that we were an integral part of and inspire women and girls to go for their dreams.
PUNK GLOBE: Since your reformation are The 'B' Girls writing any new material?
Cynthia: Yes. We want to record an EP or a single with the current lineup and get to Japan. Those are two short term goals that I think are achievable. We're also revamping the old songs for our live gigs. Times are different. We're different.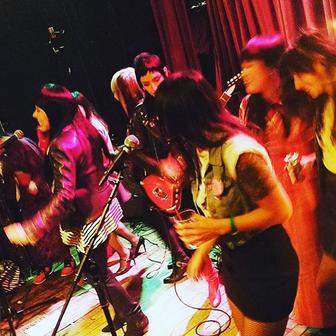 PUNK GLOBE: Obviously...it took a lot of perseverance for this moment to arrive. Can you give us some insight into the mental drive to persevere for 40 years?
Cynthia: When you have a dream that's part of the core of your being, it never really goes away. You've had it from a very young age and it's important on many levels. Sometimes life forces you to put it aside, but when you give yourself space it comes back. It's part of who you are as a person. I'm approaching the current iteration of the band the same way as when we started out. It's hard work, takes stamina and determination. But when you believe in something, it's all worth it. I'm thinking of it as a marathon that we never got close to completing. We quit too early. I've been running it in my mind for years. I've been training. I know the steps. I'm staying focused and I can finally see the finish line. After 40 years, we're achieving what we started and there are so many girl bands running with us. It's the realization of a dream!
PUNK GLOBE: Few bands are ever given an opportunity of such magnitude.
What kind of responsibility comes along with such a gift?
Cynthia: The main responsibility we have is to remain true to ourselves and authentic. We have to be good musically and have fun. The songs and the gigs have to be special and inspire others to follow their dreams. These are the same things that made the band work in 1977. Now I would say we have the added responsibility to tell our story. I'm currently writing a book.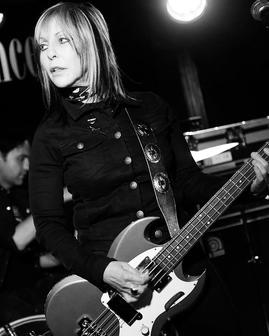 PUNK GLOBE: Please tell us all about the rerelease of The 'B' Girls record?
Cynthia: 'Bad not Evil' is our first full length vinyl release and is comprised of 12 studio recordings and two live tracks recorded between 1977 and 1981. In a way it tells the story of the band's evolution through our songs and musical style. The songs are produced by The 'B' Girls, Debbie Harry (Blondie), Mick Jones (The Clash), Craig Leon (The Ramones, Blondie, Suicide), Bob Segarini (The Wackers) and Liam Sternberg (Rachel Sweet, The Bangles). The original single 'Fun at the Beach/B Side' was remixed by Chris Spedding (producer -The Pretenders, The Sex Pistols) and all songs mastered by Peter J. Moore (The Cowboy Junkies).
It's a limited edition pink vinyl on BOMP! Records back where it all began. You can get it from BOMP! at:
http://www.bompstore.com/b-girls-bad-not-evil-starburst-vinyl-ltd-to-100-copies-hand-mixed/ and various online sources around the world by searching "The B Girls Bad not Evil"
To directly support the band, you can get the record and all of our merch including tees and totes at The Cast:
https://thecast.com/collections/b-girls
PUNK GLOBE: Where can our readers find The 'B' Girls?
Cynthia: We're doing a limited number of 40th Anniversary gigs. So far the shows have been fantastic! The next one is November 4thin Toronto at The Rivoli with Pale Lips from Montreal and The Trash Bags from NYC. After that I'll book West Coast and Japan dates.
You can find us on:
Facebook
https://www.facebook.com/therealbgirls/
Instagram
The 'B' Girls website
Photo Credits: Alan Rand, Rodney Bower, Chuck Guarino, Oweinana Biu