I have known Chris and Crashed Out for a long time they have been a part of Whatever68 Radio since we opened almost 6 years ago,they have always been good to use letting us use whatever songs we want for our Compilations always being supportive of all my projects,I really dig them and their music and I highly recommend them go see for yourself check em out all over social media and if you can go see them at a show.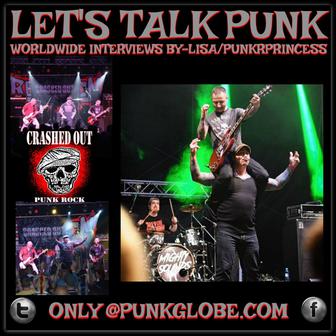 PUNK GLOBE: Hi and thanks for the interview can you give us a little band history including current members and roles
Crashed Out: Crashed Out started about 1995 lee wright my blood brother and guitarist Formed the band aged 15 along with a few of his school mates. Gary Fulcher on vocals and mark spence on drums. The original bass player left pretty early on so I suggested my mate 'Spin' help them out. This line up recorded the first CO single and first album. About 1997 mark left and Raish Carter stepped in on drums. This line up recorded the second album. Then In about 1999 the band split mostly down to a few loosing interest. In 2000 we decided to give it another go and a fresh sound I stepped in on vocal duties Lee on guitar Spin on bass and Decca wade on drums this line up recorded the 3 album. Decca left in 2005 we had about another 3 drummers come and go before getting a committed replacement by Mr Johnny halling in 2007 So this line up recorded the 4th 5th and other eps until 2016 when Johnny called it a day and was replaced by Carlo Bennett. We have had quite a number of drummers over the years probably more than Spinal Tap to be honest ha ha ha But the core of the band remained the same since 2000 chris wright (vocals) Lee wright (guitar) and Spin brown (bass) carlo Bennett (drums )
PUNK GLOBE: How many albums do you all have out?
Crashed Out: Here are our recordings to date in order:
'Fight back' vinyl single hammer records 1995-'This is our music' album hammer records 1996-'Here now and real' album Hammer records 1998
'Back for more' EP self released 2001-'Pearls before swine' album Captain oi records 2005
'Fast loose n live', Album -Self released live album 2007-'Crash and burn' album Randale records 2010-'The dirty dozen' split album with Angelic Upstarts Randale records 2012
'Blood sweat and glory' Split 8 track EP with The Generators Longshot records 2016.
Crashed Out have also been included on many compilations over the years as well.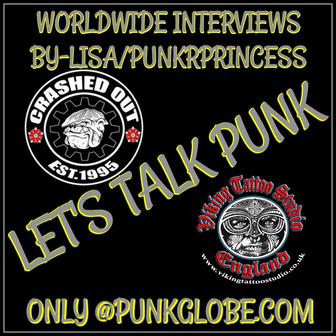 PUNK GLOBE: Can you describe the making of your music?
Crashed Out: Our music started out pretty basic punk rock. Remember the lads were 15 at the time and just learning there instruments We have slowly progressed to a more rock sound. We still have the punk edge with hard hitting lyrics as well as so fun lyrics. But our music has evolved from three cord bash. To a more structured guitar driven sound. We describe it as kinda street rock n roll or streetpunk!! We put the rock into punk rock! The mighty sounds festival described us as-Motörhead and The clash got together to listen to some AC/DC and drink a truck load of beer. Ha ha sums it up I think,End of the day it all comes under the punk rock umbrella!
PUNK GLOBE: Describe your music scene?
Crashed Out: The punk scene in Newcastle north east UK is pretty good it always has been for some reason! Although I'd like to seem more of the younger generation at shows etc Mainland Europe is very healthy we always have a great tour over places like Germany it's alive n kicking
PUNK GLOBE: Is there anything you feel promoters and venues can do to better your music scene?
Crashed Out: Maybe the promoters should branch out a bit they all seem to constantly put on the same old bands. I know there is allot of new bands out there playing a whole range of punk rock but allot of festivals and shows seem to have the same old faces. I think they need to let in the newer breed so to speak.
PUNK GLOBE: Where is your favorite place to play shows?
Crashed Out: Newcastle in the UK And in Berlin Germany in Europe
PUNK GLOBE: If you could play a show any where in the world where would it be?
Crashed Out: Australia just cos I have never been and it would be a good excuse to go ha ha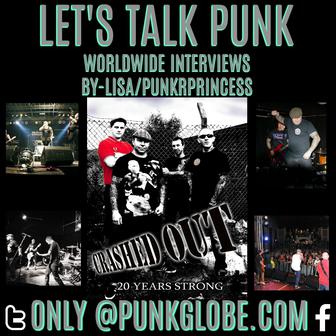 PUNK GLOBE: What are the best and worst parts of being in a band?
Crashed Out: For me the best parts of being in a band is creating our own music hearing and seeing people enjoy it and of course travel and free beer ha ha,
Worst part is the long drives and the fart smells and snoring on long drives, also the loading in!
PUNK GLOBE: What advice do you have for people who want to form their own bands?
Crashed Out: My advice to anyone one who is getting into music starting a band etc! Just be yourself don't try fitting in to suit the gig get festival or promoters agenda! Be yourself go your own way do your own thing, if it's good people will like it and you will live.If not so fucking what you had a go did it your way had a say. As long as your happy and honest that's what counts. Ok boys n girls This is a big one listen up here: always repeat always read the contract, too many good bands have been fucked over! "Ouch"
PUNK GLOBE: How has your music evolved since you first began playing?
Crashed Out: As I mentioned before we have evolved into a more structured sound with rock'ish hooks the 3 cord bash days are long gone! Punk rock n roll, streetpunk, street rock n roll!!! Whatever you wanna call it? To me it's just punk rock
PUNK GLOBE: What are your immediate music career goals? (Next 1 to 3 years.)
Crashed Out: to be brutally honest non! Just to keep playing live and record some good tunes We are no big money making band. We are just 4 ordinary working class lads who love creating music our way and playing live. We totally appreciate the opportunity's we have had playing with bands like rancid, nofx, slf, misfits,Cock sparrer, angelic upstarts etc etc and long may it continue. If we get mega famous and get loads of dosh doing it then all the better for us! But hey hoe who really gives a fuck! As long as the punk rock family loves us then that's cool with us.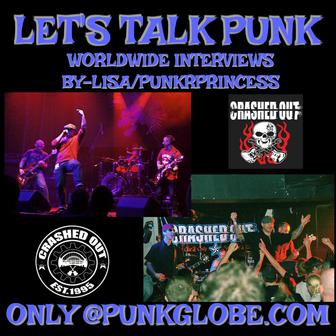 PUNK GLOBE: What are your rehearsals generally like? Do you have a set time each week in which you practice or are rehearsals more spontaneous?
Crashed Out: We usually practice about once or twice a week. Maybe a bit more if a tour is coming up. New stuff is hard to practice as we all have regular jobs. And it's hard for us all to get time off at the same time to work on new stuff. We all have ideas and songs in the Pipline but it's a slow progress! It's happening, but allot slower than bands that don't have day jobs.
PUNK GLOBE: What other hobbies do you have besides making music
Crashed Out: Apart from the band I have a family i am also a tattoo artist I own and run Viking tattoo studio in jarrow Tyne and Wear,I am also a boxing coach i boxed from the age of 11 so it's in my blood.Lee is also a tattoo artist he runs Iron Monkey tattoo studio in South Shields, he also keeps fit likes eating spicy food! Spin is a ground worker he has a proper mans job!Apart from the band and work, he likes the socialize by drinking vast amounts of alcohol in a weekend! Carlo apart from drumming likes movies junk food computer games He is the band geek!
PUNK GLOBE: Who are your musical influences?
Crashed Out: Musical influences wow this could go on forever. Let's just say allot from everything (except dance)Ok so if we have to name names it's in no order: Sex pistols, rancid, angelic upstarts, toy dolls, rose tattoo, AC/DC, Motörhead, Metallica, The clash, But many many more we all have different favourites and influences from a vast musical catalogue. Not just punk or rock but everything and anything. (Except dance) I listen to allot of stuff in my studio, (except dance) every day for 22 years so i myself get inspired by all kinds, Frank carter and the rattlesnakes, are a band I am loving at this moment in time Tomorrow that might change!
PUNK GLOBE: What music are you listening to these days?
Crashed Out: This week I been mainly listening to Frank Carter and the Rattlesnakes and also Jaya the Cat!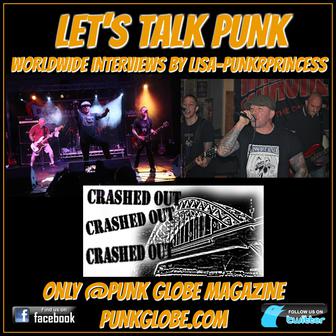 PUNK GLOBE: Where can the readers find you and your music?
Crashed Out: I heard allot saying it's hard to find us and our music!! We are online our web site is www.crashed-out.co.uk our email: iwantit@blueyonder.co.ukor search for us on FB ring us: 4201977 Or drop us a line the old fashioned way: CO 67A Ellison st jarrow Tyne and Wear ne32 3ju UK, Easy as that! People can buy our music merch etc from us direct through your fb page also our music is on itunes and other various download sites to download.
PUNK GLOBE: Any shout outs?
Crashed Out:Thanks Lisa for the interview and the interest. cheers to all that have helped and supported Crashed Out over the years. And a massive cheers and respect to all you that still come to our shows buy our music etc
PUNK GLOBE: Thanks for the interview,all your support and your awesome music..keep rockin!
Crashed Out: Cheeeeeazzzz x