Directed by: Michael Patrick King
Written by: Lisa Kudrow and Michael Patrick King

"This... is my comeback," announces preternaturally perky actress Valerie Cherish to the battery of cameras that has taken over the Beverly Hills home she shares with her husband Mark and occasionally his daughter Franchesca. Much to the dismay of her petrified housekeeper Esperanza, Valerie has agreed to let these cameras trail her as she attempts to return to the sitcom spotlight. Agreeing to the reality show is a prerequisite to Valerie's being cast in the pilot for Room and Bored, a series about "four sexy singles living in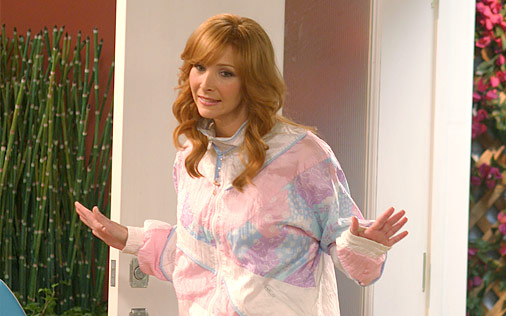 a condo." As the gallery of framed photos on her wall attests, Valerie was once a TV Guide -cover worthy actress who won a People's Choice Award for I'm It!, a '90s sitcom that ran for four seasons.

No longer in the spotlight, Valerie still considers herself a star, and looks to this new chapter of her career with a mix of excitement and trepidation. She appears to be only slightly deflated upon learning she hasn't actually been given the part, and is competing for it against the likes of Mary Lu Henner and Kim Fields. After "winning" the coveted role, Valerie gets her hair done (in a circa 1985 big-feathered-flip) by her longtime hairdresser and friend Mickey, then arrives triumphantly on the Room and Bored set with her reality producers in tow. There she learns that her co-stars are nearly half her age, and the creators want to demote Valerie to a part-time role as "Aunt Sassy," who wears a frumpy pastel running suit and lives upstairs (at least she owns the building). The rude awakening is complete when the seasoned director (James Burrows)- refusing to indulge her preference for multiple takes - informs Valerie that she's "not It anymore."

Clinging to the shreds of her dignity after these closely-chronicled setbacks, Valerie puts on her best performance as she endures several other crises closer to home - from husband Mark's scene-stealing bowel movement during an end-of-day "personal video diary," to a fender-bender that proves you shouldn't drive with a camera crew while returning cell-phone calls, to a recurring water leak that trashes her "It" picture wall and damages her prized Tonight Show photo. However, it's not all bad news - just as everything around her appears to be crumbling, Valerie gets a call from her agent: Room and Bored has been picked up for the fall season.