"http://www.w3.org/TR/xhtml1/DTD/xhtml1-transitional.dtd">
A SPOTLIGHT ON
By: Eagle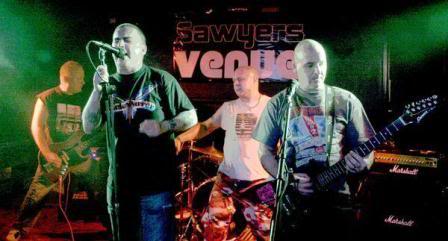 Citizen Keyne are a punk/oi band based out of Milton Keynes, they have been together as a band for 5 years although during that time there have been some line up changes.
They were formed after John and Darren were returning from a certain "punk" festival where we had seen some excellent bands but equally some poor ones so we decided that they would get off our asses and start something ourselves, there is no point moaning about something if you are not prepared to try and make a difference yours self ! And advert was put in the local newspaper the Citizen to recruit the rest of the band and after a few weeks jamming around we decided to give it a go, the name is a play on the film Citizen Kane as we were formed via the Citizen newspaper in Milton KEYNES.
Current line up is
John - vocals
Floyd - guitar
Tim - Bass
Matt - Drums
Darren - 2nd vocals


And its the strongest the band have ever been.
They currently have 2 self financed albums "Ungreat Britain" and "Stand Proud" both of which have been hailed by people that matter such as Fungal Punk Dave as classics and we are currently working on album number 3 via MFS records.
Our CV for gigs boasts support slots to names like Cockney Rejects, Anti Nowhere League, Vice Squad, TMF, UK Subs to name but a few and they can usually be found gigging most weekends. They have a number of high profile gigs lines up for 2010 including the Help For Heroes gig in Wooton Bassett.