Most people know Cindy Wilson as one third of The B-52's. Recently, she has been busy working on a solo effort with a new band, which includes Marie Davon, Lemuel Hayes, Suny Lyons, and Ryan Monahan. They all came through Texas for a short string of intimate shows for SXSW in Austin recently and agreed to cram this interview in, between the stage and the exit door.
So, I got to talk to Cindy and her band about their new E.P. "Supernatural". She also spoke briefly about her experiences on the road, the Hawaiian Mafia, ditching a riot in Germany, and the fine art of working your way around an apple and a whiskey bottle…or two.
Punk Globe: Hi, Cindy. We have the same birthday! February 28th.
Cindy: Pisces!! [Gives me a high-five and a hug].
Punk Globe: So how did this project/band manifest and come together?
Cindy: I've been playing with them for about three years now. Fred and I decided it was either time to retire or take a little time off from The B-52's. I wanted to keep busy and music is the best way for me to stay happy and keep creating. So, I get to play with this band right now who are like family to me.
Suny: It started as an experiment that has evolved over a long period of time. We're playing some smaller shows that are more densely packed, which is a cool energy for the first few shows.
Lemual: We rehearsed the show for 40 days, this is only our eighth show.
Cindy: We've been rehearsing for a while, but we had to come up with the sound and the art. Plus, everyone else had to make a living.
Punk Globe: How is this small tour going?
Cindy: I love it. I got to meet and talk to the audience today. It was very intimate.
Ryan: We did a signing at Cactus Records today before the show and a lot of the people at the signing were here tonight.
Ryan: Everything we're doing right now is by the seat of our pants. We are making this up as we go along.
Punk Globe: Ha-ha! Like me doing this interview!
Ryan: [laughs]We just recently brought in a manager, Dan Mistich. He had no obligation to book these shows, but he booked this entire tour and he's not even a booking agent.
Lemual: It's not his thing, but he's doing it because it's something he believes in.
Cindy: God, you don't get anything like that anywhere.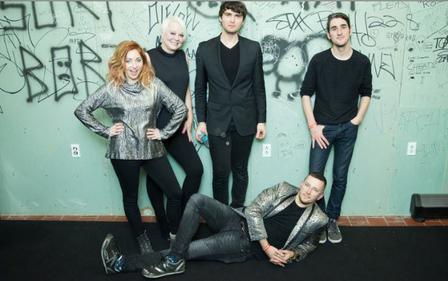 Punk Globe: And next, you're headed to Austin for SXSW?
Cindy: Yes, and it's an honor to be a part of it.
Ryan: By the time SXSW ends, things could change dramatically for us. We're going to be doing shows for booking agents and record labels, so the future is bright but unknown.
Suny: There are a couple of options for us on the table, we have an L.P. that isn't out yet. In two weeks, we should know what to do with it.
Cindy: Plus we intend to keep touring. To me, It's vital that we continue to do that.
Punk Globe: How is life in Athens, Ga. Is it cheap to live there?
All: Yes.
Cindy: It's changing but it's still cheap.
Suny: It's changed, not for better or worse. When I was a kid, there were a lot of places in downtown that were boarded up. There was nothing cool, so you had to make something cool. There's a section of Athens where the buildings are protected from being torn down.
Cindy: Yes! I want to make sure that the neighborhood is protected.
Marie: Rent is still very cheap. Atlanta is expensive, but Athens is affordable.
Punk Globe: How did Marie join the band?
Marie: I've been with these guys since July. I was in Berlin being an artist. Kind of spacing out, I guess, wondering what I was doing with my life. I got a message from Ryan asking if I had some time to play. I said, yes I do have time. And here I am.
Cindy: Marie is invaluable. She's a genius on the violin. Plus she's good energy for the band.
Suny: We've worked on other projects with Marie before and we needed a string player.
Punk Globe: Cindy, do you like these smaller shows that you're doing? It must be different than the bigger shows with The B-52's.
Cindy: Are you kidding? [smiles] I'm loving it. I love the intimacy of the rooms. Plus, I am learning how to sing differently. I don't have to yell. Also, there doesn't have to be just sound, let there be space! That way the ears can breathe. I am learning so much playing with these guys. I should be bowing down to them.
Punk Globe: Going back to the late 70's, were you surprised that The B-52's were signed to Warner Brothers?
Cindy: It was kind of a Cinderella story. It was one a one of kind thing that happened. People really liked our unusual style and we got to be a part of this energy they called new- wave, which encompassed a lot. Or punk, we got a little punk in there, too. I mean, people used to throw stuff at us. But out of that we got signed.
Punk Globe: What about that infamous show in Florida back in the early 80's when you opened for The Who. Do you remember that?
Cindy: Oh wow. Yes. What happened was The Who were a major standardized rock act and they got all these new-wave acts to open for them. It was in Florida and there were a lot of bikers. You have to remember, this was back in the punk days. If you could last fifteen minutes, you earned your money.
So, all these glass bottles are being thrown at us and there were four acts, Joan Jett being one of them. There were a lot of bikers there with their whiskey bottles, and like I said, they kept throwing them at us. The goal was to get the fifteen minutes in so you could get paid. But, Florida wasn't into new-wave, and when it came time to do "Give Me Back My Man", somebody threw an apple at me and it got me right in the stomach. It's been forever remembered as when Cindy got hit by an apple.
Punk Globe: It could get kind of scary back then.
Cindy: I think women were easy targets. We would be covered in spit balls. But, it was an amazing experience and my brother Ricky was right there and he kicked ass!
There was another time in Europe when this douchebag promoter over sold the show and a riot broke out. It was in Germany. I had to take off my wig and go-go boots and run off of the stage to escape the riot.
There was also a trip to Hawaii, where we picked up a show on our way back from Japan. There was a problem with the electricity and our crew said if you do the show, you're going to die. We did a very short set, but the mafia wasn't happy with it and that was a rough trip for us. But, you have to be brave and take chances. Life would be boring if you played it too safe. I wouldn't trade any of it for the world.
Punk Globe: Are you surprised by the longevity of your career?
Cindy: I started at twenty. It was just for fun. Ricky had a plan for him and Keith to be street musicians and that ended up with me, Fred and Kate involved. We didn't take it too seriously, but we did all the right things. We came up with a press kit and rehearsed just like I am doing with this band. Rehearsing is so important! You've got to rehearse. And it's all evolved into where I am now.