News From The Wrong Side Of The Pond
by Chris Wheelie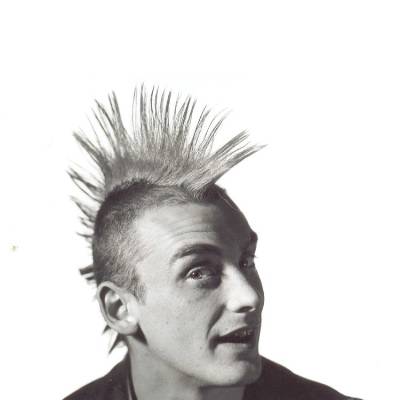 Eating chips (fries', but not the way they cook them here!) liberated from garbage. I hate waste. Fortunately, I live right by the sea, overlooking the Mayflower Steps, no less. A piece of Anglo/American history on my very doorstep. The beauty of this being, despite the glowing historical pride, there are tourists a-plenty (even in this shitty English so-called Spring weather) and they buy takeaways and leave most of it in the (hang on, I'll get the hang of this), trash cans. Ripe for the pickings of such scavenger, alcoholic, no-hopers as yours truly (who'd rather spend his hard-earned Incapacity Benefit (I'll explain at some other juncture) on wine, women and snog). Basically, I get money to survive. Which, in my book, means blow it all on Guinness, Whisky and gigs, and spend the twilight hours rummaging through the leftover cast-offs courtesy of those whose purpose it is to take memorable snaps of where some bunch of freaks decided to set sail and reach another piece of land yet to be corrupted.

Right, just finished my meal, and hooray for our puritan ancestors for that! Bless their buckles.

Are there any record stores in your town these days?

I say, Record, but, don't panic, I could mean CD, or t-shirt, or just plain punk shop would do. How well I remember an ex-girlfriend of mine, some 11 years my junior, upon hearing me yak about a certain track being on the b-side, looking at me with utter incredulity, then asking "What? Has vinyl got TWO sides??"

No, the reason I ask, is cos I've decided that, at least over here, the record shop is pretty much dead. There is, after all, little need for mongers (even punker mongers) to hawk their wares on vinyl or even CD these days. It can all be downloaded. In a way, I feel Hooray for that. It's taking punk back to it's original levels; no need to be analog for the kids to get-on-down. Anyone can make a recording, anyone can unleash their brand of bollocks upon us unprepared and unsuspected dweebs.

I used to run a distro. It was punk, it was vinyl, it was tape (remember them?), it was (grudgingly) CD. It's now little more than a boutique. At least clothes can't be downloaded yet.

But I can't be grudgeful. It's the true spirit of DIY and, hey, kids, ain't what that all punk about? In the latter half of the 70s (no, don't even try and remember) , we were told that home-taping was killing music. But did the music die? Nah, get it feck, it helped it thrive. I taped everything I could get my hands on and it did the bands little harm. I then bought scratched and worn copies of Lps by Undertones, Dead Kenedys, Poison Girls, Psychedelic Furs, Cardiacs et al…. and would do my teenage best to get to the shows. And when the vinyl became too worn, I'd buy a new copy, when funds would allow.

Ya' see, like punk, it's all about adapting in order to survive. We may not have a clue at first, but as long as you're willing to give it a go.

I used to broadcast a punk radio show dedicated to interviewing old farts (Crass, UK Subs, Varukers, Disorder) and playing demo tapes and 7"s by then new bands (Dog On A Rope, The Bloodclots, Fleas and Lice, etc). This was put on to cassette and sent to other countries to be inflicted through pirated airwaves in Switzerland, Australia, South Africa, anywhere that'd entertain my inane ramblings interspersed by decent underground punky tunes. The whole point being, I was doing it from a bedroom and you can too (though much better), in the same vein, as the pritt 'n' paste fanzines of yesteryear.

Embrace it. Use it to it's full advantage. Theses things may seem a little conformist, but. Woah, wasn't that the whole rock"n"roll thing in the first place? This is ours, pop kids, it's ours to use and, in true pirate fashion, we should grasp the cyberspace with both hands and not conform, but smash the closed shop. Make it open to others and do it our own way. It's here. Let's do it.