I have know Christopher for quite a few years... I first met him dressed as Superman on Hollywood Boulevard and would often run into him also dressed as the man of steel at various The Wow Report parties. Rubbing elbows with James St. James, Ru Paul, Fenton Bailey, Lina Lecaro, Sham Ibrahim and Lenora Clare among many others..... I was saddened to hear about him being a victim of a violent crime. I immediately thought that an interview with Mr. Dennis would be good to let people know just what happened... There is a fundraising campaign to help raise finances for a segment that will be called "From Homeless To Hero" in a feature documentary series about Dennis called "The Kid" by famed film director Vlad Kozlov. I hope you enjoy the interview and that you will help out with the documentary funding..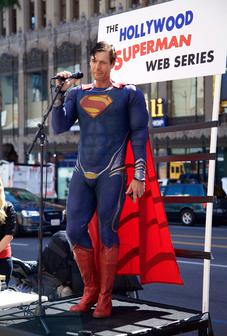 Punk Globe: Thanks Christopher can you give the readers some background information about yourself?
Christopher: My name is Christopher Lloyd Dennis and I've portrayed the character of Superman on Hollywood blvd for over 25 years. I am the founding father of the costume characters on Hollywood Blvd, I WAS THE FIRST!
Punk Globe: What was your early years like and were you into Superman while growing up?
Christopher: I was an orphan, and was passed around from shelter to shelter. I never knew what it was like to have a family. When I discovered Superman it gave me a purpose in my life.
Punk Globe: Did you ever watch the l Superman series that ran on television until the untimely death of George Reeves?
Christopher: I've seen every Superman movie and TV show, I've read every Superman comic, and collect every piece of Superman memorabilia that I can.
Punk Globe: Do you know who the actors name who originally portrayed Superman
Christopher: Ray Middleton…
Punk Globe: At what age did you realize that you resembled Christopher Reeve?
Christopher: I was a waiter at the Hamburger Hamlet and customers kept telling me how much I look like Christopher Reeve/ Superman. I believe I was in my early 20's.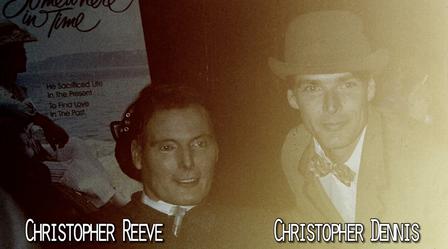 Punk Globe: Tell us about your first time on Hollywood going in character as Superman?
Christopher: I made over one thousand dollars that day… I was uncomfortable at first but then people started asking for photos and from that moment I knew this was what I wanted to do.
Punk Globe: Is there a long history of people paying tribute to characters on the Blvd?
Christopher: Yes, I started 25 years ago, and then in about half a year the boulevard had a few more characters and its just grown more and more from there. There is a few dozen characters on the boulevard today.
Punk Globe: You were recently a victim of a violent crime please tell us what happened?
Christopher: One night after work, I was beaten with the golf club and robbed. My costume was stolen and all my money, my laptop and other belongings.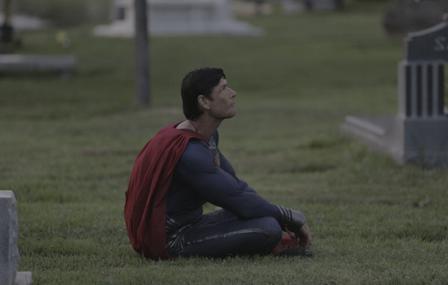 Punk Globe: Is it true that because of the assault you lost your home and your prized Superman collection?
Christopher: Yes, Superman is how I make a living. Part of my collection was stolen when I was homeless and had no place to keep my stuff. BUT I was able to keep some of it in my small storage in the city of Alhambra.
Punk Globe: How long were you in the hospital?
Christopher: Several miserable days.
Punk Globe: Have they ever caught the thugs who were responsible for your injuries?
Christopher: They were detained BUT then released because there wasn't enough evidence.
Punk Globe: Do you feel comfortable or safe going out on the boulevard now?
Christopher: Yes I do because Hollywood boulevard is my home away from home.
Punk Globe: Before your assault you appeared regularly on Jimmy Kimmel. Tell the readers about your appearances
Christopher: I've been on Jimmy Kimmel's over 200 episodes. The last one I was acting with Harrison Ford. That was fun. Jimmy is a great guy.
Punk Globe: Tell the readers about some of the films you have been in?
Christopher: I was in many movies but my most recent and favorite was the short film "The Kid" with famous spaghetti Western star, Franco Nero. My friend, visionary film director Vlad Kozlov, directed the Project. Currently Vlad is doing a feature documentary about my life and struggles with the same title "The Kid". We will be filming re-enactments scenes of my childhood and youth.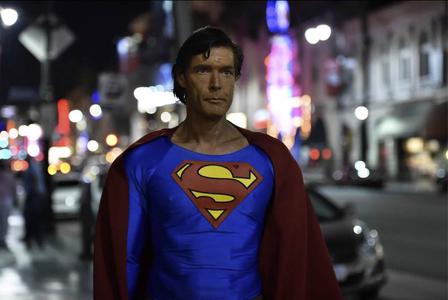 Punk Globe: You also got the chance to meet Christopher Reeve am I correct?
Christopher: Yes, I met him twice. From the distance he thought I was one of his doubles. It was in NYC when I met him and I was inspired by his charm, encouragement and spirit. He is a great man !
Punk Globe: And you also appeared in Jared Leto's band Seconds To Mars video right?
Christopher: Yes. I've been in many music videos but Jared's was the best.
Punk Globe: What is in the future for you that you might like to share with us?
Christopher: As I've mentioned above, my friend director Vlad and I are working on the feature documentary "The Kid" based on my life. He filmed me for over 4 years and captured some of the scariest and funny moments of my life even when I was sleeping on the streets. We hope that we will bring this film to the Academy next year and win the Oscar!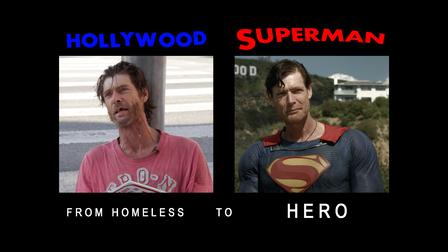 Punk Globe: Do you have any websites or fund raisers that you would like to share with the readers?
Christopher: Yes, we are running a crowd funding campaign for my documentary series "The Kid" to fund a segment called "From Homeless to Hero". Here is the website: www.thehollywoodsuperman.com
and here is the link to indiegogo campaign: https://www.indiegogo.com/projects/hollywood-superman-from-homeless-to-hero-cosplay#/
Punk Globe: Any last words for Punk Globe readers?
Christopher: Anyone can be Super!
If I can make it without parents, money and etc., anyone can make it regardless of their circumstances.