Of The Alterboys, Ultrasheen and Vague Moon Records
By: Ginger Coyote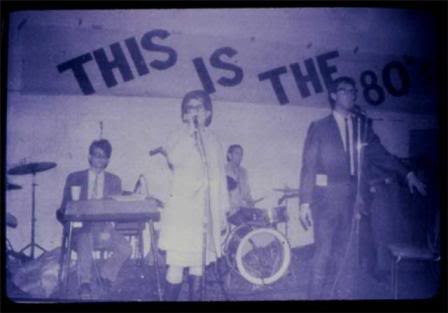 Punk Globe: So are you excited about going back to San Francisco for the Alterboys reunion in February?
Punk Globe: Can you tell us where you are located now?
Chris Gill: I live in the Boston area, where I have my family, and do a pretty serious day gig (gotta eat, ya know!). I also have a tiny record company, Vague Moon Records, where I record and release an occasional CD Music and art will always be in my blood. In my core being, I have the same attitude I did when I was in the San Francisco punk music and art scene.
Punk Globe: Tell us about the reunion? Where will it be and who out the shindig together?
Chris Gill: The Club Foot reunion gig is at the San Francisco night club, Cafe du Nord, on February 11th, 2010. J.C. Garrett, the surviving co-founder of Club Foot is putting it together. It should be a blast. We'll have to ask Garrett who exactly has committed to coming and playing. I hear a big tribe from that 70's and 80's punk scene will converge for the gig. The Longshoremen, The Club foot Orchestra, The Alterboys etc... Garrett will have to tell us who is coming from among the bands and artists that so often payed at Club Foot, from among the Inflatable Boy Clams, Naked City, Bay of Pigs, Pink Section etc.. There will be surprises I'm sure.
Punk Globe: How long has it been since you were last in San Francisco?
Chris Gill: I visited Charley Hagan (my cohort in Ultrasheen and an original member of The Mutants) 3 years ago for a few days. Prior to that, it was spring 1981, to play with Ultrashheen at the Wave Goodbye album session at the Savoy Tivoli, which was the last gig there before they closed.
Punk Globe: Chris can you give the readers a rundown of your career?
Punk Globe: It seems that alot of bands are reforming and having fairly successful careers. Would you ever consider doing that with The Altar Boys?
Chris Gill: You'd have to ask Garrett that. Not likely. I was not even the original drummer for the Alterboys, who basically consisted of Garrett and Richard Kelly, Jo Jo Planteen and a fairly interchangeable cast of other players. The original drummer, who switched to trumpet when I joined, was Richard Edson, who was an important collaborator with Richard and Garrett in the Club Foot venture. He left San Francisco for New York to play with John Lurie, and later became a movie actor ( he played the sleazy parking lot attendant who wrecked Ferris Bueller's father's car in Ferris Bueller's Day Off) in movies like Stranger than Paradise, Do the Right Thing and a whole lot of others.
Punk Globe: And of course you played with the fabulous Ultrasheen with Charley Hagen and Shirley Larry Waters.. Such a brilliant band. Are you in touch with any of them? Ultrasheen played a Punk Globe Party with The Dead Kennedy's. Vktms, The Lewd and No Alternative as I remember..
Punk Globe: I know alot of people who would love an Ultrasheen reunion! Could that ever happen?
Chris Gill: It would take some doing to round us all up, and coax us from our different lives to play again for no money! We were cool, but little known beyond San Francisco.
Punk Globe: Did Ultra Sheen ever release any music?
Chris Gill: One 4 song vinyl 45. I've got a few copies. Subterranean has re-released at at least once. You can find it on the Internet. at work now. Ultrasheen recorded output: we also are on the live Rock City album and the Wave Goodbye Savoy Tivoli live album. We also did a Target Video performance.
Punk Globe: Tell us about your other projects?
Punk Globe: How is your Record Label doing? Who do you have signed to the label?
Chris Gill: No signing, exactly. I release records of myself and friends. We'll continue to do so.
Punk Globe: Does the label have distribution?
Chris Gill: Mostly my own distribution efforts. We're working on broadening distribution.
Punk Globe: Do you care to give us any website addresses for My Space or Facebook?
Punk Globe: Are you open to bands sending you demo's for consideration?
Chris Gill: Eventually, but too busy on own projects so far, and insufficient capital and time to go big at this point.
Punk Globe: Having gone through the band business when you were younger do you have any advice to upcoming musicians?
Chris Gill: Sure. Have fun. Be original. Fuck professional technique and go with your body rhythms. Listenabilty will follow. If you have passion about music, do it forever. If you are trying to get rich, get a real job.
Chris Gill: The Big Dr. Jr. and The Primidonnatives Cd release in a month or two, and a new Primidonnatives Cd by the end of the summer.
Punk Globe: Any last words for Punk Globe readers?
Chris Gill: Anyone with an idea in their head can create art and music. Don't let the professionals scare you off. Most great music is created by people who don't know what they are doing. That's how they manage to do something different and worthwhile. Keep the faith.....
Love Chris