My first encounter with Cherry Vanilla was when I heard her smoky voice on the radio doing promo shots for Bowie, in the early seventies. I was smitten with all things Bowie then, so it was a natural progression to follow Cherry to her cabaret shows at Trude Heller's.
I was taken with her instantly. Not only was she talented and beautiful, but I laughed so much that I cried when she did a skit about her best friend "Eddy, the Electronic Clit Machine." Though I met Cherry several times socially in the following years, it was not until she arrived in Berlin in 1979 to take the part of a kleptomaniac-prostitute, (a part that Romy Haag had done rather brilliantly but had to step out of because of another engagement) in Tony Ingrassia's play, Sheila that we became close friends. Her creative genius was evident once more as she learned the part in less than forty eight hours and made it so wonderfully unique.
When we returned from Berlin, Cherry had the brainstorm to do an all girl review at the Ritz. Pretty soon after, the show became a monthly run at the Ritz and later, Limelight ... when Gabriel Rotello picked up the baton and added boys. The shows were so well-received that people are still talking about the Girls Night Out Reviews today. Nonetheless, though gifted in so many creative pursuits, Cherry's humanity is what impresses me most about her. It's funny when one thinks about one's history with a person, it's not the glitz and glamour that come to mind; rather it's the way that person has made you feel.
There was once a time in my life that I felt very lost because I was at the brink of making a life-altering decision. I remember going to visit Cherry and her boyfriend Louie Lepore one Sunday afternoon after being up all night and feeling like crap. Cherry immediately said "Louie, make Donna some spaghetti with butter and pepper." As I sat and ate with her and Louie, there were really no words necessary, but I remember a distinct feeling that all would be well ... and, ultimately, it was. That sense of comfort in another's company, my friends, is what makes a true friend. That is why I am honored to count Cherry Vanilla as one of my very best friends.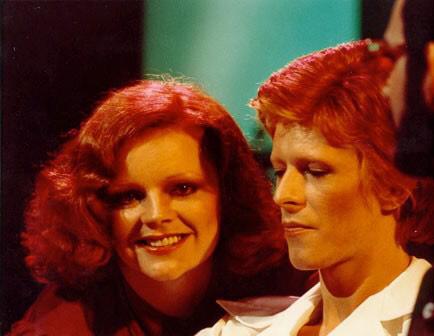 Punk Globe: I loved Lick Me ... especially that it chronicles your success in the advertising world, a world largely dominated by men. However, I wanted the book to go on into the Bowie years. Can you tell Punk Globe Readers what working with Bowie was really like ... some insight into the real David as opposed to the public persona?
Cherry Vanilla Well, a famous movie director recently commented to me that Bowie "was from outta space." And that's a possibility I accept. But, of course, he wasn't Ziggy Stardust all the time.
He was a very focused artist, working at something constantly, but somehow making it seem like child's play. He was so organized, methodical, but all with a kind of casual, effortless ease. And not only when it came to his art, but also his image. The perfect rock star!
He was totally cool to work with ... the way it is when you have full trust in each other's abilities and intentions. He never dictated as to how he wanted to be represented by me. He treated me as a fellow creative artist, even though he knew I was just improvising, making it up as I went along. I think he trusted me in that sense more than those who came on as "professionals" ... at least in those early days anyway. And let's face it, we were all so young and beautiful. There was always sex in the air ... and occasionally even in the bedroom.
He treated women and men equally, never rating the intellect of one above the other. I think one would be surprised at how relaxed and informal the real David Bowie could be, compared to his public persona. He might have come off as playing calculated mind games in media interviews, but he was much more straightforward, direct and even funny when hanging with the Mainman crew and me ... always fascinating, of course, but just not so much of a poser.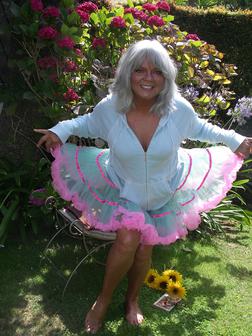 Punk Globe: Though we met many moons ago ... at Trude Heller's to be exact, when you were doing your one woman show, we only became close friends in Berlin. What was it like working with Tony Ingrassia on that show? Can you tell us about how it was flying across the ocean and learning the part in less than forty eight hours?
Cherry Vanilla OMG, that was thrilling. I mean, for an actress to get a call like that, out of the blue, saying "Go buy some costumes and get on a plane to Berlin tomorrow. You're doing Sheila at the National Theater." And didn't they treat us great there, Donna! I mean an apartment of my own and a shower in my dressing room. And remember, the wall was still up and was right next to the theater, so we could look over it onto the Communist side.
I landed in Berlin early in the morning, got the script, saw the theater, did an interview and a luncheon, toured around Berlin with Tony, eventually went to the apartment, made a tape recording of my lines and played them over and over as I fell asleep. Each time I woke in the night, I played them some more. And I was so so tired. Next morning a photo session with that wonderful photographer who did all of the Nina Hagen stuff ... another interview, rehearsal, and, wham, I was on ... either that night or the next. I forgot my lines so many times, but somehow, like always with fabulous fellow actors, we pulled it off.
I think I only did like six performances. And I was just getting going when Sheila's run was over. It was all about the famous drag queen, Romy Haag having to leave the play early, so I replaced her. It was grueling in a way, but also so exciting. And then we had to do songs with the band afterwards. And you rescued me, helping me to learn Save The Last Dance For Me, which I sang while sitting atop a full-size refrigerator. I loved working with you and being with you so much, I thought "We have to do more of this." So that's when I cooked up Girls Night Out.
Punk Globe: I have so many fond memories of our Girls Night Out shows at the Ritz and the Limelight. People still talk about those reviews! No one can argue that the shows were your brainchild, though our friend Gabriel Rotello picked up the baton with his Downtown Dukes and Divas reviews. From where did the idea for the Girls Night Out shows come? What incidents from those shows are uppermost in your memory?
Cherry Vanilla I was mostly influenced by the rock & roll TV shows I'd grown up with, I guess, like The Tammy Show, Shindig and Hullabaloo. It's a good formula ... ya get one great band (though I think we used separate bands for the first one), a bunch of gorgeous girl singers doing one number each, and then they all get together at the end for a big Phil Spector medley. Who could not love that? And doing them around a holiday was always good for a theme. Remember, we did Easter, Fourth of July, Mother's Day A-go-go. And everyone got fifty bucks each. All except me, of course. I usually wound up spending every penny of the three thousand dollar budget left after salaries, on costumes, lighting, videos, posters and the like, including my own fifty, and often then some. Those shows were certainly not done for the money. But they were so entertaining and so much fun, for both the audiences and us.
A vision I hold dear from them was you doing the Jefferson Airplane's White Rabbit in your pink glitter playboy bunny outfit, in front of a psychedelic video, while a couple of us threw those little White Rabbit Chinese candies out into the audience. That and the night Vangelis came to see the show, bringing the actress Jane Seymour along. And, of course, having the fabulous Ronnie Spector in the line-up was our cherry on top. But it was the hustle, bustle, push-up bras, gossipy chatter, makeup/hairspray-scented backstage scene that was always such a gas. Everyone just got along so well and everyone gave their all. What a wonderful time it was! I'm so glad I took on that challenge, even though it usually proved a bit costly for me.
Yes, Gabriel took them over with my blessing. And he found a way to make money on them! I liked not having the responsibility of producing them anymore, but rather just performing in them or MC-ing. But they never had quite the same feeling for me once the guys and the drag queens were included. I suppose it was inevitable that they would eventually evolve, and they were still fun. But it was those early all-girl ones that stand out in my mind to this day. Jerry Brandt (owner of the Ritz, manager of Jobriath) had plans to take Girl's Night Out on the road, but unfortunately for us that never happened.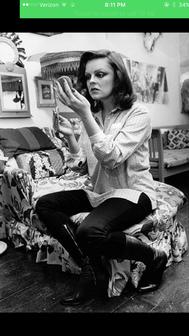 Punk Globe: Over the years, you've managed to work with many larger than life, famous people. When I think of encounters with the rich and famous, or the way memory functions in general ... it's always one scenario or episode that sticks out among others. What are some scenarios that you can share about Tim Burton? Vangelis? The Police? Rufus? Marc Shaiman and Scott Wittman? And please put to rest for once and for all that rumour that "Rip Her to Shreds" is about you ... that you and Deborah Harry have always been good friends!
Cherry Vanilla Well, I must admit that a lot of the Rip Her To Shreds lyrics sound like they could be about me. But it was more likely a composite character they made up, incorporating a lot of us who hung at Max's Kansas City at the time. I was never super close with Debbie, but we did Jackie Curtis's Vain Victory together for Ingrassia and it gave us that respect for each other that actors seem to have, more than the competitive bent that some lead-singer girls in bands had back then. Now that so many years have gone by, I kind of like owning the idea that it might be about me, ya know. It's a tough, fun little rock and roll song, and Debbie sings it with the perfect attitude. So, why not?
As for Tim Burton, his child-like nature is so appealing to me. Much of what I said about working for Bowie and about the way Bowie worked also applies to Tim. But with Tim, there was no "posing," no smart-aleck interview answers ... and no sex. And with Tim, unlike with David, I have a close and genuine friendship that I believe will last forever. I love that with all of the world's riches that Tim can afford now, all of the fancy hotel rooms, vacations, art, toys and the like, he says his favorite possession ever is his 1938 Airstream trailer. I was staying one stormy weekend at the house out in California's high desert where it's parked, and all he could talk about at breakfast was how wonderful the rain sounded all night on its aluminum shell. I love that these are the kinds of things he treasures. And I love that he's had the same inner-circle around him for decades, and that he manages to evade the social and media spotlight like he does.
That same inner-circle thing applies to Rufus Wainwright as well, same close friends now as back when he was just starting out. Although Rufus seems to actually enjoy messing around in the social and media spotlight, and manages to balance it well with his private life. Rufus is the last great love of my life. No sex, but I've had a passionate, motherly, unconditional love thing going on with Rufus from the day I met him. And again, I feel it will last our whole lives through. Rufus not only treats me with great respect, he generously treats me to many wonderful trips and experiences, paying for my plane tickets and hotels to attend his gigs and vacation with him in Paris, Venice, Athens, Montauk, Saint Sauveur. And we drove from Toronto to New York one day, only to drive all the way back to Montreal two days later. I learned a lot about opera and classical music on those drives. Rufus loves to drive. He says it relaxes him, and he's a really good driver.
As for Vangelis, he taught me a lot about always looking at the bigger picture. I remember one night in London at his beautiful Queens Gate flat. It was just him and me, talking together, with him periodically playing some incredible pieces on the piano. Around three in the morning I announced that I was going to bed, because we had important meetings the next day. He asked me if I was tired, and I replied "No, but we have work to do tomorrow." He looked at me as if I was a child and said, "My darling Cherry, tomorrow's just a bunch of bullshit meetings. This is when the real work gets done." And yet, for a man so focused on the really big picture -- the galactic universe, the music of the spheres, the spiral of time -- he could be the biggest baby about his health, his diet, his vanity, his image -- always reeking of L'Atrisan perfumes, crafting strange exotic hairdos to hide his bald spot, and often eating only ice cream with sugar on it for dinner. The greatest thing Vangelis did for me was to enable me to get to know Greece, one of my very favorite places on earth. And it was all first, or at least business-class travel.
The Police did not impress me. But they did all of the driving and roadie-ing when they played for me and were my opening act, so I was grateful for that. The fact that they tried very hard to erase me from their bios once they made it, I just found to be stupid and mean.
Marc Shaiman and Scott Wittman are two of the most talented artists I know. More importantly, they are two of the nicest, kindest, most fun guys ever. Their inner circle of forever friends speaks for both their loyalty and taste -- incredibly down to earth stars like Bette Midler, Billy Crystal, Patti LuPone, Martin Short, Sarah Jessica Parker, Matthew Broderick, Jennifer Lewis, and so on. Scott Wittman has been so generous, letting me stay at his super glamorous Chelsea loft with him whenever I'm in New York. I usually stay there rather than at Tim Burton's high in the sky penthouse apartment, for which I also have an open invitation, 'cause when at Tim's I'm alone, and I enjoy Scott's company so much. Am I a lucky girl, or what!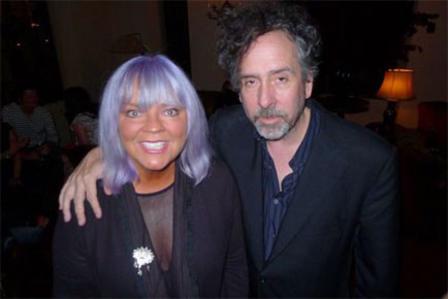 Punk Globe: We worked together on several projects over the years, but my favorite is probably the show Elaine Vouvray at the Prom. In that show we wore BVD "Wife Beater" T-shirts and tulle skirts ... long before Pat Field dressed Sarah Jessica Parker similarly in Sex and the City. It's safe to say, you've always been a fashion maverick. From where or whom do you get your fashion inspiration? How do you feel about fashion today? Is there a lack of style in our present culture ... or an abundance of it? Who are your favorite designers? What does Cherry Vanilla wear when getting ready to go out these days? Is there a specific look that you are fond of?
Cherry Vanilla Darling, not only were our tulle skirts/wife beaters combos long before Sex and the City, the skirts were actually made of all separate little puffs of tulle, attached to our BVD tighty-whities with Velcro. And we were able to pull them off one-by-one during the performance, thus exposing the sequined letter we each had at the crotch ... B for Bahari, V for Vanilla, and D for Destri! Billy Gallo made the costumes and we sang to backing tracks made by Marc Shaiman. It was such a romantic show I remember my German husband of five-minutes, our prom king, was in a white dinner jacket and so stunningly gorgeous.
Funny, I never thought of myself as a "fashion maverick." I did have help, of course, from Tina Bossidy, a major NYC stylist at the time, and from dear darling Franklyn Welsh. Franklyn was not only the best makeup artist and hairdresser of all times, he was also my constant buddy and advised me on all things visual -- fashion, furnishings, finds of all kinds.
In reality, my style comes from having the freaky body I have. In my constant attempts to make the most of my best features -- small hips, long legs --- and hide my worst -- love handles, no waist -- I kind of created a style of my own. Vangelis used to say I was "going out with no pants on," but in reality, I was a bit of a forerunner of the leggings-with-loose-top-look that's become so popular in the last few years. At first I used to wear black stretch satin peddle-pushers from Frederick's of Hollywood, but then my friend Lenny found cotton fabric with a little spandex in it and made me lots of ankle-length leggings in wonderful colors, some hand painted, with oversized T-shirts to match. They weren't even called "leggings" though until decades later. They were just "Lenny pants." Lenny is still selling them, along with his wonderful rockabilly shirts for guys via the web.
I adore the fashions of today and how close to naked women can be in public and get away with it. And I love all of the lux fabrics, embroidery, beading. embellishments that the haute couture designers like Dundas, Rodarte and Dolce & Gabbana
are using these days. Some of those gowns look like they were created for royalty in the sixteenth and seventeenth centuries. Not to mention those incredible other-worldly, laser-printed creations by Iris Van Herpen! But even if I could afford them, I would only want to be in them for a photo shoot or a brief appearance. I am really all about comfort these days. And I'm still mostly doing variations on the tight bottom, loose top look. Though I have been wearing actual dresses and actual pants a bit more of late.
I'm very practical. Almost everything has to be washer/dryer proof. No high heels anymore either. I'm all about platform sneakers now, thanks to Rihanna, Miley Cyrus, Kristen Stewart and all of those wonderfully liberated young women who made them chic and in, even with evening wear. I've always loved Chanel and Christian Dior the best. And I wish I could afford even one of the fabulous long black dresses or suits from Dior's 2017 Spring collection. But I usually wear much less precious pieces, like from Free People, Max Studio, Armani X and Johnny Was. I like to feel comfortable and free in my clothes, and not worry about how much they cost. I have one of the best outlet malls near me in Palm Springs, and I always score some little gem there for like seventy to eighty percent off it's original price. I get a kick out of finding bargains. It's no fun unless I feel I am practically stealing it.
It's so hot in Palm Springs in the summer; I usually just go around in a sarong and sandals. In the winter, one can wear a light jacket at night. My favorite jacket of all times is from Marithe Francois Girbaud. I've worn that to events for years and someone always compliments me on it. I don't think that label exists anymore though.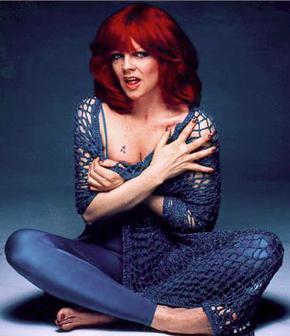 Punk Globe: Today, we are experiencing a resistance that is not unlike that of the protests of the 60's. What are the parallels between then and now, in your opinion? I know you are passionate about Global Warming. Can you discuss your views on that issue among others?
Cherry Vanilla I'm so happy that people are getting out into the streets again, protesting the insane, illogical policies of our government. And that masses are turning to the flower-power drugs of yore again, like marijuana and LSD ... although opioids and speed do continue to be a major scourge on our society. We need true drug education, not the kind that lumps all things into one category. There's a huge difference in the behavior between a person who enjoys a bit of harmless weed and one who is hooked on pills and white powders. But with Trump overturning Obama's executive order to decrease the number of privately owned prisons, and now increasing them to boot, somebody is making a lot of money by insuring that those drugs are still out there, and that judges are issuing longer and longer sentences for drug offenders. It's all about power and greed. And our evil leaders at the moment just can't seem to get their fill.
As for global warming, I fear it's too late for us as a species on this planet, even if we had someone like Al Gore in the white house ... which we should have had long ago. Even if we began the reversal process right now, which we are not doing. I think it's too late to save humanity. That is a terrible opinion to express for anyone with children, I know. But unless the aliens come down here and help us with some advanced technology again, or billions of people get wiped out to decrease the population, I'm afraid we are doomed. And the fact that members of our current administration won't even acknowledge the problem, because of their short-sighted greed, makes me want to give them all a giant dose of psychedelics to open their eyes to the truth.
Punk Globe: Recently we talked about treating anxiety with controlled hallucinogens. Can you elaborate on that process? I think that in today's social and political climate, there are more people suffering from anxiety than are willing to admit it!
Cherry Vanilla Yes, and most of them are hooked on Xanax. I have suffered from a form of OCD called Dermatillomania on and off throughout my life. Like most people with this malady, I had tried everything -- cognitive therapy, hypnotherapy, psychotherapy, Prozac and the like. It wasn't until some time last year, when I discovered Dr. James Fadiman and his book The Psychedelic Explorer's Guide, that I finally found the answer for me -- micro-dosing LSD. I recommend the book and the treatment for anyone who truly wants to rid themselves of such conditions. You only take ten micrograms every third day, and you feel no noticeable effects from it whatsoever. You don't get high, you don't trip or hallucinate. You can go about the regular business of living. You can drive, work, study, eat, sleep, etc. Scientist have found that with micro-dosing, both sides of your brain start communicating with each other more than before. And for most of us, this seems to have a profound effect on many psychological and emotional conditions. They're not sure why yet, but I, for one, can certainly vouch that it does.
Punk Globe: What are Cherry Vanilla's rules for living? What makes you happy? What makes you sad?
Cherry Vanilla Well, The Golden Rule, number one. Counting your blessings, having a good work ethic, trying not to waste food, time, luck or money ... these are the rules by which I try to live.
As for what makes me happy, I would say eating pasta with your meatballs and red sauce is right at the top of my list! It made me happy when Barack Obama got elected, and proud of my country all the while he was our President. I'm happy when I have a day with no obligations or appointments, a day when I can write, read, cook, watch TV, go to the movies, take a drive, a walk, a swim, a free-form day so to speak. It makes me happy to accomplish something creative, to complete a project, to see or to speak with a dear friend, to do this interview with you for Ginger's Punk Globe anniversary issue ... and now, to get to the last three of your provocative questions.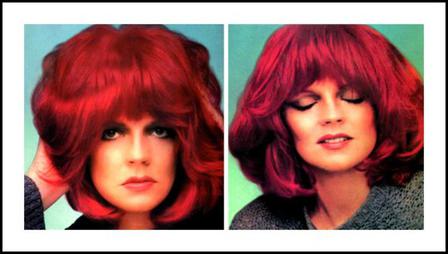 Punk Globe: What are your plans for the future? Are you planning a new book?
Cherry Vanilla I was for a minute there, but then I got into writing this play I'm working on, Elaine Vouvray and the Crystal Dildos. It's a love story between a seventy-five year old New York City woman and a twenty-two year old guy straight off the boat from Ireland. I have a real love/hate thing with working on it, because a play presents a much bigger challenge in my estimation than a book does. One has to insure there are some twists and surprises by the last act, but the seeds for those have to be planted right from the very beginning. And they can't be too obvious as to give the ending away. I find it so difficult some days, but whenever I work out a scene that accomplishes my goal, I feel greatly rewarded. I have no idea when I will get it finished. But I would, of course, love to see it staged in a little theater one day.
Punk Globe: What are three words that you would use to describe yourself?
Cherry Vanilla Practical, naive, loyal.
Punk Globe: What final thoughts would you like to share with Punk Globe readers?
Cherry Vanilla Ignore my doom and gloom scenario for the planet. Get out there and have faith in yourself and in miracles. Study quantum physics instead of practicing religion. In doing so, you'll have scientific proof of the magic that exists all around us and that is accessible to all who believe. Treasure your friendships and the abundance of beauty that still exists in this world. And don't get hung up on your age, your weight or your wrinkles. Getting old isn't easy, but the wisdom you gain each day is worth the trip. Love isn't all you need, but it's the most important thing ... love of life especially.