Anxious to witness this powerful pack of delinquent's, I marked the calander month's in advance for this night in the great pacific northwest.
Charley Horse consist of Sean "Zezo"Wheeler (throw rag), Corey Parks (Nashville Pussy, Hunns), Chopper Franklin(Cramps), Pit-stop Tragedy and Dino Fury( drummer for numerous bands). All you can say is "Don't mess with these motherfuckers"!!
The Snot Rockettes started our night with bratty punk umph and drunken slurs echoing the mike originating from guitarist (Snotty Pop). This all-girl pack of rawness will make your panties wet and ass shake.
I had spotted Corey and made my way to her "backstage" room. Just to update you, Miss Oblivious adores Duane Peters and Corey Parks which are now married and have produced a lil offspring "Clash". I have given them art in the past and now had a kick ass pair of 60's swim-trunks for the lil' fella.
So I hung out with Corey and Chopper (and his mommy) for a brief time, chatting and gossiping.
I had only consumed a pint but felt intoxicated by all the power in the air from the presence of these entertainers!
The place broke out in a sweat within 5 seconds of Charley Horse. Their hootenanny, tough as nails, rock-n-roll sounds are a Rod Sterling dream come true.
Half-way through their set, Corey picked up a stand up bass, which made her 6"3 silhouette seem more petite than a semi-truck next to a summit. Sean's clothing was unlayering with each new song until he was only wearing shoes (fancy one's at that), and tight black trouser's.
After about 40 minutes the madness was finished and we ventured out into the rainy streets of Seattle.
I highly recommend you check 'em out at a venue near you!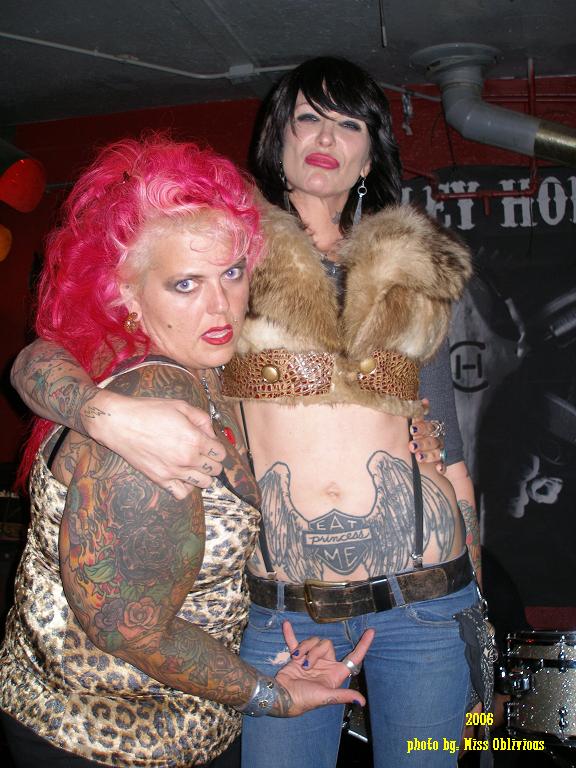 Majenta is the knockout singer for The Spazms former singer of The Razorbabes. She is an astounding tattoo artist here is Seattle , Washington.