Thirteen Questions for the legendary photographer
By: Jason Atomic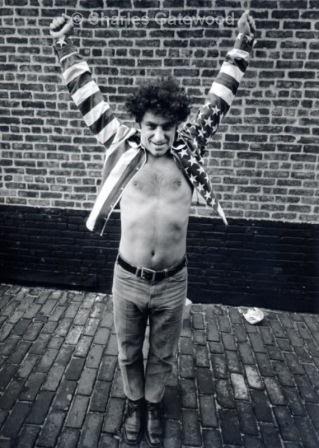 Abbie Hoffman, NYC 1969
GATEWOOD: I have a degree in Anthropology. I work in the spirit of artistic photojournalism.
Punk Globe: What or who is your muse, what inspires you to start a new project?
GATEWOOD: George Gardner, a fellow anthropology student, turned me on to photography. So did The Family of Man, a great book showing images from the famous Steichen MOMA show.
GATEWOOD: I'm 68 years old and still as busy as ever. I will never stop.
Punk Globe: A lot of us are fascinated to the fact that you were around on the 'beat' scene, can you share any juicy gossip or anecdotes?
GATEWOOD: I spent a week with William Burroughs in London, 1972, for Rolling Stone. Burroughs then wrote the text for my first book, Sidetripping, which chaged my life.
GATEWOOD: The destruction of America by cowboy capitalists.
Punk Globe: Many photographers were very dismissive of the new technology when digital photography arrived whilst others took to it like a fish to water, Is there a big distinction for you between digital & film photography?
GATEWOOD: I shot film until recently. Now I shoot both. Digital is fun and easier to use in some ways--and no darkroom chemicals.
GATEWOOD: Blake was right--but many have died exploring that path. Today I believe in moderation.
Punk Globe: Do you believe in god/magic/religion are you a religious or spiritual man?
GATEWOOD: Magic is everywhere, and we are pure spirit.
GATEWOOD: Sure. On the other hand, I've never taken a photography class.
Punk Globe: When you are not working how do you unwind, do you have any hobbies or interests you are passionate about?
GATEWOOD: Recreational intoxicants and barely-legal girls.
GATEWOOD: Yes. She's 24 years old and totally cute.
Punk Globe: Are there a historical periods or characters that fascinate you, people, places or things you wish you could have photographed?
GATEWOOD: Yes, America in the 1930s and 40s.
GATEWOOD: I suspect we are distant relatives, but I hope not.
Punk Globe would like to thank the wonderful Charles Gatewood and Jason Atomic for the great interview...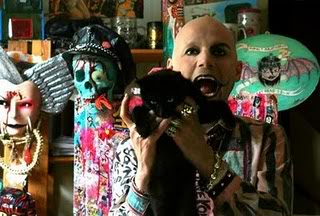 Interviewer Jason Atomic