By: Pamela Torres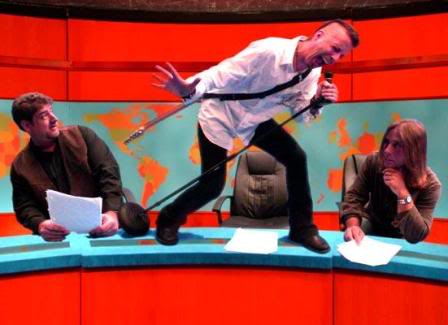 Last January I got to talk with musician and vocalist Gary Schutt, whose 3-piece cover party band Category 3 (consisting also of drummer Gary Ingraffia and bassist Rob McDowell) has been electrifying dance clubs and venues all over the sunny state of Florida.
PUNK GLOBE: Now to start things off on the right foot, how did you form Category Three?
GARY S: The band was initiated when I was still in The Untouchables. I wanted out and I wanted my own band for a long time. The hunt for musicians started in early 2008 and I left the Untouchables on August 1st of that year with the original drummer and bassist and no gigs. One year later, a new drummer and 3rd bass player, I'm proud and happy to have Gary & Rob. I've known Gary for a long time, probably about 10 years ago he would come see my old original band when his friend Mike was drumming for me. It was perfect timing when the original drummer for CAT3 was moving away that Gary's work schedule allowed him time to be in a band project. Rob answered a MySpace ad I posted in 08 (I think) and we've kept in touch since and have used him as a fill-in and then decided to keep him when I had to let #2 bassist go.
PUNK GLOBE: Your official website advertises you mainly as a cover band. During your live Florida gigs, which songs are your most popular requests?
GARY S: We seemed to be plagued with a giant invisible sign that says "any requests?" We get hammered with requests at every show and we don't ask for them! I don't see this happen to any other band! It's kinda funny and annoying at the same time. Usually it's the same "classic" songs that every cover band plays, "Brown Eyed Girl", "Sweet Home Alabama", "Crazy Bitch" and the occasional Slayer, Pantera or Metallica. We had a very adamant girl new years eve begging us to play Lady Gaga! Really? Like everybody believes that all cover bands know EVERY song ever! LMFAO!
PUNK GLOBE: You also like performing dance hits by the late Michael Jackson. Do you remember where you were when the King of Pop passed away in 2009?
GARY S: My sister's family was in town, husband & 2 kids. We were heading to Bahama Breeze on the causeway for lunch when I got a text from a friend saying he died, or was in a coma. But it wasn't confirmed yet and nothing was on the radio. So we all thought it was a rumor or a joke. "Yeah right! Michael Jackson is dead, sure!" I got home from lunch and it was all over TV! No joke, no rumor. I was very shocked and sad. I bought the Michael Jackson Live in Bucharest DVD the following week. Brilliant!
PUNK GLOBE: Have you thought about recording a Category Three album (either of newly spun cover tunes or original rock anthems)?
GARY S: Yes! The thought is in my head everyday. I've been working on the eighth Gary Schutt solo CD since about 2005. So writing originals for CAT3 would be a huge time effort for all of us but is not our of the question. Besides, CAT3 is the Gary Schutt original band as well. Works out good and was my master plan from the start. No gig conflicts ya know! But I have started compiling songs for a CAT3 cover album of reworked & revamped cover songs.
PUNK GLOBE: Tell us Punk Globians a little bit about the Gary Schutt One Man Band, if you can?
GARY S: The OMB is my solo act. I didn't want to be one of a thousand beach acoustic guys, I wanted to be a little more hip and modern and edgy. So the act has pre-recorded band backing tracks, (drums, bass guitar, keys, gang vocals, harmonies, sound effects) and I sing and play live electric guitar over it. Its the sound of a live band at half the volume.
PUNK GLOBE: You apparently released a bunch of solo CDs over the past few years. Where in the world can we find them?
PUNK GLOBE: Please describe was it was like to play in Clearwater's Beach Bar last New Year's Eve?
GARY S: The first set was tight with the band but a little rough getting the crowd moving. By the second set we had the area in front of the stage packed with dancers. I think we did all the dance tunes in our arsenal including "boogie oogie oogie" which we hadn't done in a long time. Turned out to be a great night. lotta fun. the crowd enjoyed it and I believe we kicked ass! third set we counted down the ball drop and kicked into a Joe Satriani-esque "Auld Lang Syne" into U2's "New Years Day" which we didn't even get to rehearse! couple minor flubs but no train wrecks and the party people never even new. The enthusiastic dancing partiers begged for an encore so we hit them over the head with Edgar Winter's "Frankenstein"!
PUNK GLOBE: Anything else you'd like to say to our Punk Globe readers?
GARY S: Thanks so much for reading this far about a local cover band you never heard of! We hope to see you and your friends at our shows in the future!
PUNK GLOBE: You also like performing dance hits by the late Michael Jackson. Do you remember where you were when the King of Pop passed away in 2009?
ROB: I was surfing the net when I heard of MJ's death.
PUNK GLOBE: To Rob McDowell, as a concert sound engineer you got to manage allot of jazz artists. Who was best musician to work with, in your opinion?
ROB: Working with so many great artists, it's hard to say who my favorite was. They were all exceptional musicians as well as people. I always liked working with guitarist Jeff Golub. He had great stories from when he played with Billy Squire and Rod Stewart back in the day.
PUNK GLOBE: Please describe was it was like to play in Clearwater's Beach Bar last New Year's Eve?
ROB: Playing the Beach Bar NYE was great. As usual people were partying and having a great time. It's always fun to get a dance floor full of booties shaking to your music. What a great way to start the year off!