"Living Dead Spooky Doll's Show Baby!"
By: Pamela Torres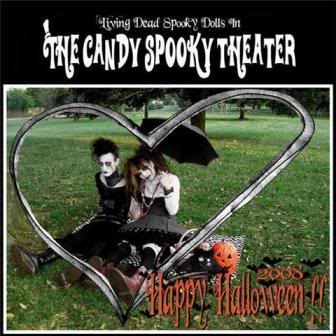 LA LA LA LA LA LA TRICK OR TREAT! Not long ago I discovered a real interesting CD that I can incessantly listen to as All Hallows Eve starts sneaking around the corner. With a pair of eager ears and a rusty shovel, I snuck into a local cemetery one moonlit night to unearth the lively cadavers of the most bizarre band to come along in recent years. The group is called The Candy Spooky Theater. Born in Tokyo, Japan in 2003, this trio of painted-face weirdo's consisted of ringmaster vocalist Jack Spooky, baby doll bassist Peggy Giggles (formerly of 2nd Effect), and ghoulardi guitarist Zull (who eventually left the group and had his spot replaced first by Kiddy Skeleton, then by Kal Bone Jr., who still tours with the CST to this day). Jack and Peggy previously played together under different names for the now defunct indie act Dororo. The "Living Dead Spooky Dolls LP," which came out in 2007 through the German label Tristol, is a psychotronic circus of creepy cartoon rock strictly catered for trick-or-treaters and pumpkin carvers. It's an album I personally recommend to fans of The Cramps, Alice Cooper, and Oingo Boingo. Of course, what truly makes this monster party disc stand out is the fact that necrophiliac Jack moans and croons his lyrics almost entirely in Japanese.
Just so everybody knows, my comments regarding the LP's track list are partially based on what I found in the lyrics' English translation. "Devilish Kidnapper," "Murder Toy in the Closet," and "Wind-Up Electric Chair" are a toy box trio of spastic, almost mechanized skeletunes in which mischievous, smiling playthings creep out of the playroom and use a bloody kitchen knife to make a tasty snack out of their victims.
"Strip," with its upright bass and ribcage xylophone, evokes a forbidden fruit of finger-snapping jazz. Following the trail of breadcrumbs is "Spook House," a groovy vaudevillian danse macabre from the graveyard, and "Merry-Go-Round," a deliriously playful spider dance with a boffo-worthy children's chorus.
"Ferris Wheel" is a bluesy, almost psychedelic re-imagining of the "Cinderella" story swimming through a pool of tears; a tragic ballet of broken dolls in cracked glass slippers.
"Trick or Treat" is self-explanatory. This dizzying organ-driven ditty offers to all hungry Halloween freaks a tooth-rotting buffet of licorice, chocolate-covered eyeballs, and sticky taffy. Just make sure you don't look under the bed! After this song comes one of my personal favorites, the schizophrenic "Nightmare," where Jack Spooky cracks his voice in adapting the role of a vampire bat preying on a pretty young insomniac.
In my opinion, "Bride of the Sleeping Forest" and "Clockwork World" mark moments in "Living Spooky Dolls" where Jack is the most vulnerable. As the two numbers deal with themes of obsessive love and rain-drenched loneliness, his vocals are on the one hand subdued and on the other hand much more emotionally intense.
Last but not least, I can't forget to talk about "Exosist," a single that was originally available to Japanese fans on "The Bedroom" EP. What truly makes this song stand out is how it's generously injected with a dose of industrial metal (a sound quite similar to what you might find on a Rob Zombie record). "Exosist's" lyrical synopsis involves a sex-starved demon possessing an unsuspecting girl in order to satisfy his animal lust with the preacher hired to perform the ceremony. It must also be known that this single was manifested in the form of a music video about murder and cannibalism.
I admit that it's a bit difficult for me to find the right sentence to nicely conclude this review, although I have to include an online rumor that the CST plans to reemerge from their coffins this year with their sophomore CD, a concept album titled "SCARYWONDERLAND." I guess it's time for me to raid the refrigerator and make your stomachs grumble with this translated lyric from "Murder Toy in the Closet:"
"I take from you and I mix the tomato ketchup sauce and whipped cream and chocolate and honey and caramel. It became sloppy and after that, the expected ending, attractive you…
Breakfast at Tiffany's !!"
http://www.myspace.com/candyspookytheatermurder
http://www.thecandyspookytheater.com/top.htm
http://skeleton-carnivale.net/spookparade/main-new.html
back to home page