by Stacy Tuttle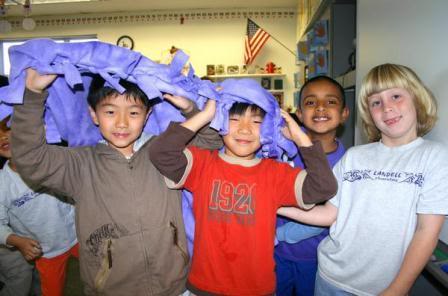 Students Making Blankets for Campaign for Care
My husband and I exited downtown Los Angeles late one night after a BABYLAND concert with our two young sons, Andrew and Jordan, in March, 2004. We were stunned by the vast numbers of people sleeping on the concrete sidewalks throughout the Skid Row area. Many had nothing more than the clothes they were wearing and a cardboard box for shelter. It had an especially profound effect on our oldest son, Andrew, who was 8 years old at the time. He asked us, "Why are people sleeping on the street?" We continued to discuss the matter as a family over the next few weeks, as he repeatedly brought up the subject. One particularly cold and rainy night, in the midst of our conversation, the CAMPAIGN FOR CARE project was conceived. We felt that we had the choice of either telling our son that nothing could be done to help, or showing him that you can make a difference, no matter how small, in someone's life. It was decided that we would hand out 100 hand-tied fleece blankets and 100 foam pads to show caring and kindness to the homeless, and to show our children that when you see a need, you are empowered to do something positive to help out when you can.
Since that time, CAMPAIGN FOR CARE has grown to include a diverse team of volunteers who wish to help homeless men,women, and children who are sleeping on the streets by giving them a hand-tied fleece blanket & foam pad set. Hand-tying the fringes on the blankets was the chosen design because this process can only be done by hand. This communicates to the receiver of the blanket that someone took the time to make each blanket special on their behalf. So far, we have given out 2,740 to homeless children and adults in Los Angeles, 10 in San Francisco, 6 in Berkeley, 30 went to an orphanage in Mexico, 18 to Pakistan after the earthquake, and 5 in Denver, Colorado. This random act of kindness in no way solves the complex issues surrounding homelessness, rather it is a practical way for people to show care and compassion to another human being by making them a little warmer and more comfortable at night until more permanent solutions are implemented. Donations to purchase the fleece material have come from wonderful individuals and groups who believe that the project is worthwhile. BABYLAND, EMA3, and THE POWER OF 3 performed a fantastic benefit concert at Jim Smith's venue, THE SMELL, in Los Angeles to raise awareness for the CFC homeless project, donations, and volunteers. Many fans of the bands assisted with the distribution after the free show that evening. The show was filmed by BRAD SPITZ PRODUCTIONS, and the DVD will be available for purchase in September2008. The cover will feature the artwork of renowned musician/artist/poet EXENE CERVENKA of X. 100% of the proceeds from the sale of the DVD will be used to purchase fleece material for students and children's groups to make blankets for homeless children and adults for future distribution events. The hand-tied blankets have been made by students at 14 Orange County and Los Angeles County schools during their lunch recess (ABC Development Preschool, Brethren Christian School, Ernie Pyle Elementary School, Intensive Learning Center Elementary School, Margaret Landell Elementary School, Lindstrom Elementary School, Los Altos Brethren School, Mayfair High School, Suva Intermediate School, Woodruff Elementary School, Swain Elementary School, Laguna Nueva Elementary School, Los Coyotes Elementary School, and Lake Center Middle School), Scouts Packs (Boy, Girl, Cub, and Brownies), Key Clubs, Boy's &Girl's Clubs, Los Cerritos YMCA, and children's groups from a diverse variety of religious denominations.
Mayor Antonio Villaraigosa sent a hand-signed certificate of commendation to the students of Landell Elementary School for having made well over 500 blankets over the past 4 ½ years for the homeless of Los Angeles which was presented to the students by Andrew and the principal at their character assembly on September7th, 2007. Woodruff Elementary School held a sock-hop dance in December; the students brought new socks for donation to homeless children and adults, 492 in all, which were distributed on Martin Luther King, Jr. Day, Valentine's Day, and Easter. Los Coyotes Elementary School and Buena Terra Elementary School donated 285 children's jackets left over from the previous year's lost and found to homeless children living on Skid Row. The 9-11-07 distribution included student volunteers from Landell Elementary School, McAuliffe Middle School, Los Alamitos High School, and Kennedy High School, some of which had volunteered on previous distribution and blanket-tying events.
We have held hand-tied blanket and foam pad distributions on Valentine's Day, Martin Luther King Jr. Day, Christmas,Mother's Day, Easter, and September 11th. It is usually about the time when the nights begin to get rather cold, especially when one is sleeping on concrete,and as one man put it, "We couldn't be there for those people on that day, but we can be there for these people on this day". It is a great way to honor those who lost their lives by using the day to show goodwill towards others. Our 4th annual September 11th distribution took place on Skid Row in Los Angeles in 2007. The Roth family, of Movin' On, donated and drove the truck which delivered the unexpected gifts.This was the third distribution that their family has participated in, our friends Dylan and Scott had provided the truck and assisted with the first distribution. A large team of volunteers from diverse backgrounds partnered with an outstanding team from the Midnight Mission and the Fred Jordan Mission to deliver 744 hand-tied blankets, 500 foam mattress pads, 250 blank stamped envelopes with blank stationary inside, 50 rain ponchos, 45 boxes of Girl Scout cookies, and a variety of toiletries such as soaps, shampoos, toothbrushes, and lotions. As is customary, we followed the truck slowly through a pre-determined six block route, handing out to people along the way on both sides of the streets. The outpour of love, caring, and respect was very touching. We had an awesome team of volunteers ranging from age 5 to 83. The recipients and the volunteers were equally delighted with the event. It was a great success, with treasured moments for everyone in attendance. We were so happy to report back to all of the children who made the blankets that their gift was gratefully received, and very much appreciated. The 2nd annual Martin Luther King Jr. Day distribution on 1-21-08 was a huge success as well. It was a day off from school, so many of the students who had hand-tied the blankets were also able to join us and personally hand out the blankets that they had made. They also gave out 140 rain ponchos which had been donated from expired emergency kits by Landell Elementary School.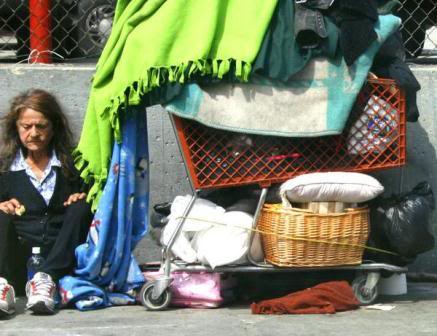 Homeless Woman
CAMPAIGN FOR CARE will certainly have future blanket-making opportunities and distribution events, based on the enthusiasm of the children to help those less fortunate, and the need of the homeless children and adults that we witness first-hand on the streets. The homeless on Skid Row are not a community that one should fear, but rather fear for. Some are very elderly, some are children, some are disabled, and many have broken spirits and have lost all hope. However, all were gracious, kind, and appreciated having been in people's thoughts and prayers. A dear friend and volunteer, Dorothy Bryan from the Woman's Club of Cypress, expressed that someone she had given a blanket to told her, "I feel doubly blessed", upon hearing that children had hand-tied the blankets. A sentiment, she said, which is mentioned often throughout the distributions.
Los Angeles has been named, "the homeless capitol of America." It was reported that82,291 people were homeless in L.A. County , 16%, or 13,167, are children under the age of 18, according to the 2005 Greater Los Angeles Homeless Count, Los Angeles Homeless Service Authority. The numbers are rising,families with children are the fastest growing population of the homeless. The most recent LAHSA count has determined that there are now approximately 88,000 homeless in L.A. County. According to Shelter Partnership, Inc., there are just over 15,000 shelter beds to accommodate the homeless in L.A., a deficit of over 73,000 beds available to children and adults who are homeless. The missions in the Los Angeles area perform an outstanding service to the homeless community by providing available shelter, some food, water, and services to those less fortunate. They are completely dependent on the kindness of others to operate and positively affect those they are trying to assist. Donations, especially food, but also clothing, toys, children's books, shoes, and toiletries are essential. One of the most valuable assets you can donate is your time.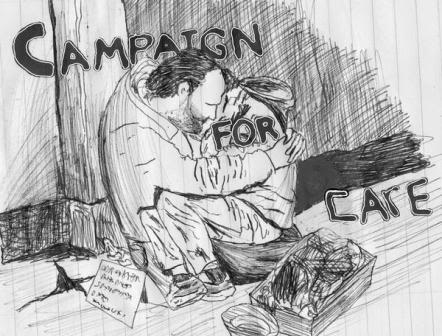 Cartoon Campaign for Care


SUPPORT CAMPAIGN FOR CARE
Attend The Exhibit and Auction
September 7 @The Smell



CAMPAIGN FOR CARE will hold an original art& music memorabilia exhibit & auction event at THE SMELL (247 South Main Street, between 2nd & 3rd Street) in Downtown Los Angeles on September 7th, 2008. All auction items have been signed by the original artists. Jim Smith has donated the use of his venue for this exciting event. The enormously talented and generous contributors include:

AUCTION ITEMS AND CONTRIBUTORS
CHILDREN - paintings, drawings, and other artworks
SKINNY TIE BAND - drumsticks (Andrew Tuttle), t-shirts
THE SUNSHINE GIRLS/THE TAILOR MAIDS - Marilyn Tuttle (Western Music Association award winner) - needlepoint
BABYLAND - 'drum' (used during 'Dismissal'), CDs
SEA HAGS - pen & ink drawing by Ron Yocom
THE POWER OF 3 - pencil drawing by Sarine Voltage
X/THE KNITTERS/ORIGINAL SINNERS/AUNTIE CHRIST - artwork by Exene Cervenka
X/THE KNITTERS/BONEBRAKE SYNCOPATORS - drumsticks (DJ Bonebrake)
DIANA BONEBRAKE (DJ's wife) - painting
THE NYMPHS - painting by Inger Lorre
LINDA MILLER ('Tak And The Power Of Juju' Nickelodeon artist) - pen and ink drawing
HANK MONTEZ (husband of Sandy Montez, Woman's Club of Cypress president) -painting, & stained glass
TODD SEYMORE (Cypress Mayor) - photograph
TERRI SEYMORE (wife of Cypress Mayor Todd Seymore) - photograph
LO-BALL - photograph by Pauley Perrette
PUNK GLOBE - (Ginger Coyote) t-shirt, poster
WHITE TRASH DEBUTANTES - t-shirt, cd
MICHAEL CANO - painting
THREE BEAN SALAD - CD
NO ALTERNATIVE/SEA HAGS/FANG/INSAINTS/HELLBILLYS/TUXEDOMOON - memorabilia from Greg Langston
DEKE DICKERSON - memorabilia
OZZY OSBORNE - drumsticks, poster (Carmine Appice)
EASTERN CONFERENCE CHAMPIONS - CD's
GRAVY TRAIN - t-shirt
DR. KNOW - painting by Brandon Cruz
BRIDEZ - CD
Monica Yocom - artwork
PORTS O CALL - t-shirt
MILHOUSE - CD
STEREOFIX - CD
SATELLITE DOGS - CD
Michael Pipkin - artwork
Sean Ozz - prints
BRAD SPITZ - CD's
MUSIC & ARTS - (Randy Scott) t-shirts
JP5 - t-shirt, CD
AMEN - painting by Casey Chaos
KC & THE SUNSHINE BAND - donation from Richard Finch, bassist


HOW TO DONATE TO CAMPAIGN FOR CARE
100% of the proceeds raised from the exhibit/auction will be used to purchase the fleece material that is used to make the hand-tied blankets for the homeless children and adults of Los Angeles and beyond. If you are an artist or musician, and wish to participate in this event, please send original signed artwork or signed music memorabilia with your contact information to:



CAMPAIGN FOR CARE
c/o Stacy Tuttle
P.O. Box 2592
Cypress ,CA. 90630


CAMPAIGN FOR CARE exists with a dual purpose, to help the homeless children and adults who are sleeping on the streets to be warmer, more comfortable, and to feel cared about, but also to raise awareness and provide an opportunity that empowers the youth by engaging them in a hands-on, positive contribution to their world community. The project was started by a child, and has been embraced and supported by many children because their hearts tend to not be jaded with judgment toward others. They see someone who is suffering, and they want to do something about it. The children's willingness to help those less fortunate has been a monumental inspiration to us and many others in the community. They have truly led the way by example to care for others, and help out when or where you can. Many teachers and principals at various school blanket-tying events have indicated the importance of teaching character and compassion, alongside math and science, in the school curriculum.
If you are interested in participating in the CAMPAIGN FOR CARE hand-tied blankets for the homeless project, contributing to the art/music memorabilia exhibit/auction event on 9-7-08, volunteering for the 9-11-08 distribution, or if you would just like more information, please visit us at
www.campaignforcare.org or http://www.myspace.com/campaign_for_care. While one person can make a difference, when we combine our efforts, the impact can be tremendous. Thanks so much for allowing me to share this story with you!
With gratitude,
Stacy Tuttle
CAMPAIGN FOR CARE
mail@campaignforcare.org



Stacey Tuttle with her family