"http://www.w3.org/TR/xhtml1/DTD/xhtml1-transitional.dtd">
Love Is Psychosis
By: Sean Brown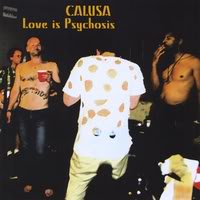 Calusa sounds like they're having more fun than any band in recent memory. Hard and fast, they play a modern version of 1980s punk rock along the lines of other Minneapolis icons like Husker Du or The Replacements, on a larger scale there are elements of the Ramones and Dead Kennedys. Unfortunately for Calusa, that style went out of fashion twenty years ago, but then again maybe that's the whole concept behind Love is Psychosis.Total running time on Love is Psychosis comes in at roughly 42 minutes, so with 17 tracks, the listener is definitely in for some hard and fast three chord punk. The album's lead off track "Rock & Roll Part III" has more of a pop 1950s feel to it than the rest of the album, setting the listener up for something a little softer than what comes next. From there, the album picks up the pace with traditional punk rock lyrics, songs about girls, loneliness, love, pop-culture and politics.
An excellent song comes from the fifth track on the album, "Beautiful Day", a dynamic cover of "A Beautiful Day in the Neighborhood," from the old PBS children's program Mr. Roger's Neighborhood. With savage guitar riffs and spot on vocals, this is as good as anything legendary punk cover artists Me First and the Gimme Gimmes have ever put out.
The title track, "Love is Psychosis", is another solid track, fast and catchy, something reminiscent of Jello Biafra and the Dead Kennedys. The lyrics tell the metaphorical story of a puppy named Caesar falling in love and than getting his heart broken, but learning to be tough, all over a solid drum and bass back beat. Another Dead Kennedys-esque track comes at the very end in "You're Fucking Up the World Dick Cheney". With typical punk rock politics and a fairly self-explanatory title, it is nothing if not a ton of fun.
Two of the tracks show another side to Calusa that might make listeners wonder about the direction of the band. "Both Ways of the Heart" and "Moving Too Slow" have a different feel to them. More modern indie rock than 80s punk, these are the types of songs that could make Calusa into a band with more mass appeal, which might not necessarily be the direction they want to go. Calusa is a band with an interesting future ahead of them. Will they continue to rock out hard to original 1980s style punk or will they move in a more modern direction with the possibility of broader appeal? Either way, hopefully they continue to sound like they have as much fun as they had on Love is Psychosis