Calabrese
The Traveling Vampire Show (CD)

by Carl Macki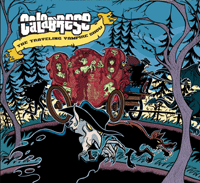 Calabrese
The Traveling Vampire Show (CD)

Personnel

The Calabrese Brothers:
Bobby -- guitar, vocals
Jimmy -- bass, vocals, theremin, tambourine, keyboards
and Davey -- drums

Songs
Death Eternal
Voices of the Dead
Vampires Don't Exist
Inside This Coffin
Night In The Lonesome October
Come Alive
Children Of The Night
Saturday Night Of The Living Dead
The Young Princess of Darkness
Darkness, Tell Us
Your Ghost
The House Of Mysterious Secrets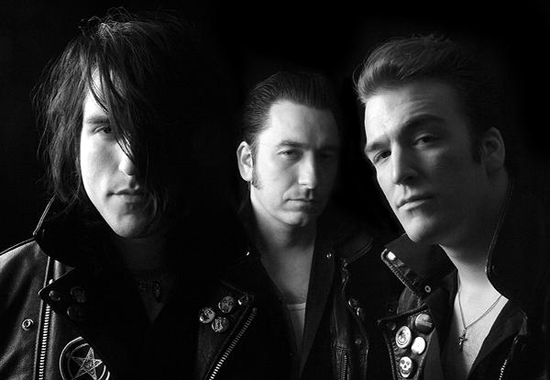 It doesn't matter that a monster macabre band has a great ghoulish marketing machine to merchandise and promote their records does it? It is a positive note to be detected amid the screams.

While I had not heard of the band the Calabrese and the "Traveling Vampire Show" CD before, their presentation did help me to become interested in them. With their slick and seamless looks and packaging -- replete with colorful, ghoulish and comic figures reproduced throughout the surfaces of their trifold CD box, they made their sound seem more artful and thorough.

If I could level one mild form of criticism, it may be a little too artful, a little too contrived and overly rehearsed. That is a matter of personal taste, and I said the same thing about one of White Stripes' cuts on "Icky Thump," "Conquest," which some believe to be the best song on the whole album.

Now I just said a silly thing: Believe me, the Calabrese are the Dr. Frankensteins of rock and roll.

So carry on, earthly creatures and members of the night, one can endure the horror of not listening for only so long.
More at:
http://www.CalabreseRock.com
Spookshow Records
Myspace Calabrese
Spookshow Records
PO Box 93817
Phoenix, AZ 85070