THE BULLYS
BQE (Brooklyn-Queens Expressway) Overdrive CD

by Carl Macki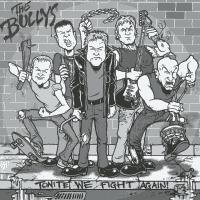 The Bullys -- BQE (Brooklyn-Queens Expressway) Overdrive (CD--no label listed)
Skel
Broke
Fast Food
Pop (is for fags)
Fired
Against All Authority
'78
Slammer
All Pumped Up
Balls
Building on their
New York
Punk legacy, the Bullys do not waste time on this their third album.
They get right to the point, and bring it on with buckets of swagger and ascending fireworks of showmanship.
I liked this album as soon as I listened to their first track,
"Skel." I didn't figure out what skel meant, so I looked it up in a slang dictionary
on line -- urbandictionary.com --and it said it could mean criminal or pimpin'. Either way,
it fits.
Before they finish off, lead singer Joey Lanz sings about fast food, landlords,
being broke, fighting with cops, jail, sluts, getting fired, and a car.
This is more classic punk. and that's a good thing!
Their humor, of which there is plenty, is not overpowering as to become parody,
but it is cartoonish. Whaddya think, that they're going to fergeddaboutit?!
Half of the album was written by the late Johnny Heff, the band's founder, a firefighter
who died in 9-11; the other half by guitarist Walt Stack (the other members are bassist Todd Feyh, drummer Gerry Tuohy, and rhythm guitarist Danny Nez). I couldn't tell the
difference. Perhaps that's a good sign they are carrying on in Johnny's legacy: with one foot in heaven
and one in, uh, a
White Castle
.
Available at CDBaby.com, and one to the Bullys website -- http://www.thebullys.com/; and maybe their myspace as well -- http://www.myspace.com/thebullys.