"...Still Too Young To Care"
The Bulemics
CD/DVD

by Carl Macki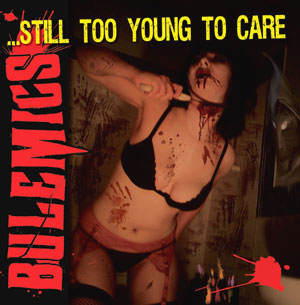 Scarey Records
Torino Italy
www.scareyrecords.com/

Gerry Atric on lead vocals,
Gabe Bulemic on lead guitar
Haywood Jablomey rhythm guitar,
Mississippi Sweetdick (Craig Merritt)
varied personnel changes

Tracklist

01. Drinkenstein (Dolly Parton/Sylvester Stallone)
02. Make Me Sick
03. I Don't Ask you for Nothin'(Antiseen)
04. Austin Strangler
05. Frankenstein Monster (Penetration Moon)
06. Fucking Bore
07. Crack Baby
08. If I Only Had a Heart
09. Only Down for Myself
10. Bathroom Wall (Faster Pussycat)
11. Harlot from Beyond
12. Make Me Sick
13. Sweet Valley High
14. Vampire Teabag
15. Horny For Evil
16. Station I.D., Dial ''M'' For Murder
17. Interview
18. Die Tonight
19. Watch the bastard fry (Antiseen)
20. Snuff Queen
21. Blood Orgy
22. Felacia
23. Plasma Crazed
24. It Ain't Easy Bein' Easy (smut mix)
25. Heart Of Stone (Rolling Stones)
26. Detention Home (Dead Boys)
27. 3 Seconds Of Pleasure w/ Nicki Sickie (Sick Pleasure)
28. In The Name of Satan
29. Cold Ethyl (Alice Cooper)
30. Hatefuck
31. The World's Spinning Faster
32. Goddess Of Wet Dreams
33. Fat Bottom Girls (Queen)
34. Deep in the Heart of Texas
35. White Faces w/ Larry From Candy Snatchers (Roky Erickson)
36. Outro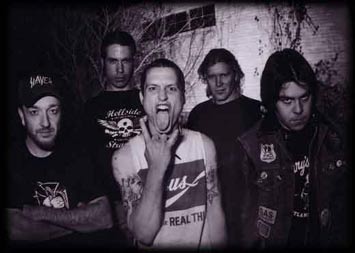 Formed in 1996 these classic hardcore party punkers from Austin, Texas--have put out quite a few singles, four albums - "Old Enough to Know Better...Too Young to Care" (Junk Records), "Blurred Vision and Twisted Thoughts" (Man's Ruin Records), "Talk Dirty to Me" (TSB Records), "Soundtrack to the Apocalypse" (Steel Cage Records), and been on too many compilations to mention. They have been called GG Allin wannabees, and that's takes some guts. Gerry Atric and his cohorts blaze new territory in outrageously sleazy raunch and roll.

It includes some unreleased songs and alternative and the DVD video has over one hour of music on it--live performance and extra footage.
The band has received a reputation for being too hot to handle by most record labels and producers.
Now comes this CD/DVD package from Italy (Scarey Records) that puts their prodigious output over the last ten or so years into perspective.
Come see for yourself.