Club Promoter, Author, Musician, and Visionary Bids Us Adieu
by Tequila Mockingbird/Special to LAist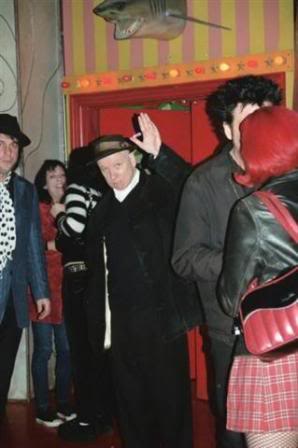 The last time I saw Brendan Mullen we had a proper lunch in the Snooker Room at the Cat and Fiddle. The stained glass danced across his face and his eyes were alive with delight when we talked about the fun times. He was working on a new book to be published at a later date, In spite of recent physical difficulties, he seemed content in a way. He told me about his operations and how he still could not turn his head. Brendan Mullen was never happy that the world moved without him. Brendan Mullen passed away yesterday after suffering a massive stroke two days earlier. According to the LA Times
Mullen died at Ventura County Medical Center, his companion of 16 years, Kateri Butler, said Monday. The couple had been traveling through Santa Barbara and Ventura celebrating his 60th birthday, which was Friday. "The doctors are completely perplexed," Butler said. "They can't figure out why he had a stroke -- he had none of the indicators, his cholesterol was perfect. One of the neurologists summed it up best when he said, 'Sometimes, your number is just up.' "
Mullen was born in Paisley, Scotland, near Glasgow, grew up in Manchester, England, and moved to the U.S. when he was a teenager. He is best known for The Masque, a club he founded in the 70s that was ground zero for the nascent punk scene in Los Angeles. He always had wonderful musical taste, booking early L.A.punk icons. The Dickies, X, The Bags, The Skulls, the Go-Go"s, and Fear played their first shows at the Masque.
Brendan's band with Hal Negro and the Satin Tones was a great band. Brendan was a very good Showman and a talented Svengali. I loved to see him in his tuxedo in the Punk days, It was an outsider-insider rejection of conformity amongst the noncomformist. When Brendan was at the Masque in Hollywood in 1977, I was introduced to him by X, who told me that Brendan was booking shows for them and to come check it out. I did not go to the 1st Masque because I was finishing up Jazz Album. I did, however, along with my friend Jerome, end up cleaning out the swill of every Masque post party when they moved to Santa Monica Blvd. Brendan later moved to a club I was booking called King's Palace. King's Palace then became Raji's and Brendan moved on to Club Lingerie.
Brendan was also a talented author. His books, many of which are co-authored, provide a history of LA's music scene. We Got the Neutron Bomb, Lexicon Devil: The Fast Times and Short Life of Darby Crash and The Germs, Whores: An Oral Biography of Perry Farrell and Jane's Addiction, and his last book "Live At the Masque: Nightmare in Punk Alley," which was published in 2007 on the 30th anniversary of the club.
I saw Brendan through a number of his incarnations, DJ, Musician, Writer, Historian, Rocker, Visionary. At the end of his life I believe he had his Greatest Incarnation in the love and support he felt from his soul mate, author and companion, Katerie. In The Times, former pop music critic Robert Hilburn said, "He played an absolutely essential role in making the L.A. punk-rock scene one of the great musical scenes ever in America." In Live at the Masque: Nightmare in Punk Alley, Brendan asks for the final word, and so we grant him that,
In a moment of reckless flippancy, I once said that the Masque "ruined my life". I now want to rescind such BS. I'd already ruined my life several times over before I stumbled down the stairs to this crazy ole punker bunker one spring day in 1977...I never claimed to have started punk in LA, an embarassing miscast by some over the last 30 years and one of the weirder monkeys of my personal load...The Masque gave the scene a collective ID, something to stand for...it had much less to do with some "cult of personality" conferred upon me by some. And so allow an auld fool to write his own obit during the twilight years. It's my duck to fuck, OK?
In addition to Butler, Mullen is survived by three sisters: Pauline Mullen, Una Earley and Nuala Rainford. Plans for a memorial service are pending. In lieu of flowers, the family has requested donations to the Musicians Union or the Recording Academy"s MusiCares musicians" assistance program. A mass will be held in Brendan's honor at 11:30am Sunday October 18th at the Blessed Sacrament Catholic Church? in Hollywood.
Variety's obituary Additional reporting by Elise Thompson The first photograph of Brendan Mullen by Sarah Prager-Wirth/Used with permission Photo of Brendan Mullen at the book release party for Live at the Masque by Elise Thompson for LAist