The bony orbit forms a cavity that sites and protects a globe and the nerves, muscles and fat that make up a functioning eye.
In a like way, Bony Orbit Records has been functioning in the Florida underground scene as the all-seeing eye and support system for punk bands to get their music recorded and produced and disseminated.
Founded by engineer BeNt, Xtian Goblyn and his brother Mierd, and originally starting with bands like the Green Goblyn Project, Void and Mothersmile, the label has worked with countless bands, and put out a score of releases, usually in small doses of 500 of 1000 copies apiece.

This is their second installment of Where the Rocket Explodes compilation series.

Some of the songs included have been released in other forms and elsewhere, but it is a nice conglomeration of garage and 80s and 90s punk with hardcore variations such as swamp and spook, with well known bands like the Dwarves and Libyan Hitsquad.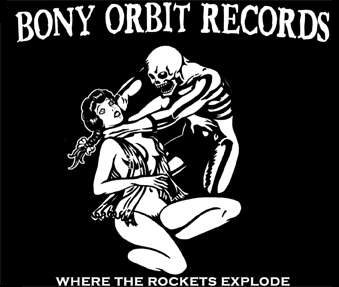 Song List
Morning Glory - The Whole World is Watching.
Thee Obscene - Six Hundred Sixty Six
Electric Frankenstein - Spit it Out
Wolfy Lonesome - Devils Band
Libyan Hitsquad - The Witch
The Dwarves - Fuck Eat and Fuck You Up
The Green Goblyn Project - Blood Splattered Bride
Leftover Crack - One Dead Cop
Tosha Flesh and Bones
The Monistats - Besume Mucho
The Pink Lincolns - Doris the Spider
Take Action - Head shot
Mad Sin - Gone Forever
B.T.H. - Generation Y
Departure From Set Course - Trajedy
Stockyard Stoics - U.S.A
Cryptkeeper Five - Phoenix of the Molotov
Skif Dank - Mind Set
Racin' For Pinks - Black Beyond
H.C.A. - Sinational
Wolfy Lonesome & Xtian Goblyn - Lucid and Lovely
Brotherhood of the Bomb - Mean Muggin'
Wisenheimer - A Well Paved Road to Nowhere
Hot Water Music - Moonpies For Misfits