I love the Norwegian approach music, they are unrivalled in their ability to think outside of the box with their Metal and it's great to see this concept also applies to their approach to Punk, demonstrated so fluidly in the debut release from Trondheim's self professed "Kings of Stonerpunk" 'Bokassa'.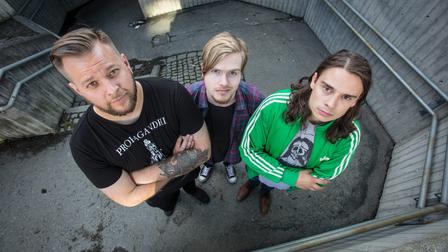 The trio, comprising of drummer Olav Dowkes, vocalist/guitarist Jørn Kaarstad and bassist Bård Linga, merge the speed and brutality of Hardcore/Punk with the groove and fuzz of Stoner-Rock into their sound, encompassing the influences of bands ranging from; NOFX, Fu Manchu, Propagandhi, Queens of the Stone Age, Kyuss, Bad Religion, Kylesa and Jan Eggum, completed with misanthropic lyrics that cover about everything from Reverend Jim Jones, xenophobia, the dying music industry, police brutality and immortal space pirates from Sci-fi-flicks and the result is one excellent listen!!
When the intro starts you really don't know what to expect....the slow doomy riffs give nothing away, then the first track, 'Last night' opens and you immediately get a barrage of groovy riffs, anthem – like, very modern style Punk vocals, sing along choruses, cheeky bass lines delivered with Punk flair and attitude and all that is in just the first minute but then when the pace drops away it drops to a heavy - heavy chugging Stoner groove.
Generally speaking the tracks are fast paced, hugely addictive and straight forward in their construct despite the mix of influences, relying on groovy repeat riffing to give it its addictive quality, even so they manage to keep it varied and exciting end to end. The whole album makes a great listen but the standout track is the previously released single, 'Walker Texas Danger', the track which originally drew my attention to the trio, it's punchy and downright sinister, with an interesting twist that comes in the form of what sounds like a bit of banjo picking beneath the lead guitar in the second half, proving banjos are not just confined to Norwegian Black Metal, so 'Taake' had just better watch out.
They prove their "stoner worth" on the last track, the seven and a half minute 'Stoner Anthem', not the duration you expect on a Punk album but we've already established these are no ordinary Punks and here you also get an exotic eastern edge to the sound as well as a sleazy groove .
'Divide and Conquer' is a compact thirty-two minutes, spanning nine tracks, was produced by the band, mixed and mastered by Morten Fjeld at Fjeld Audio and is available via 'All Good Clean Records' and I for one just can't help being very drawn to a band who may just be named after the late Central African Republic's, alleged cannibal dictator.....
https://www.youtube.com/channel/UCvpoGaFjdK1YmiRTGbhNDHQ
https://www.facebook.com/BokassaBand/