BODIES
By Giovanni
Band members




Clint Hell (lead vox) / Nick Cee (bass'n'backing vox)




/John L. Undell (guitar'n'backing vox) / Hans Gee (drums)



BODIES formed almost 15 years ago out of pure boredom. Clint Hell and Felcher Wheel got to know each other on the Stockholm circuit and had roughly the same ideas about what they wanted to play. So they made a few calls to get a band together and – at the time – it was Clint, Felcher, Nick, Mr Rahl and Johnny-O (a.k.a. Johnny Glue). After John L. Undell joined Felcher later left. They all knew of each other. Musically they come from different backgrounds, but all love the 77-style punk. Mixing all their different inputs is what they feel give BODIES its unique sound. As a band, they have been through quite a few line-ups – including one with the (in)famous Ego T. Superstar , now in Sonic Farm,– but the current one is the one that has stayed together for the longest period of time and they are still hungry!

Hailing from Snake City (Orminge), outside Stockholm in Sweden, the band have a unique Punk n Roll sound, unlike anything around today, but buried deeply in the Professionals manner to my ears. Check these guys out, they certainly have something going on, and fly the flag for '77 punk rock like no one else today.

Here, the guys fill us in on their backgrounds in music and then have given us an exclusive interview.
Thanks guys.

Clint Hell



Music's always been a great part of my life. I started collecting records when I was only 5 and came up with my first own song when I was 8 – can't remember the words or the melody, but it was called "Rock'n'roll moon"… My kid brother is the musician in the family – truly gifted and gone professional as of many years back – and he stole EVERY instrument I ever tried. So I stuck to screaming. First band I ever was in was when I was about 13, though I don't remember its name. In various bands until I was about 24. After a 3-year hiatus from music, I was bored and met a bloke in a pub in Stockholm that had roughly the same ideas about music as I did – Felcher Wheel, the first lead guitarist of BODIES. We decided to form a band that covered the Sex Pistols and both went home to make some calls. And that was it. The band was formed and I'm still in it – having the time of my life!

It's really hard for me to name my primary influences – I listen to anything from classical music to really brutal metal as long as it's got 'vibe'. If you twist my arm, I'd drop names like David Bowie, Iggy Pop/Stooges, the Sex Pistols, Clash, Damned, Sisters of Mercy, Mission, Psychedelic Furs, Zodiac Mindwarp & the Love Reaction, Flesh Quartet, B.B. King, Miles Davies, the Cure, Bauhaus, Joy Division, Saxon, Robert Johnson, AC/DC, Ebba Grön, Motorhead, Ozzy, Black Sabbath, PIL, Albert King, Metallica and Nirvana. Disparate influences, as you can see, and the list is by no means complete!

Nick Cee



I started my career playing bass with the six piece outfit The Renegades in 1984. The band was influenced by bands as The Plimsouls, The Records, The Boys and released an EP, "Extended Play" (CRE) in 1988 which became "single of the week" in Swedish tabloid Aftonbladet. We even released two Christmas singles (collector's items these days) as The X-Masturbators. After touring in France 1989 I called it a day and put my Rickenbacker 4001 from 1974 on the shelf.

In late 1993 I got a call from my old Renegades' partner – guitarist Felcher Wheel (aka Mad Professor) who asked me to join a new Sex Pistols' cover band. Of course I wasn't late to accept and the band BODIES was formed. Gigging around in Stockholm playing the album 'Never Mind The Bollocks' onwards and backwards for some years, we started to make our own songs. Drummers were changed and so were guitarists. In 1999 I went to live in Japan for two years but when I got back, the band was rolling again. Here we are in 2008. Just back from Scotland and a lot of new ideas for songs to be recorded in the close future.

My main influences are The Sex Pistols, Stooges, The Wildhearts and The Boys.
Favourite track of all time is "Ever Fallen in Love" with The Buzzcocks.

John L. Undell



Music's always been one of my first most interests and I come from a very musical family. I first started out in a Swedish punk band called Kvicka Kvalster (Quick Mite), with Ego T. of Sonic Farm and Part-Time Posers (formerly also in BODIES) and Frank of the Robots. We had our first gig way back in 1985. After that I've been in Pizda, the Robots, BODIES (from -95 to -99), Serpent, Bargain and then BODIES again from 2006. There have been other projects alongside these, but they have been the main bands in which I've played. What I use now is mainly a Guitar Workshop Strat and an Epiphone LP. Apart from my rig, I also use various pedals that are mainly there to look cool, as I barely know how to use them… hehe. Any way.

My musical influences have varied through the years. In my early childhood there was the Beatles, Elton John, the Shadows, CCR and Kenny Rogers. ;-) Then I moved on to bands like Tuff Darts, New York Dolls, the Residents, the Church, Split Enz and City Boy. What has been consistent through the years is my liking of Thin Lizzy and the Ramones. I'm still amazed at what they were capable of coming up with.

Hans Gee

I've played the drums since I was about 10 years old. I joined a band at about 14-15. We first called ourselves fläsk kvartetten (flesh quartet), until we found out there already was a well known band by that name – I have forgotten what the name was after that. We played some sort of punk inspired music: Pistols, Clash etc and of course Ebba Grön – the most well known Swedish punk band... We split up after about 5 years. After that I didn't play drums in any band for more than 10 years until Clint – whose sister is a former girlfriend of mine – asked me if I wanted to join BODIES.

When it comes to personal taste in music, mine is very broad, from old punk like Pistols and Clash, Iggy Pop to more indie pop style stuff like the Smiths, The Cure, weird stuff like Einstürzende Neubauten, to some metal. I don't like most of the crap spewed out on mainstream radio.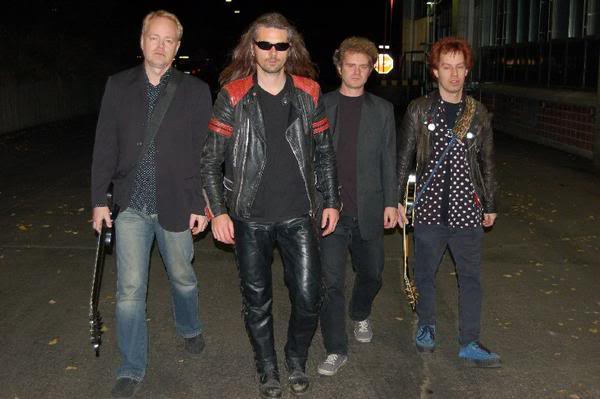 For more on Bodies visit their page at

http://www.myspace.com/bodiessweden

http://bodiessweden.proboards74.com/

BODIES peaked at no 11 on the "most downloaded unsigned artists"
@ www.tourdates.co.uk and are currently at no 18.

Interviewed by

Giovanni

http://viewmorepics.myspace.com/index.cfm?fuseaction=viewImage&friendID=70908592&albumID=796860&imageID=6738777