BLOOD VESSELS
Teenage Heart Records
b
y Ginger Coyote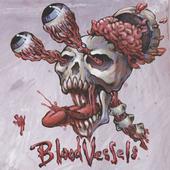 The Blood Vessels are a four piece band who hail from Boston MA and play mid tempo primal punk rock...Their label Teenage Heart Records is an upcoming new label who are also out of Boston.
The Blood Vessels formed in 2003 and this CD contains a collection of tracks that are from the early beginnings of the band and their evolution to their current sound. They list The Damned, Stooges and Black Flag as influences. Lead Singer Josh has a voice that is similar to the late Joe Strummer.. Guitarist Paul plays some interesting leads.. Sputnik on Drums and Niff on Bass are solid players....
"When You Were Young," "Primal Urge," and "Hell Rocket" are stand out tracks.. Check em out...