Interview with Black Fag
by Jasten King of Nancy Fullforce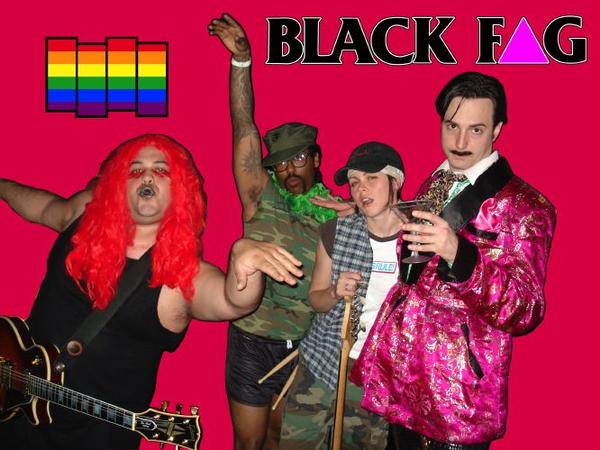 There seems to a buzz (and controversy) going around Los Angeles about a new cover band called BLACK FAG. You see, it's not you typical "look and sound the part" type of retro-show tat most tribute bands are. Once this band starts to play some seem to love it, some don't understand it, others are offended and most have a good laugh. I decided to drop a few questions to "Liberace Morris", singer and frontman of the group, so he could explain for those who might be a little confusedů

What made you initially think up the concept for BLACK FAG?

One night I was in a rather silly mood, and I was listening to "jealous again" and I starting singing along with a lisp. I was amazed at how the lisp added a whole new dimension to the song, so I tried it with several other Black Flag songs and soon I realized that Black Flag was the bitchiest band that ever walked the earth!

Who else is in the band and how did you all meet?

Like Black Flag, we have a rotating cast of musicians, but the characters we play include Greg Streisand (our fabulous drag queen guitarist), Cher Dykeowski (our gym-teaching-smith-college-attending-melissa-ethridge-listening-golf-pro lesbian bassist), Robo Simmons (our club-hopping cabana boy drummer), and myself, Liberace Morris (think Fred Schneider meets Charles Nelson Reilly).

You've gotten some flack about the band either using the word "fag" and/or having straight members in the band doing gay parodies, etc... To me I see it as more of a comedy piece, and if it's poking fun at anyone, it's Black Flag, not gays...haha. What's your take on this?

As soon as I thought of the concept of an all-gay Black Flag cover band, it named itself. What else could we possibly call ourselves? I knew that people would react negatively to it, but it didn't seem very "punk" to shy away from an idea just because it might upset people. Not that I live my life based on being "punk" all the time, and not that upsetting people is always justified, but words are just words, it's the intention that counts. Our band name is no worse than a Sarah Silverman punch line, I stand behind it. As far as negative reactions, we get far more hate mail from people who are offended that we're disgracing Black Flag than people who are offended about our use of gay stereotypes. Part of the black fag project is about turning over rocks to find the homophobia crawling around in the punk scene, so in a way we're succeeding, even though success means coming face to face with the uglier parts of humanity.

What is the crowd reaction usually like from your perspective when you guys start playing?

Every crowd is a different mix of joy, confusion, and/or disgust! We've played a few shows where people were with us right out of the gate, but usually it's fun to watch people slowly figure us out over the course of the first 2 or 3 songs, and then decide whether they think we're funny or offensive (or both) and then react accordingly. Love us or hate us, I feel like we're at least making people think.

Any plans to release another cd or is it more of a one-time-thing?

We have a full-length cd out right now with 10 Black Flag classics that we have "fabulousized!" people can get it at our shows or on www.interpunk.com (where you can also purchase your very own black fag t-shirt)! Since we recorded the cd we've added at least 8 other songs to our repertoire. It'd be great to record them at some point, but we don't have the time or money right now.

Would you like to tour outside of the West Coast and if so how do you think it'll go over in smaller cities?

Right now we're actually looking into doing a few dates in Europe ! We'd love to tour the states, but the band is really just a side project for all of us and we can't really afford to invest a ton of money into it, so we would probably only tour if we knew we would break even, or if we were added as an opener for a bigger band. Festival promoters: get in touch! Personally, I'm dying to tour places like Texas or Wyoming or the Deep South . I'm sure that in certain places we'd be loved and in certain places we'd be hated, but both would be to such an extreme that it would be fascinating. Scary, too, I'm sure, but fascinating!

Who are some of your favorite bands right now? Any up and coming bands you suggest people to check out?

Well everyone who's anyone should already know about Nancy FullForce! I haven't seen any new bands in a while, but I always recommend Bang Sugar Bang, underwater city people, and Pussy Cow. And of course, the best band ever can be found at http://www.myspace.com/blackfag. Thanks for the interview, doll face!