Bill and I have been friends forever and I am so happy he agreed to let me ask him a few questions about the past, present and future.... Enjoy, my fun interview with one of the best bad ass bass players I know..... Mr. Bill Gould
PUNK GLOBE: Thanks so much for doing the interview.... Wow our friendship has been almost the same amount of years as the 40th anniversary for Punk Globe. how is all going for you?
Bill Gould: Crazy, huh? All's going well here, still hanging with fun and interesting people.
PUNK GLOBE: In the course of our friendship you played and produced The White Trash Debutantes and made us all aware of the slickest booking agent ever. The one and only Danny Bluestone... Tell us about producing White Trash Debutantes and Danny Bluestone?
Bill Gould: Producing White Trash Debutantes…what can I say? Good times!! I remember it was done on a really cool old recording console and tape machine, and I love the sound of that single. All recorded and mixed in an afternoon, that's the way to do it..!! And yes, good old Danny Bluestone, he was a real cowboy of the music world, but he had a tendency to make promises he couldn't keep ,which is probably why he disappeared from the business. I remember Ness Aquino's quote about his booking skills: "Who could be so stupid"??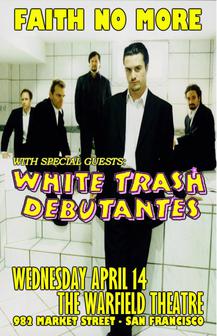 PUNK GLOBE: We recorded at Greg Freeman's Studio who was in The Call on analog.... Danny Bluestone, just could not win, for losing. Debbie Harry really did have alot of schedule conflicts.... What year did Faith No More begin as a band?
Bill Gould: I believe it was 1983.
PUNK GLOBE: Was the band originally called Faith No Man? With Courtney Love singing?
Bill Gould: Yes, exactly, and that started around 1981...
PUNK GLOBE: Tell the readers about some of your favorite venues you played in the early days?
Bill Gould: Well, for us, in the early days we put in a lot of bad nights at the Sound of Music, Tool and Die, the Mab of course, On Broadway. I remember we played at the Stone once in a talent contest with Primus, and both of us lost!
PUNK GLOBE: We also must give props to the late Marilyn Joyce McIntosh for all her fun stories, headaches, free drinks and she did do the article about Faith No More while getting you drunk at The Mabuhay Gardens.. Then there was Valerie French snorting up-times telling us tales about Barbara Eden and being on Bonanza... Valerie wanting to crash at your pad on Fell Street for 2 weeks... After Dorothy got angry at her for drinking all of her old vintage wine... Do you remember those days vividly?
Bill Gould: I remember those days very vividly, and would do it again. Marilyn WAS the party. Wasn't Valerie's greatest claim to fame getting raped by Rod Steiger on film??? LOTS of fun.
PUNK GLOBE: "We Care Alot" was your breakout song. And then you started playing high profile shows and touring. Tell us how that song changed your life?
Bill Gould: Yes, we knew that song had "something" but didn't realize the extent of it. Basically we went from a place where nobody really cared to all of a sudden getting on these great shows. And touring. Obviously it was a great thing to happen, and made a huge impact on my life, the only drag was that I spent more time on the road than at home and lost touch a bit with the city. But then again, seeing where things ended up, that might have happened anyway.
PUNK GLOBE: It seems like, I had heard that Madonna, wanted to sign Faith No More to Maverick Records. Was that true?
Bill Gould: No, it sounds like a rumor Roddy might have started…??
PUNK GLOBE: That Roddy! Didn't you have Warren Entner the of The Grass Roots as your manager?
Bill Gould: We DID. He was cool too, we had some good times.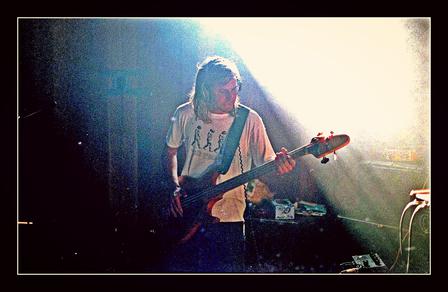 PUNK GLOBE: I remember a big party at The Tropicana where one of The Brady Bunch boys showed up with treats... Hanging with Dorothy Lyman when she was filming Mama's family and Lifestyles Of The Rich and Famous.. And Valerie fell and broke her front teeth
Bill Gould: Tropicana and Brady Bunch: those two words together kinda say it all, don't they.
PUNK GLOBE: Iris Berry was writing that book on The Tropicana and I told her that story... You were riding high on the bands success for several years going through a few changes with personal in the band and with the addition of Mike Patton on vocals came the song "Epic" You became the darlings of MTV and were constantly on the road. How long did that last?
Bill Gould: Well, that's an interesting one. If you live in the States I would say our success lasted a couple of years. But overseas it kind of continued all the way until we split up in 1998.
PUNK GLOBE: You played with Jello Biafra and other projects that kept you busy. Tell us about the bands you played with?
Bill Gould: Jello was awesome, it was like the army and it kept me in shape…I played on a couple of albums and did some local shows, but by the time the band was ready to tour, FNM was already planning it's return. I played in a couple of one-off projects, and toured with a German band called Harmful, but what I found myself doing more than anything was recording and producing other people. I liked it because it was like being in a band without the drama…most of the time, anyway!!
PUNK GLOBE: Your label KoolArrow has some very interesting bands on the roster. Tell the readers about the label and some of the artists that are signed with the label?
Bill Gould: When FNM split up, I found myself without a band but still wanting to work with music, and because I had been touring so much, I had found a ton of cool stuff in my travels that had no access. So I figured that I could do a little good there.
I went into it as a creative person, and the business reality was a serious learning curve, but in the end with was great; I managed to hook up with some cool artists like Tad, Alex from Einsturzende Neubauten, a band from Sarajevo called Dubioza Kolektiv, a dude from Sarajevo named Gino and his band Kultur Shock, Filippo blast core Flattbush…and the best thing of all is that I was able to re-release the first FNM album, the one we did when we were just kids.
Here is a link to KoolArrow Records http://koolarrow.com/
PUNK GLOBE: Tell us how Faith No More decided to reform? Wasn't it originally for a few choice shows?
Bill Gould: I was out of the country when the guys had gotten together; I know there were offers for a few shows like the Download Festival in the UK, but I also knew that the "gang" had kind of missed each other and just wanted to make some mischief. That was in 2009 and we kept the touring going on and off until 2015.
PUNK GLOBE: With all the touring and recording. Were you able to keep up with KoolArrow?
Bill Gould: Well, definitely. Though the digital age is like death in some ways to labels, it also means I can do work with my laptop while on the road.
PUNK GLOBE: What does the future hold for you and the label for the rest of 2017 and 2018?
Bill Gould: I'm in Chile right now with one of my bands, Como Asesinar a Felipes, celebrating their 10th year anniversary and preparing for an album release in October 2017. I've got three projects in the pipeline right now and also helping produce a film about the rise and fall of a group of heavy metal peckerheads from Kabul. But whatever, I see myself working with music for a long time to come.
PUNK GLOBE: Any thoughts on Punk Globe turning 40 years old this month?
Bill Gould: 40 years is something to be proud of! My first memory of Punk Globe was when Nick Geber of Insect Idol was made Punk of the Month.
PUNK GLOBE: That will make Matt Asner very happy!! Describe yourself in three words?
Bill: Paso de todo.
PUNK GLOBE: Any last words for Punk Globe readers?
Bill Gould: Yes. Readers: thanks for helping to keep this gem of a mag alive!