Bernie Dexter is best known for her pin-up work, but there is much more here than meets the eye. She's also a shop owner, designer, hair and make-up stylist and just happens to be married to Rockabilly legend, Levi Dexter. The two recently relocated to England where there are plans for another Bernie Dexter store and more live shows from Levi. Bernie's pin-up work runs the gamut of pin-up culture. She's both naughty and nice. In one photo, she looks like she's ready to spank you, and in the next, she's gazing at the camera with her head tossed back, smiling and on the verge of boisterous laughter. In this interview, we spoke about Hugh Hefner and Playboy. If there is one thing that Bernie is lacking in her work, it's the cold, austere, frozen poses of Playmates from the last few years. Her pin-ups are more aligned with Playboy's golden era, although she's definitely tuned into her own original style and delivery. She represents the innocent, playful, girl next door (who occasionally might hold a whip or a switchblade) rather than the cut-throat, assembly line blonde staring at the camera with jaded eyes ready to jump out of the pages to pick-pocket your wallet. Somehow, female sexuality represented in its current form has lost the plot. And even Playboy followed suit years ago abandoning its trademarked sophistication for something completely vapid and lowbrow. Times have sure changed. In direct contrast to the edgy and awkward looking Playboy and Penthouse models of today... there is Bernie Dexter. And here she is in a Christmas interview and pictorial.
All photos courtesy of Levi Dexter.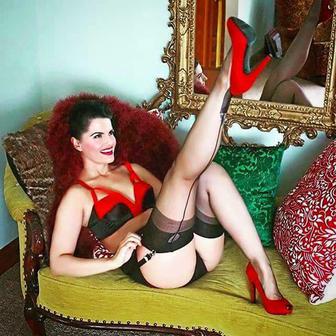 PUNK GLOBE: Hi, thanks for doing the interview. To get started, when did you start modeling?
Bernie: I really started quite young. I was about 11 for my first test shoot & modeled on and off for years. I had an agent in Hollywood in 1991. They sent me on dozens of model calls. I was always too ethnic or too short or this or that. So, I stopped after I turned 22 years old. I never stopped dreaming about doing it but I think after so many "no's" you sort of give up.
PUNK GLOBE: Was all of this before your pin-up work?
Bernie: I did some editorial looking fashion test shoots and was a hair model for Vidal Sassoon from 1991 to 1994. I actually did a photoshoot with Vidal Sassoon himself =) I also was on product packaging for Paul Mitchell.
PUNK GLOBE: What initially drew you to pin-up and rockabilly culture?
Bernie: I was heavily into thrift shopping. I would buy from thrift shops and keep whatever fit and sell the rest to a shop on Melrose and I was also going to beauty school. At that time a friend took me to see Big Sandy. I remember loving all the hairdo's and style of everyone. But it was an intimidating scene so I did not go back for a couple of years. Approximately a year later I started to go see whatever Rockabilly bands that I could. And then completely immersed myself in everything 1940's and 1950's. I was very obsessed. In that time I met photographers and started doing hair, make-up and styling on photo shoots. I would also help pose models and the next thing I knew I was asked to come back to model. =D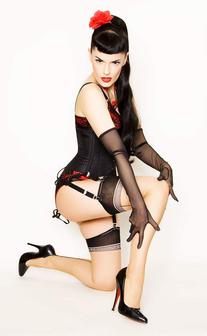 PUNK GLOBE: Do you remember your first exposure to rockabilly?
Bernie: I literally was taken to a Big Sandy show and I was in awe. I loved the music and everything about it. I really wanted to learn to dance, too. I LOVE dancing. That inspired me to go see more. I would go thru LA weekly and just go see ANYTHING that sounded Rockabilly or Swing. One night I was at Jack's Sugar Shack and I saw Levi Dexter and I remember saying to myself "Thats what it is!!!" and I said to my friend about Levi Dexter, "That is the sexiest man I have ever seen in my life!!!"
PUNK GLOBE: You and Levi have been together for many years. When and where did you meet?
Bernie: Yes, we have been together 20 years, married 18 years. We were set up on a blind date by a mutual friend, Tim Polecat and his girlfriend at the time. The funny thing was we lived on the same street literally across from each other for a few years before we were introduced. However, I recall seeing this beautiful creature on several occasions around Hollywood… I had no idea who he was, I would just see him and think, wow, I wish i could talk to him…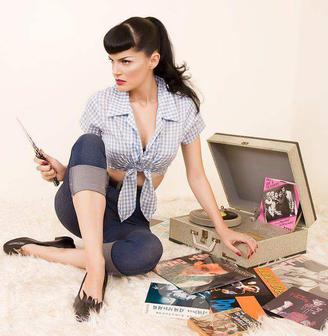 PUNK GLOBE: You both recently moved to England. How is it going? What prompted the move?
Bernie: We LOVE it here. We have family and lots of close friends here. We love the lifestyle here in England. Also, because we love Rockabilly so much there is so much more going on here.
PUNK GLOBE: Your store in Portland is still open. Any plans for one over in England?
Bernie: Yes my Bernie Dexter shop is open and really doing well =) I have an AMAZING team of ladies working for me. I am so lucky.
The idea is to open a shop here as well. I am looking for a shop to buy or rent as we type! =D
PUNK GLOBE: Hugh Hefner just passed away a couple of days ago. Were you a fan of Playboy?
Bernie: I was so sad about his passing. I think Playboy was an amazing magazine. I did audition to be a Playmate in 2010 but did not get picked. I would have been proud to do it.
PUNK GLOBE: There have been mixed feelings about his death online. Some people abhor him, while others have major respect for him. What would you say to people who think Playboy was degrading to women?
Bernie: The beauty of being American is your free to make choices, and free to take your clothes off and be photographed if you like. I don't know much about what goes on behind the magazine, but from what I do know is no one is forced to take their clothes off. It seems a lot of the women who have posed go on to successful carreers.
PUNK GLOBE: Did you ever find yourself in any awkward situations throughout your modeling career?
Bernie: Luckily for me I haven't had any uncomfortable situations. I have always been treated with respect.
PUNK GLOBE: Do you find the women in the pin-up scene are generally supportive of each other?
Bernie: I think it has gotten more supportive in the past three years.. When I first started modeling it felt like everyone was pushing for position. I was actually asked to not enter a pin-up contest at one point. The saddest thing was I saw a lot of cheating going on in the few contest I did get to enter. It was not that I felt I should have won, but I saw vote numbers jump over night to incredibly unbelievable numbers and that made it very obvious. I would never want any prize or position from cheating. I myself have been bullied a lot since I first appeared online just to try to get me to go away. I am still here =) There was a lot of support that came after the horrible treatment I got. I feel like there has always been room for everyone. Variety is the spice of life.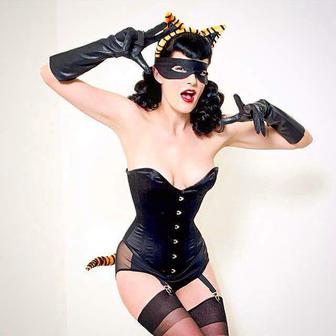 PUNK GLOBE: Your clothing line is pretty successful. You've transcended into production, designing, and owning a store. What this a long term goal or something that just naturally evolved?
Bernie: It was all natural. I have been very proud at being able to say everything I have done has been organic.
PUNK GLOBE: It's Christmas. What do you and Levi have planned for the holidays?
Bernie: We are so excited to spend Christmas here in England together with our mum. We will make mulled wine and enjoy all the English traditions. We like to go to a pub for Christmas eve dinner.
PUNK GLOBE: Is it your first Christmas in England?
Bernie: This will be my third Christmas here in England =D We love all the lights and cheer here in England.
PUNK GLOBE: What's your favorite Christmas record?
Bernie: Every Christmas we play Elvis Presley's Christmas album and I also have some favorite traditional songs "Sleigh Ride", "Let it Snow" and "Silver bells".
PUNK GLOBE: Favorite Christmas dinner?
Bernie: Ahhhhhhhhhhh Turkey. Yorkshire pudding, Christmas cake
PUNK GLOBE: What's the best way to order clothes, etc if people can't get to your store in Portland?
Bernie: Everything is on BernieDexter.com including Levi Dexter products =D