Arika Koasa Gets the 411 from
of ASKING ALEXANDRIA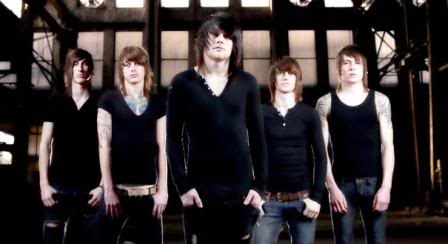 Asking Alexandria has become one of the more recent underground metal bands to hit the mainstream. The group started in 2008 and released their debut album, "Stand Up and Scream", in 2009. The band has become a touring force throughout the world and is preparing to release a new record early next year. I had the chance to speak with guitarist Ben Bruce a few weeks ago about everything going on with the band.
BB: This is actually our first time out with them and we're all really excited about it because they're legends, you know?
BB: Our new album is called, "Reckless and Relentless", and it's pretty much finished. We recorded all of the music in terms of the instruments and all the backing stuff. There's around five songs that are done with vocals so five are completely finished. After we finish this All That Remains run we go back to the studio to finish the vocals up and then it will be ready for release in early 2011.
Punk Globe: Is the group using the same producer or is it someone new coming in?
BB: It's the same producer. We're using Joey Stones again who did the first album because we have a really great relationship with him. He's a great guy and he's really, really clever.
BB: Oh yeah, I'm pretty sure we'll be doing Warped Tour next year. Given the opportunity we'd take it in a heartbeat. It's something that everyone wants to do and it's something that everyone should do at least once in their life. It's Warped Tour, you know! So, it's definitely something we would want to do.
BB: We're fully booked until the end of the year completely. After this tour we fly back to England and do a full UK tour which takes us until the end of the year. Come January, we're going everywhere. We're going to Indonesia, Singapore, Japan, Australia, Europe. We're doing everything next year.