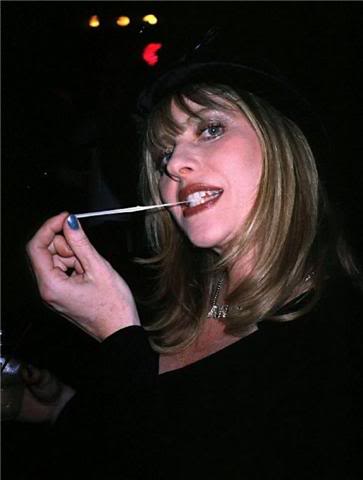 Bebe Buell: My heart, soul- MY GUTS!
Punk Globe: Your album "Sugar" has been described as an autobiography album, was it hard to release an album that is so personal?
Bebe Buell: Nope- I had a lot of stuff to get off my chest. It is filled with love and truth. Letting things go in a song lyric can be very freeing and healing.
Bebe Buell: It refers to a picture frame he gave me one time as a gift- sort of as a "gag" gift but it ended up being one of my favorite things. The frame has an angel on it- the angel is black. I keep a photo of he and I in my black angel frame. The lyric starts "Walking down the street that bares your name, my house is next to your grave, your photos in my black angel frame.", etc... People have started to sing along with me when I do it live and it can be very powerful. I get a little chocked up at times.
Punk Globe: On "Sugar" you cover Johnny Thunders song "Untouchable", what made you decide to cover this song on the album?
Bebe Buell: "Untouchable" is a song that Johnny himself used to tell me I should cover. He would say in his unique voice- "Bebe, this song would be perfect for you- you can change the gender." I did it live for years but decided to finally record it in his honor.
Punk Globe: What level on involvement did Dean Johnson have in the song "Air Kisses For the Masses"?
Bebe Buell: Dean wrote the lyrics- he was a lyrical genius of sorts. His band The Velvet Mafia recorded that song several years ago. It is a song that needed to be brought back because it is so topical lyrically. We have a new animated video coming in early Nov. made by the Nerdy Duo of AIR KISSES FOR THE MASSES. People really respond to our version of it. It is yet another tribute to someone I lost and miss. Dean's passing was a shock and unexpected.
Bebe Buell: Playing it live with The Velvet Mafia for Dean's memorial. That sealed it for me- I knew I wanted to sing those lyrics! With the permission and blessing of the Velvet Mafia, I made it mine.
Punk Globe: What was it like working with David Minehan?
Bebe Buell: I adore Sir Minehan and have known him since the early 80's- he and his wife Judy are dear friends. They have two gorgeous, talented daughters too- look out world!! Working with David is a dream come true.
Punk Globe: What kind of response is the album "Sugar" receiving?
Bebe Buell: So far so good- it is only just out- ask me in six months from now. But if the live shows are any indication, then I would say the response is DELICIOUS!!
Punk Globe: You arrived on the scene in the 70's as a model, singer, songwriter, performer and pop culture heroine. Tell us what was it like back then compared to now in the music industry?
Bebe Buell: It would take ages to answer this in a "looking back" format so I'll just sum it up by saying that it is technology that has changed the world- not just the music business. I am thrilled to have been a part of the music of the 70's and to have been a kid in the 60's- seeing The Beatles on The Ed Sullivan Show was life changing for me- for a lot of us who were little during a cultural revolution. I watched mothers burn their bras on TV- men burn their draft cards... It was incredible to have seen all that music and art- it made me who I am NOW. I live in the now.
Bebe Buell: I am inspired by what I have learned from every single person I am close to.
Punk Globe: Has your beautiful and talented daughter Liv Tyler who you had with Steven Tyler, also been an inspiration on this album?
Bebe Buell: Liv is part of my soul so I would say yes.
Punk Globe: You have raised a very confident daughter, as a mother how difficult is it to raise a child strong enough to follow their dreams and to prepare them for the rejections and heartaches along the way? What is your secret?
Bebe Buell: I just try to keep our feet on the ground and never take anything for granted. The secret to any happiness is love and family so I value that. I tried to instill that love in Liv. She is a really good person- that elated me!
Bebe Buell: No. The book was a very different process. These lyrics on SUGAR came from some of the places that I felt there were holes in the book. SUGAR fills in the cracks.
Punk Globe: Where can Punk Globe Readers buy your album "Sugar"? And what websites can fans access?
Bebe Buell: This is what keeps me doing this- what drives me... the live shows are the best part for me. I love being onstage for many different reasons. The connection is worth it. Music is a connector- I like making people happy. I like to ROCK the pain away, HA!
Punk Globe: Do you have any plans, for tours outside of America?
Bebe Buell: Absolutely- we are in the process of doing all the planning now- this is going to be a very elaborate project.
Punk Globe: Your mother was responsible for sending pictures of you to a modeling agency which started your modeling career in 1972 when you were only 17. These days there is much controversy about parents putting pressure on their children to be famous. Did you experience any of that kind of pressure from your mother or was this what you wanted at the time?
Bebe Buell: She certainly wasn't a stage mother. She was a former model herself so knew what to do. I am eternally grateful to her for getting me to NYC- exactly where I wanted to be.
Bebe Buell: Every case is different- no two stories are the same. Liv had a very interesting story to go with her talent. She also had my years of experience to keep her from making any foolish youthful mistakes. Liv worked hard and listened. What got her where she is though is her talent- I only opened the doors. I only laid down some good foundations for her.
Punk Globe: If you had the opportunity of using a time machine and going back to a place in your life what is the one thing you would change?
Bebe Buell: That I don't have more children. My dogs are my kids now.
Bebe Buell: Never give up on a dream or a gut feeling. There are no rules- only your desires. LIVE THEM! Be kind to animals- they are our spirit guides and companions.
Punk Globe: Thank you so much Bebe for your time and Punk Globe wishes you all the best with your new album SUGAR!