Punk Rock Queen With A Rebel Heart!
By: Ms. Ligaya & The Floydian Device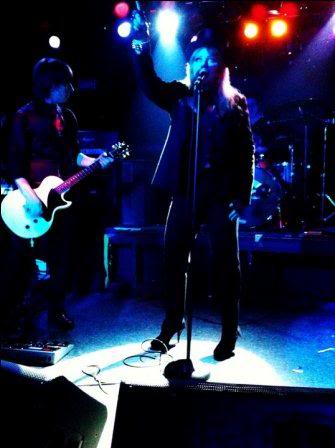 Bebe on Stage 2011
Bebe Buell spent her early years as an army brat growing up in the beach towns of Virginia; but when she was discovered by modeling super agent Eileen Ford at the age of 17, she hit the scene running in New York City and has never looked back. During these early years, she quickly became a fixture on the New York underground scene while it was becoming the coolest place on the planet. Bebe was the 'it girl' who did it all: She was a model; a Playboy Playmate; a rock 'n' roll muse… Hanging out in the studio with the Rolling Stones; with the New York Dolls when they recorded their debut album; partying at Max's with Andy Warhol; having tea with Salvador Dali. She's been a New York Times bestselling author. There are songs written about her; movie characters based on her life. She's been by the side of many of the most inspired artists of our times… Todd Rundgren, Jimmy Page, Jack Nicholson, Mick Jagger, Elvis Costello, Iggy Pop… and the father of her famous daughter Liv, Aerosmith's Steven Tyler. Bebe helped manage Liv's career beginning in 1992; and over the past decade has seen her daughter become one of the most respected young actors of her generation. And through all of these different incarnations, Bebe Buell has made cool, raw music that comes crawling at you like a snake out of the Bowery. Beginning in the 1980's with a four song demo on which The Cars played as her backing band, she has never stopped writing songs. Covers Girl, The B-Sides, The Gargoyles, The Bebe Buell Band… Winding through the years; telling stories about her life and everything she has seen. In the early days, she played parties in the Bowery with The Ramones. Today, she still packs clubs in New York and L.A., and has built a strong following across Europe. The closest description of Bebe's sound might be Marianne Faithful had she grown up on Lower East Side of New York listening to the Velvet Underground and The New York Dolls. She is a true punk rock renaissance girl. To say that Bebe Buell has done it all would be a considerable understatement!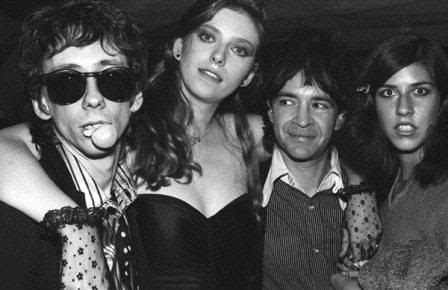 Bebe with Stiv Bators and Rodney
Bingenheimer We caught up with Bebe recently while she was putting the finishing touches on her newest collection of songs called 'Hard Love' just released this week… "I was raised at CBGBs… Cut my teeth at Max's Kansas City!" ~ Normal Girl, HARD LOVE
Punk Globe: Bebe, thanks so much for taking some time to talk with Punk Globe when you've got so much going on! You've got a new CD - HARD LOVE - that just hit the streets on September 27. How did this album come about?
Bebe Buell: I met my manager Wendy Dio last Oct. 26th, 2010 at Bob Gruen's birthday party in NYC. I was performing at the Bash and it was after that show that I met Wendy-she became my manager pretty much right away. She felt I needed to get right back into the studio and put the energy she saw in us live on disc. My last album "SUGAR" was a semi protools creation but that's because it was just three of us. "HARD LOVE" is very much about who I really am with a band that understands what I do. They get it. I wanted the listener to get the live experience with the record.
Punk Globe: Where did the name 'Hard Love' come from?
Bebe Buell: The title "HARD LOVE" came to me because the music is hard but it's also filled with every inch of my soul. It's an honest record. Straight from the heart. I really do love what I do. And I really do feel that truth for my audience.
Punk Globe: After an almost decade break from recording music, you came out in 2010 with 'SUGAR' and the single 'Air Kisses For The Masses'. You've said that this record was the most autobiographical work of your life - dark songs about love and betrayal, desire, friends lost… What kind of stuff do you get into on this newest collection? Are the songs as personal as the subject matter you were writing about on your last album?
Bebe Buell: Yes- all of the above, HA! I rerecorded 4 of the songs that were on "SUGAR"- "Black Angel", "Timeline", "I Will Wait" and the song "Sugar", for "HARD LOVE". Wendy felt the songs were strong and wanted to hopefully get them to a larger audience. "Normal Girl " and "Baby Baby" are tunes I've played live for years but they were never released on a label. "SUGAR" is a very personal album and there are things about the machine sound that works with the emotion. But on "HARD LOVE" it's all come full circle- I'm ready to lay my soul bare. Hard Love Teaser:
http://www.youtube.com/watch?v=j72trRHhYhk
Punk Globe: Let's get into something a little more serious! The Virginia state motto is a Latin phrase - Sic Semper Tyrannis - which in English means 'Death to Tyrants', while the State slogan is 'Virginia is for Lovers'. I always thought that was kind of strange. You grew up in Virginia. I lived there until I was a teenager and moved to Canada... Question: What is it about Virginia that makes people from there so awesome?
Bebe Buell: I grew up on the ocean. Virginia Beach was a great place to be a kid. I spent the entire day at the beach and the pool during the summers. I was a bit of a dolphin, HA! Edgar Cayce lived in Va. Beach. There is some kind of wondeful kookoo mojo floating around Virginia. Not something you can put your finger on. Magic.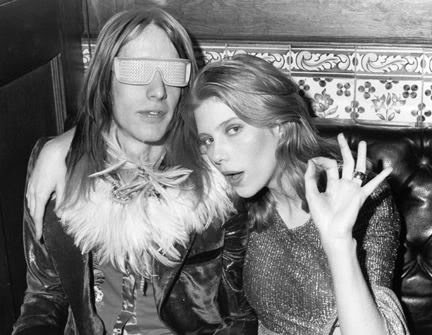 Bebe and Todd
Punk Globe: You've said that when you were younger and hanging out with bands like the Stones and the New York Dolls in the studio, making music was basically just a big party that eventually ended up on tape. But then during your time with Todd Rundgren, you saw a different side that was all about serious hard work and discipline and introspection. What is the writing and recording process like for you? Is it more of a big party; or is it serious hard work time?
Bebe Buell: I've recorded under several different circumstances in my career. But making records is not for sissies. It's a lot of hard work. The process of building a building brick by brick. There are the rehearsals too that go into all of it - the recording and the live show- lots of rehearsing. So you do have to be focused and sharp. Sometimes you have the most fun at rehearsals while you watch the songs come to life. Or if you're doing a cool cover, watching it take on a fresh perspective. I love the entire process but it is a lot of work. But the kind of work I adore.
Punk Globe: You're husband (and guitarist) is the very cool Jim Wallerstein aka "Jimmy Walls"- who has played with some great bands: Twin Engines, D-Generation, Das Damen (Imagine Hawkwind fronted by Tom Verlaine); and Vacationland (who Roger Friedman from FOX once called the 'best unsigned band in the U.S')… What is your writing process like with Jim? Do you find that when you're sleeping in the same bed with the guy that writes your music, it gives you a bit of an unfair advantage when it comes to getting things done exactly the way you want??
Bebe Buell: We just click. It's all about the chemistry. I can give Jim my lyrics, melodies and ideas and he turns them into songs. Or sometimes I will hear the music- a track and hear the lyrics in my head. At times a song just comes to you all at once. Normal Girl was one of those- I was walking down the street and it came in one big swoosh. I've gotten ideas and not had a pen or paper and have had to resort to alternative methods. I was on a beach in St. Barths when the lyrics to "Love Is" from "SUGAR" came to me. I had no phone, pen or paper but I did have a camera so I wrote the words in the sand and took a picture of them. But music is like most things- either you click or you don't. Jim understands me and knows how to speak "Bebe", HA!, as he calls it. We speak the same musical language and so does the band as a whole. It's really magical when everything just gels. Special.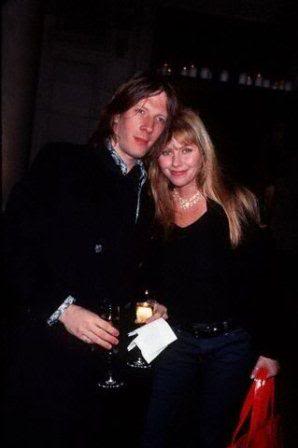 Bebe and Jim
Punk Globe: When your husband is your creative partner - does that ever affects how you go about working on lyrics? Do you ever censor your creative process when writing about past relationships?
Bebe Buell: Never. Jim even encourages me to let it fly. To get it out. To let it pass through me and then out of me. It then becomes something hopefully someone else can relate too and find their own story in. Jim knows everything about me now after twelve years together. We have no secrets. He is definitely a secure, cool guy. I'm lucky. He doesn't easily scare- he's also not at all judgemental.
Punk Globe: Along with Jim, your backing band on this album is comprised of Guns N' Roses drummer Frank Ferrer, former Iggy Pop/Danzig bassist Pete Marshall, and former U Melt keyboardist Zac Lasher. That's a pretty heavy-duty lineup. Your last album had a slow-groove Velvet Underground/Portishead/Bowie kind of ambience that really fit with the stuff you were writing about at the time. With the musicians you're working with now, is this album going to have a heavier sound?
Bebe Buell: "HARD LOVE" is a heavy album. It's a rock record. It's one of those records that you'll want to listen to from beginning to end because the songs kind of move in a storytelling sequence. You anticipate the next story- the next emotion. I wanted this to be my best album. All of us saw eye to eye on how important it was. I loved working with these musicians but I also added a new background singer- Louisa 'Mysteria' Bradshaw. She sings so well with me- she rides me... in just that perfect way.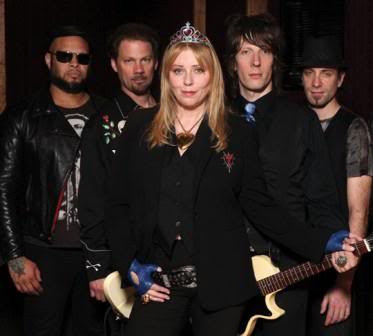 Hard Love
Punk Globe: Will you be playing with this band live?
Bebe Buell: For the live show things will change a little. Pete will move over to second guitar with Jim, and Enzo Penizzotto will be on bass- he played with me in the late 90's and went on to spend ten years playing with Joan Jett. He's back with us again now. Because Frank is going to be so busy with G&R we are now playing with Sarah Tomak. She's a monster behind the drums. I can't wait to tour with her and record with her too. A real talent and I'm so thrilled to have her in the band now. And Zac is the keys- his talent is such a huge part of our sound. It adds a warmth yet rawness to the core. Not to mention the flora.
Punk Globe: On a side note, did Frank Ferrer ever tell you what the heck is wrong with Axl Rose??
Bebe Buell: He actually admires him and says that there's a special genius there. Frank understands the fragile make-up of the lead singer, HA! "Well I stopped for directions at a tar paper shack, and then I knew there was no way back." ~ 13 Wrong Turns, RETROSEXUAL
Punk Globe: What's the first single from the new disc going to be?
Bebe Buell: We are testing a couple of them - "Devil You Know", "Mother Of Rock & Roll" and "I Love A Man In A Uniform"…
Punk Globe: Will you be doing a video for the song that gets picked?
Bebe Buell: Yes, there will be a video. But the album will be released before the single or video- yes, we're doing it backwards, HA! but we kind of have to with this project. Got to think outside the box. I'm going to let the fans and the listener decide. I'm not an artist you can really market in a normal way.
Punk Globe: On the last album 'SUGAR', you did a cover of 'Untouchable' by Johnny Thunders. On this new release, you do a couple covers: Gang of Four's 'I Love A Man in A Uniform' and The Vibrators' 'Baby Baby'… Had you been doing these songs in your live set for a while? And did you mess with the arrangements much or did you do them fairly close to the original versions?
Bebe Buell: I always respect the original song, but I do tend to choose songs that I can make my own or that I feel completes my own thoughts. I do put my own spin on a cover choice. I lean towards the more obscure too - I've wanted to do "I Love A Man In A Uniform" for years! "Baby Baby" is brought back by popular demand. My audiences love it and asked me to record it so I did. I did a version of it back in 1999 with Don Fleming producing but it never came out. Actually, Enzo played on that version. I will always want to do one or two covers - I love the art of the tribute.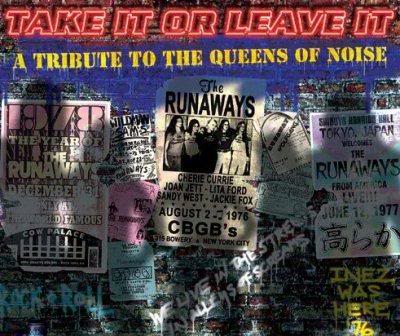 The Runaways Tribute Album
Punk Globe: You did a really cool version of 'Heartbeat' on the just released Runaways tribute album - 'Take It Or Leave It - A Tribute To The Queens Of Noise' - along with some other great artists like Shonen Knife, David Johansen, and the Dandy Warhols. How did you get involved with this project?
Bebe Buell: It was Keith Roth from Main Man Records that suggested I do that song. It was his idea to create the charity record too.
Punk Globe: Your version of the song actually sounds more punk than the original Runaways version. Were you a big Runaways fan when they were together?
Bebe Buell: I knew right away if I was going to do "Heartbeat" I would want to rock it out more- it's originally a bit of a ballad. I loved the lyrics and felt I had lived them when I was younger. It felt like a story when I sang it- a story I knew very well. I've played it live a couple of times now and each time it brings the house down. People are digging that one! And yes, I did dig The Runaways in the 1970s. I was lucky to see them live.
Punk Globe: Over the years, you have developed a strong following in Europe. What's the crowd response like over there compared to playing at home in New York or L.A.?
Bebe Buell: I haven't played over there in eons! It's been way too long and yes, I will be performing in the UK and hopefully all over Europe. I have my die-hard fans who have been with me for years so I hope the album does well enough to get me over there soon. That's Wendy's plan- to get me on the road- to do it all. My NYC fans will always hold a special place in my heart because they have been through it all with me. Every phase. It's interesting to me how my following has grown in Europe without any live shows, so I can't wait to change that- to play for them!!
Punk Globe: Will you be touring America and Europe in support of this album?
Bebe Buell: Yes, all of that is in the planning and discussion phase as we speak. I can't wait either!!
Punk Globe: When SUGAR was released in 2010, you played The Roxy in Los Angeles and had a crazy mix of Rock Royalty out to see your show: One club filled with Rodney Bingenheimer, Lori Maddox, Billy Corgan; members of Blondie, Hole; Ginger Coyote, actress Pauley Perrette, your daughter Liv Tyler… The show got great reviews. It must be really gratifying to have such great response and support from so many of your peers…
Bebe Buell: It's all come full circle and it's a wonderful feeling after working so hard for so long. But I wouldn't change a thing. I love what I do and being onstage is what I live for. Call me corny, but that's what rocks my world- that and my friends, fans and family- the triple "F"s... "All my vital parts have been eaten, have been taken…" ~ Claw Bite, RETROSEXUAL
Punk Globe: Marilyn Monroe once said: "When you're famous, you run into human nature in a raw kind of way." You've punctuated the scene as rock muse and sex symbol for many years now; living out so many of your passionate relationships in public. How do you feel about this observation on fame? Is it something you connect with?
Bebe Buell: I try not to focus on it too much. I find if I let my feelings get in the way, it stunts my progress. You can't let haters or the internet - none of that stuff - slow your journey down. We all want to be loved and embraced. We all want our peers to respect our work. When you've been in the public eye as long as I have it just becomes a way of life - dealing with the intrusions or lack of privacy. You have to expect a certain amount of nonsense and incorrect gossip. I just want to let the music do the talking.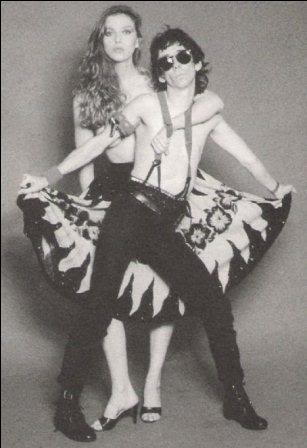 Bebe with Stiv Bators
Punk Globe: You exploded into the punk scene by being the first ever fashion model to grace the cover of Playboy Magazine; and sealed your reputation as a true "punk" for having pushed the limits of liberation at the time. You've been quoted as saying: "If I were to pose again, it would be for the same reasons: To make a statement and to break down some doors." What do you think today when you see so many fashion models and famous actresses posing nude and vying for the cover of men's magazines as a way to promote themselves and actually help their careers? Does it feel like your Playboy shoot paved the way for women to be able to express themselves like this without having the stigma attached?
Bebe Buell: Yes, I do. I took a lot of the slings and arrows but that's fine. It was so long ago that I don't really think of it a lot but if I were to ponder it I'd just say I'm proud of the pictures and glad I did it. I have no regrets whatsoever.
Punk Globe: Going back a few years… When talking about the Max's Kansas City/CBGBs scene in New York in the early punk days, you said it was like a smorgasbord of art: Actors, rock stars, painters, poets… everybody hanging out in one group; and it wasn't that important what you did, but just that you did it passionately. Everything seems a lot more compartmentalized these days. Do you still see this kind of eclectic scene anywhere?
Bebe Buell: Not as much- no. With the internet and cell phones- all that stuff, things are very different. The way people communicate and express themselves is less innocent. It will never be the same but I'm not afraid of the future or progress. I prefer the way things were as far as connecting with people but I also face that those days are long gone and not coming back- EVER! I try to create that feel of an eclectic scene when I play NYC- I try to bring it all back. So yes, I do see that kind of scene- at my shows, HA!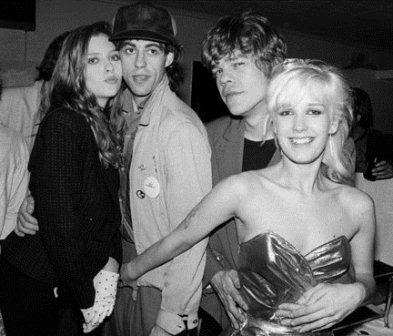 Bebe with Bob Geldof, David Johanson, and Paula Yates
"Walkin' down the street that bears your name, my house is next to your grave…" ~ Black Angel, SUGAR
Punk Globe: Joey Ramone became a close friend of yours over the years. He loved your band 'The Gargoyles', and would put you on a lot of bills playing parties he threw around New York City. You've said about him… "He just had a really big heart and he really enjoyed helping people. Helping people get recognition for their music if he thought the band was talented, that kind of thing. He really enjoyed seeing people do well. Instead of getting jealous like some people." It's just in the last 10 years that The Ramones have started to get the recognition for really being one of the most influential bands of all time: One of Rolling Stone's '50 Greatest Artists of All Time'; and ranked by Spin Magazine right behind the Beatles as the second greatest band of all time. It's really interesting that while they were together, The Ramones never had great commercial success; yet it sounds like Joey was going out of his way to help underground bands to be seen and showcase around New York with his 'stamp of approval'. It's been 10 years since Joey passed away. You used to live down the street from him; play gigs with his band; have dinner at his place… What can you tell us about Joey Ramone that we might not know? In his last years, how did he feel seeing so many people capitalizing on a scene that he helped create?
Bebe Buell: I never once heard him react to that in a negative way. I know he would have been so proud to be inducted into the R&R Hall Of Fame. He loved the pomp and pageantry of our business, believe it or not. He was as much of a fan as he was an icon. He was also a great mentor. He liked it when a young band looked up to him. Sadly, he never really got to see how much he was appreciated in it's full glory. But his legacy is still alive and well in my world.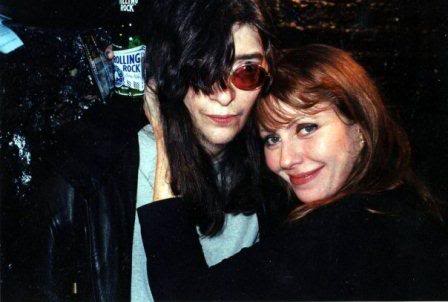 Bebe and Joey Ramone
Punk Globe: It was really sad seeing the legendary bassist Arthur Kane in 'New York Doll' - living out his last days broke in a small apartment in L.A. surrounded by posters of The 'Dolls. Do a lot of people from that scene you were a part of feel ripped off by newer bands copying their style and music and getting rich off of it?
Bebe Buell: Of course… but we were all just kids- we didn't think about it all so hard. We just lived it. We were there and it felt natural and meant to be. You waste your energy fretting over who copied who. Everyone copied each other, HA! Some just did it better than the rest.
Punk Globe: I remember being on a trip with my parents when I was a kid, listening to a long stream of horrible pop songs for hours on a.m. radio; and then 'Last Child' by Aerosmith came on, and everything changed right there at that moment.. There was something so down and dirty; sleazy and cool and delicious about that song that it was like opening up a door to a whole different world. It was like a first shot of heroin, you know, and I've spent the last 30 years of my life chasing that song. You've said that from an early age, rock 'n' roll was in your DNA. There was no real choice… It was just something that you had to do. What kind of stuff did you listen to growing up that had such a strong impact? Was there a moment or a song that stopped you in your tracks like that?
Bebe Buell: The Rolling Stones, The Animals- the British Invasion... Motown. But what really grabbed me were the MC5, The Stooges, early Alice Cooper... the dangerous stuff. I was just plugged into the Electric Church of Rock & Roll.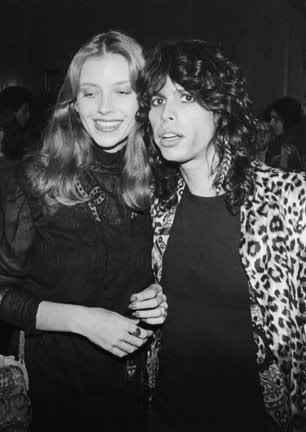 Bebe with Steven Tyler
Punk Globe: Speaking of your baby daddy… About Steven Tyler joining American Idol, Kid Rock recently said: "I think it's the stupidest thing he's ever done in his life. He's a sacred American institution of rock 'n' roll, and he just threw it all out the window. Just stomped on it and set it on fire." Question: Do you think Kid Rock should spend less time worrying about what Steven Tyler is doing and more time trying to write his first good song? And how did you think Mr. Tyler did working his first 'desk job'?
Bebe Buell: Kid Rock spoke too soon. Steven did a fantastic job and now all of America knows about the person we have known for all these years. You get to meet the real guy on Idol. He's a complex person with a lot of depth and dimension- charm and wit. There's a lot there. Steven Tyler is nobody's fool and becoming a judge on Idol just shows that he can do almost anything. I say kudos to him.
Punk Globe: You're such a multi-faceted artist… a performer, writer, singer, model, activist… Definitely a rolling stone that is gathering no moss! How do you balance the energy you put into such diverse mediums?
Bebe Buell: Doing what I love- living my dreams. I try not to carry any negative energy inside me. I release it. Let it go. Let it go and LIVE! I love expensive face creams, too. HA!
Punk Globe: You've mentioned Jack White, The Killers, Marilyn Manson, and The Living Things as some of your favorite current artists… You've made music with a lot of amazing musicians over the years. Is there anyone on the planet that you would still really like to collaborate with?
Bebe Buell: Oh my- let's see... maybe a duet with Iggy Pop.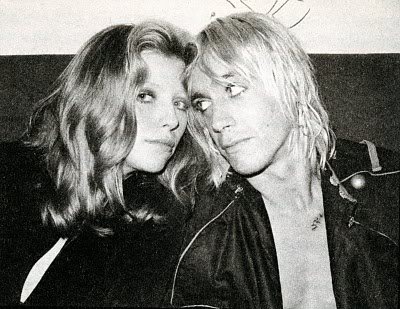 Bebe and Iggy!
Punk Globe: You've been good friends with our editor and founder of Punk Globe Magazine Ginger Coyote for a lot of years now. How did you two meet? And where do you think Ginger's most awesome talents could best be utilized on television: Big Brother, Dancing With The Stars, or maybe a sexy new neighbor on Weeds??
Bebe Buell: To me Ginger is one of the most unique people I know. Also one of the smartest. I think her talents would work in any of those formats to be honest, HA! Coyote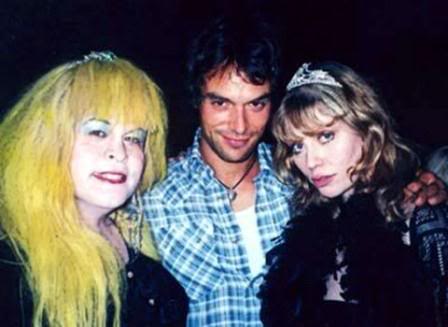 Bebe with Rudolph Martin and Ginger
Punk Globe: One reviewer said of your 1995 album 'Retrosexual' that it was a "solid piece of rock action from a tough girl who deserves more props than she gets". Do you think that in the last few years, this 'tough girl' is finally getting the 'props' she deserves?
Bebe Buell: I've only ever done this out of the love I have for it- if at this point I get some kudos, I'm thrilled. But I'm not so tough. I'm strong. I don't give up or quit.
Punk Globe: Where can people find Bebe Buell online? And where can they buy the new disc 'HARD LOVE'?
Bebe Buell: You will be able to buy HARD LOVE in record/cd stores- places like Best Buy, etc..., Mom & Pop stores. You can order it from Amazon. There will be all of the usual outlets. My website is:
http://www.bebebuell.org
In USA + Canada there will be CDs and throughout Europe it will be available digitally. But in France, Germany, UK, etc..., Amazon will have it on import at first and then it will come out worldwide. It will be available for download everywhere.
Punk Globe: Thanks so much Bebe for taking the time to talk with Punk Globe. Any final words for the punks, artists, poets, and thieves of tomorrow?
Bebe Buell: Don't let anyone ever tell you can't do something you want to do. If they try and stop you, it's because of something lacking in them- not YOU. Don't be afraid to be the one with the original thought or idea. It's OK to step out of the box. Also, LOVE all animals and treat them with respect and honor. Keep the art flowing. Keep the music loud and most of all, don't let the ROCK die.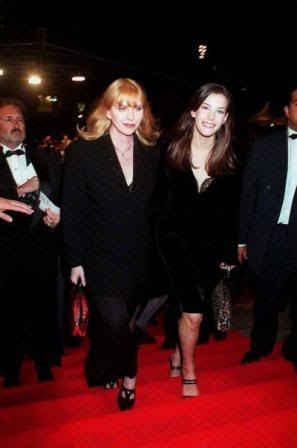 Bebe and daughter Liv Tyler