Barb Morrison and I started chatting on Twitter and when we discovered we had so many friends in common. It was kismet that I do an interview with her. I hope you enjoy
Photo By: Clayre Saxon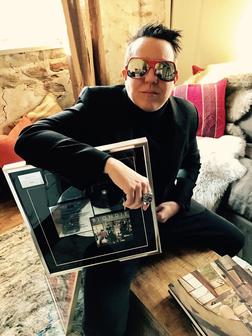 Punk Globe: Thanks so much for taking the time to do this interview. You have done so much musically. can you give us some background on yourself Barb?
Barb: I became a record producer after being in bands for a few decades. i was already recording half the east village in a friends living room so it was a natural evolution once i transferred it all into the bigger studios. i found that i enjoyed being a studio rat so much more than being in a band. I'm one of those introverts that only acts like an extrovert. maybe its a Gemini thing ? So the intimacy of being closed in with the music instead of having to project it out onto a stage was perfect for me. soon I gave up being in bands all together and hunkered down for life in the studio.
Punk Globe: You made contact with me about a recording that Laura Jane Grace was somehow involved with called "Take My Shoulder" tell us about that?
Barb: Venus asked me to produce a record for her that we recorded in a cathedral in Minnesota. the acoustics in this place were amazing. there was actually a 6 second natural reverb. so every syllable that came out of Venus' mouth just had a beautiful ring to it- not that she doesn't anyway - but this place just enhanced her completely. Venus also had just gotten off tour where she opened for "Against Me" (Laura Jane Grace's band). they had discussed doing a song together so this one was perfect cuz lyrically it was geared toward the trans community.
Punk Globe: Tell us about Venus?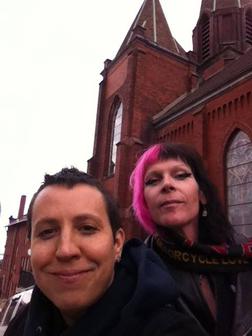 Barb: Venus is a true legend in the music and trans communities. she's been out there on the front lines for years not only with her band " All The Pretty Horses" but also being an artist and a visionary.
Here is what she told me about writing "Take My Shoulder" :
There was a shooting down the block from our house the summer I was working on the song...we'd been on the front porch when it happened. So I was thinking of violence and why it had to happen... And I remembered how scary it was when I was first going out as trans...late 80's... Remembered friends who were trans who'd been targeted and attacked... I brought my transgenderism onto the rock stage when I formed the 'Horses' and made a point of projecting strength as a trans person...I also was very loud about how anyone trans who came to our shows would feel safe because if my audiences supported me, they'd support anyone else who was trans... (This was early to mid 90's) it took a long long time, but eventually a few trans people finally began to show up and I'd see them from stage. I remembered how important it felt to have been able to provide a safe place for them to be..and in turn I created a safe place for myself onstage too.
I wrote the lyrics remembering all that...and at the time of the song trans-kids were just beginning to come out and become recognized.
Lyrically I felt it was time to "talk" to everyone... The trans kids and anyone who felt afraid to do this..not be afraid if we take care of each other...and then I also wanted to "talk" to those who fought against us..I wanted to let them know we weren't any different than them..that we're all human. "Stop your hate Stop your gun Stop your fighting We are one"
Maybe its naive...but I have won people over playing rock and roll back during the dark days... tough dudes who did nothing but give us shit till we picked up our guitars and kicked out our set...they'd often come up after and tell me "I don't get all this trans stuff...but you all kicked ass and it was good so keep doing it."
They'd calm down and became allies in the end...some are our biggest fans still.
I guess I hope the song can still do this work...talk to everyone.
Punk Globe: Have you met Gavin Grimm?
Barb: I haven't met Gavin but I respect and appreciate him so much. one of my earliest memories was being harassed in a public restroom involving a mis- gendering situation. it happens to me constantly and its not only infuriating but its also terrifying. cis people have no idea what its like to have to go through that when all you wanna do is pee or worse yet change your tampon. I had a security guard stop me at the doorway of a bathroom once and refuse to let me in and I'm telling you i was having a blood emergency. i was like "DUDE NOT NOW. PLEASE NOT RIGHT NOW" the friend i was with just looked at the guard and said "ITS THE RIGHT BATHROOM". when i came out my friend who is cis but gay looks at me and goes " God Barb, i had NO IDEA it was like THAT"
Punk Globe: I first became aware of Gavin from a shout out from Laverne Cox on The Grammy's is she involved?
Barb: Laverne isn't involved with this track but she and I have known each other for a long time since way back when she used to perform with her brother in the NYC clubs. I produced a track for her a while back as well. She's so talented and such a renaissance woman. the work that she's done to move the trans community forward has been historical.
Punk Globe: What are your thoughts on Caitlin Jenner being a die hard republiKKKan and speaking out for Gavin and the other transgender students?
Barb: On one hand its been productive for the trans community in terms of visibility. and yes i think that's been OK because it made people have the conversation about what trans is - what it means and how people feel about it. on the other hand I certainly don't think she's a voice for the trans community. the reasons are obvious. without getting into character assassination. I'll just say I don't feel like she is in touch with the average struggle of a trans person trying to make it in day to day America.
Punk Globe: Is there any Internet addresses that you would like to share?
Barb: Heres a documentary about what I do https://www.youtube.com/watch?v=Nn84HGry_D4 and here's my website www.barbmorrisonmusic.com Here is a link for Take My Shoulder https://soundcloud.com/venus-demars/take-my-shoulder-morrison-jetter-remix
Punk Globe: You have worked with all the greats tell us about working with Debbie Harry, Cherry Vanilla, Rufus Wainwright, Lady Bunny, Jayne County and so many others?
Barb: Well Cherry was always kind of a mentor to me. she brought me on board when I was just a teen. We played at Holly Woodlawn's birthday party one year and I think I had literally just gotten my braces off my teeth I was so young ! We've remained great friends. I'm so lucky to know her. She's a real legend.
Rufus had me produce a track for the "Hedwig and The Angry Inch" record of covers. so we did "The Origin Of Love" together. Stephen Trask is an amazing song writer so all the Hedwig songs are incredible but Rufus' version is so cool and really nobody delivers a song like him. As for Jayne - we played a few times together in the squeezebox band. that girl can really rock a room. lots of raw energy and fun. Bunny and I have worked on a few things together : a song in the studio a while back and some live performances when I used to do those. Bunny's got a great singing voice and excellent taste in music. As far as Debbie goes we just hit it off immediately and were able to write together with ease. not only is she one of the most iconic voices of our time, she's also a deep and clever lyricist. I always love watching her write lyrics, she kind of does it like a painting or a sculpture. we will probably continue to work on stuff together into the future. Right now we're both so busy we actually just had to pass on a project that someone wanted us to do but we have some ideas for future music for sure.
Punk Globe: Anyone you really want to join forces with?
Barb: For newer stuff : Solange, The 1975 and Kendrick Lamar
for classic stuff : I've always wanted to produce something for Cindy Wilson - her voice is one of the best around. also I'd be thrilled to work with Nick Cave on something. his voice just hits the ears with such impact and emotion.
Punk Globe: Tell us what you are doing for the rest of 2017?
Barb: I just finished the new EP by Gina Volpe from the Lunachicks. I'm so psyched for the world to hear this record. Not only is it a huge departure from her previous band Bantam (and The Lunachicks) but she wasn't afraid to get super creative with sounds and textures. She's a giant talent with a gorgeous voice and super unique style of writing lyrics. We had Brian Lucey master it and he's put his hands on everything good lately like the Kills, Cage The Elephant, Lucinda Williams, Ray Lamontagne and Depeche Mode. I never felt HUMBLED by the mastering of a record but when this came back we were all like "HOLY SHIT". between the mix Jonathan Jetter did and the mastering Brian Lucey gave us Gina's record just feels kaleidoscopic on the ears ! That'll be out in April.
also right now I'm composing the score for a documentary about fire island called "Cherry Grove Stories". its a historical piece that takes us through the decades of how the LGBT community came to call Cherry Grove their home. there will be many types of music in the film which is always pleasure for me because i always have my ears in a lotta different places. the movie will be released in the summer.
Punk Globe; Describe yourself in three words?
Barb: Inspired, Curious and Ready
Punk Globe: Any final words for Punk Globe readers?
Barb: I'm sure anyone reading something called "Punk globe" is already thinking for themselves so just keep doing YOU and keep a healthy curiosity about authority. We need free thinkers more than ever right now.