Mary Beth Brennan (the lead singer, songwriter, and keyboardist for Chicago trio, The Baby Magic) and I had talked about doing a Christmas special.
There are few things that I think are more queasy than holiday specials due to their forced, invasive cheeriness barging into our regular lives. They're fascinating, actually. Sometimes holiday specials are brilliant, at other times emotionally bankrupt, but they're never both at the same time because feelings are the foundations of these annual programs. Sentimentality, memories, and good will. You either genuinely have these or you don't.
The Baby Magic, aside from Ms. Brennan, features guitarist Patrick Coleman and drummer Santiago Guerrero. It's a strange band. Because venue promoters demand some kind of category, The Baby Magic call themselves "no-wave". I call them punk--I've been calling them that for years and they don't get pissy at me about it--because their music reminds me most of early 80's punk and their personalities don't clash with that label. I direct their music videos because I went to art school with Mary Beth and Patrick, I adore them and their output, and we all tend to lacquer our projects with absurdism and irreverence because, to some degree, that's how we see the world.
After shooting a bunch of different DIY music videos together, we wanted our own Christmas special too. Would it be a bit cynical and satirical? Of course. Would it completely hate the holidays? No. The Baby Magic knows better than to throw anything out with the bathwater. All that we knew is that it would touch upon real seasonal concerns (financial stress, theft, anxiety, time constraints) mixed in with the kind of surreal gobbledygook that we can't help but indulge in (amorphous locations, Krampuses, etc.). I wanted to include actor Michael Massett as Der Belsnickel to provide some narrative drama and because he and I needed to do some over-the-top villain practice for when he's starring in an upcoming indie horror film. The band was okay with that. There was also going to be some interactive Muppet-style puppets, a song number inside of a thrift store, sex worker elves sending punishment "gifts" (lumps of coal, charred teddy bears, rotten pieces of avocado, and so on) to names on the naughty list, and drag aunties having nervous breakdowns during a possible apocalypse. A lot to cram into a 30-minute production but that was the plan.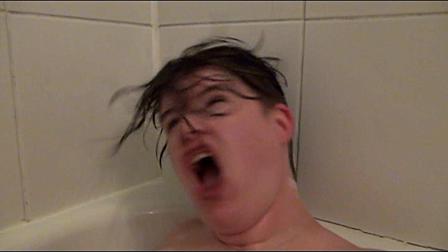 Earlier this year, in February, I looked out the window and saw that it was snowing heavily outside. "Mary Beth! We gotta shoot the outside scenes of The Baby Magic Christmas whatever because it's snowing and it might be all gone tomorrow. We're not going to post it online until later this year but we have to get the weather while we can!," I exclaimed to her over the phone, knowing full well that she'd make a little bit of time on a Tuesday afternoon for me to shoot some footage in conditions that would only be temporarily available. Without a shot list of any kind (no, of course not), I drove over to her home across Chicago, she bundled herself up in various, vintage, butch lumberjacqueline ensembles, and we rushed into an icy urban wonderland to shoot......things. Mary Beth engaged in various actions such as shadowboxing in a park, eating doughnuts ("Make sure that you buy ones that look kinda Christmasy!"), making snow angels, shoveling, and taking her dog, Rockwell, out to poop. Typical, Midwestern winter activities.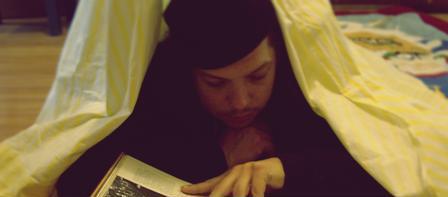 We did right by shooting on that cold Tuesday afternoon. It was the final legit snowfall that we got for the rest of the season. Spring, summer, and autumn came and went, the band toured, I worked on other projects, and then I realized that it was time to shift over to doing interior scenes for The Baby Magic Christmas special. We had to jump into it pronto. I called up Mary Beth and she told me that Patrick and Santiago were moving towards other music projects and, soon, The Baby Magic as we all knew it would be radically different. She wanted to keep the band name but, as of 2018, The Baby Magic will consist of a new drummer and guitarist. For everyone who's in a band, or close to those that are or have been, this sort of shakeup is standard procedure that must be dealt with (maturely if possible).
Filming an entire Christmas special for a band that was going in separate directions would be too awkward and emotionally icky. Christmas specials, in the semi-traditional framework that we were aiming for, are filled with togethernesses: families, friends, lovers, strangers. The Baby Magic are not phonies. We decided to scratch a half-hour long film and, instead, do a simple, normal-length music video that incorporated a holidays theme for a few different reasons:
We already shot the Mary-Beth-in-the-snow footage so we might as well use it.
I had to have actor Mike Massett do some villain roleplay as a warmup for an upcoming project and filming him as a mean Santa figure would certainly do the trick.
Countercultures need a little Christmas too.
The Baby Magic's final show with this set of band members was scheduled for December 15th (it was a good performance for a lively crowd) and this video would be a piece of the Final Hurrah puzzle.
So a Christmas music video, using a song off of their most recent album--one that wouldn't conflict with a holiday scenario while, at the same time, not being a deliberate carol--was scheduled to be shot and edited, in majority, within 2 and a half weeks. Mary Beth was going to write and record a new jingle but we all ran out of time and had to get the video done using a different song of theirs. Regardless, it all worked out. Everyone shot their scenes but there's no saccharine bullshit in it. It's a fun, quick, DIY music video that is Christmas but isn't, that makes fun of yuletide dreck but embraces it too. The song, "Don't Mess With Me", sounds right at any time of the year. Everyone enjoyed working on the project and I didn't blanket them in artificial merriment.
"Derek makes dollar-store guerilla filmmaking fun, like a game, and he's pleasant to people which allows him to get away with shooting in almost any environment that he wants," says Brennan. "He embraces my masculinity and makes me feel like a sexy woman about it."
If Mary Beth Brennan can survive an ill-tempered imp, as she does in the music video, she can probably handle the next iteration of The Baby Magic's lineup as well.
"When it comes to band members, it's going to be hard replacing musicians that are some of your best friends," she mentioned before the December show at Chi-Town's Quenchers Saloon. "Rather than look at it as a replacement situation, I decided to make it a new adventure with new music and more best friends. I'm up for the challenge!"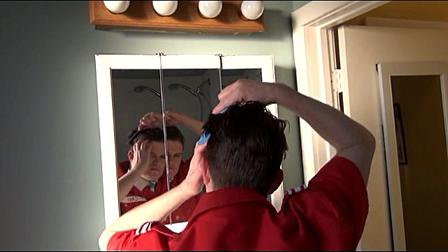 The Baby Magic's "Don't Mess With Me" music video:
The Baby Magic's Bandcamp page: https://thebabymagicmusic.bandcamp.com