I met Rich from a mutual friend on Facebook about 7 years ago before Whatever68 and all my projects I have inqired in the music scene I have always liked his band Animal Train and they have been rockin Whatever68 Radio since I opened and part of most of my compilations he now has a record label and another band Sugar Pill who I also rock on WE68 and they are on Making A Scene by PP Promo Records and also on Noise Party by Whatever68 and they are also on other compilations including Rich's very own projects go check out his bands and enjoy the tunes they rock!
PUNK GLOBE: Hi Rich tell us a little about yourself.
Rich: Hey thank you Punk Globe, hello everyone. I'm Rich Atrain. I found punk rock growing up on the east coast. Playing street hockey as kid I heard The Ramones, Black Flag, Sonic Youth, Nirvana blasting from boom boxes. They were all influences for me. It is what made me want to learn to play guitar and form a band. Currently I live and work in Austin, TX. I run an independent label called BVI records and play guitar.
PUNK GLOBE: I know you have a couple bands can you tell us about them?
Rich: Yes for the last 10 years, I've played guitar in Animal Train. We've had 8 releases to date. I share this project with my wife CJ who is the singer. We write together and share the stage with our good friends, Chris Davis on bass, RC Hernadez on lead guitar, and Jeremy Collins on drums. I also have a recent newer project that formed this past June. I play guitar, CJ plays bass, our mates Gerilyn Hayes on vocals and Patrick Van Veghel on drums. We are called Sugar Pill. We just released our first EP called Out of the Gate check it out here www.sugarpillatx.bandcamp.com.
PUNK GLOBE: I hear you have some stuff coming out on your label?
Rich: Yes I run an independent label called BVI Records. So far we've put out two CD's and 4 compilations. Download the comps for free at www.bvirecords.bandcamp.com
In 2018 I plan on pressing a 4-way vinyl split. At least 1 7 inch and a mix CD of bands from the compilations.
PUNK GLOBE: How long have you been involved in the music scene?
Rich: I first got into shows, house shows, underground festivals back in 2004. I have always gone to small shows, supported the local scene even when I wasn't playing. Since moving to Austin in 2011 I felt the surge to get more accomplished. I jumped right into putting out comps, helping put shows together. I like helping other bands get their stuff out. It is a fun thing which I find enjoyment and I get to meet other musicians. There is a good support system in Austin, friends who rally around each other. There is actually a great network of punks in various scenes all around Texas.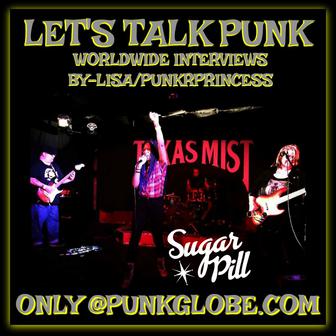 PUNK GLOBE: What/who inspires you?
Rich: I'd have to say my bandmates and friends/other bands in the scene.
PUNK GLOBE: Describe your music scene.
Rich: Well, Austin prides itself as the live music capital so there is that. There is a lot going on. It's a melting pot of sounds which gives musicians a feeling of commonness. You know people from all types of genres and it mixes and overflows at times. As far as the punk scene, you will find several shows happening the same night. We enjoy having multiple venues that support punk music. People come out and support the shows. It is a win / win for the venue and the bands. Much like the rest of the music scene here, there's a lot happening at the same time. It can get a little crazy because you can't be everywhere at once. We all do our best to support each other.
PUNK GLOBE: Anything you would like to do to change your music scene?
Rich: I think there's a lot of hate and misunderstanding of what separates art and real violence. The world is very focused on being sensitive to others and in general punk is not so sensitive. It is meant to be in your face and saying things that are truthful and real. It can't all be love and hearts, there is still the need to release healthy anger. People shouldn't feel repressed and isolated. Expression in all forms is necessary and acceptable. Especially in punk.
PUNK GLOBE: Strangest venue or gig you've ever played?
Rich: Animal Train played a show back in 2012 at a local farm called The Music Ranch. It is an outdoor venue for festivals out in the woods, a little creepy, very cold full moon night. I remember walking around waiting for Jason to pop out at me. It was fun, but I wouldn't won't to get lost out there.
PUNK GLOBE: What are your hopes for the near future?
Rich: To keep writing, recording, and doing shows with both bands. Both projects are currently writing new songs. Sugar Pill will be hitting the road in May to go to Seattle to do a record with Jack Endino.
PUNK GLOBE: Is your family musical?
Rich: I have an aunt that plays drums and another that use to play guitar a little.
PUNK GLOBE: Which instruments do you play?
Rich: Guitar is my main instrument. I also play acoustic guitar and bass.
PUNK GLOBE: What was the first tune(s) you learned?
Rich: Maybe Polly by Nirvana or Blitzkrieg Bop by The Ramones. Before that bits of other stuff. But my focus from day one was songwriting and creating my own versions of stuff.
PUNK GLOBE: Were you influenced by old records & tapes? Which ones?
Rich: Oh yeah I was always blasting my tapes as a kid. I worked in a local music store, CD Outlet. I loved having all that music around. As I got older and started collecting vinyl I played them loud, lol. As for influences I'd have to say as a small child the first two B-52's albums really inspired me. Ricky Wilson was the first guitarist I ever idolized.
PUNK GLOBE: How do you handle mistakes during a performance?
Rich: I just roll with it. If I mess up I do my best to cover it up with a bend of a string or the whammy bar on my guitar.
PUNK GLOBE: Do you get nervous before a performance?
Rich: A little bit but not as much as I use to. I get those preshow butterflies from time to time but that's what those drink tickets are for right?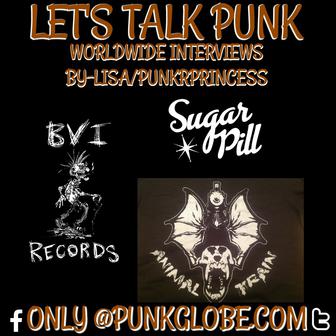 PUNK GLOBE: What are the biggest obstacles for bands?
Rich: Drugs, laziness, over active ego, thinking that a label will foot all the expenses. Not working hard enough to get the live sound tight. Not being ready when you get to the studio. Those are the biggest ones I think.
PUNK GLOBE: What advice would you give to a band who are just starting the adventure?
Rich: Play true to your taste and be who you are. Ask for advice and be humble to criticisms. Do not let someone else determine if you move forward. Don't let the words of someone keep you from doing what you love.
PUNK GLOBE: How do you promote your projects and shows?
Rich: I do a lot through social media and internet radio. DJ's have always been very supportive and quick to give us a shout out. I have good friends who are outstanding artist that I showcase and help promote them as well.
PUNK GLOBE: Any upcoming shows or tours?
Rich: Both bands are planning shows for 2018. The Animal Train site www.animaltrainatx.net always has the upcoming shows on the shows page. Any upcoming Sugar Pill shows will be posted on our Facebook www.facebook.com/sugarpillatx and Twitter www.twitter.com/sugarpillatx pages. We should have an official site up in the new year so look for a link for that on the social media pages as well.
PUNK GLOBE: Any shout-outs?
Rich: Thanks to Lisa for taking the time to write up these questions. Cheers to my bandmates ya'll are awesome. And to all the readers out there if ya are still reading this ya kick ass to. PEACE!!!