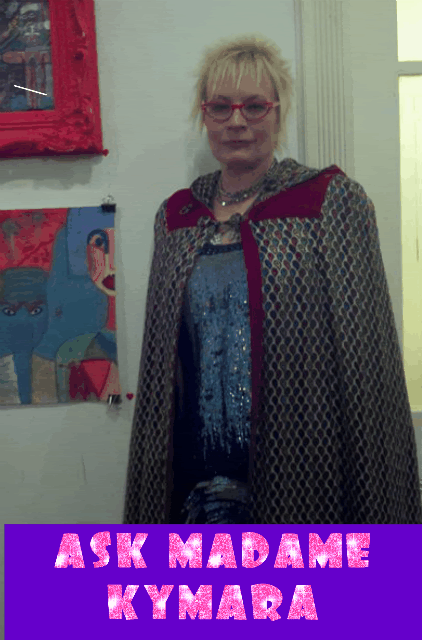 The Holidays are rapidly approaching and this month Madame Kymara is between a rock and a hard place. We simply cannot decide whether to serve a Halloween themed libation, or to take the traditional route with a Fall themed avant-garde mixture of spirits. After careful consideration, we find it best to let the reader choose one or both. So, sit back, create your potion and read on. Remember ladies, never, ever drink Absinthe with a bass player, no matter what they promise you, for you are sure to loose the game of strip poker that you will not realize you are playing. It is well known among certain circles that the bass player possesses Russian Hands and Roman fingers. In this situation, we recommend the Devil's Blood Cocktail.
#1 DEVIL'S BLOOD COCKTAIL

5-6 oz Cranberry juice
2 oz. Back Vodka


Line the rim of a tall, chilled glass very lightly with agave syrup and twist rim upside down in a saucer of red sugar Fill glass with ice and add 3/4 glass of cranberry juice. Slowly pour Black Vodka on top. Garnish with a bright red cherry.
#2 ABSINTHE FRAPPE

1 1/2 oz Absinthe
1/4 oz. Orgeat


Fill Rocks glass halfway with ice. Shake ingredients vigorously until shaker tin frosts. Strain into glass. We suggest pretty garnishes such as edible flowers, mint sprigs,or rose petals along with a blood orange slice. Don't forget the straw!
Madame Kymara's Hall of Shame
Every month we are made aware of shameful behaviors during the course of our travels. We have decided to share some of our shocking discoveries with our readers.

Recently, while soliciting for the annual silent auction of a very high powered gay and lesbian organization, Madame Kymara had occasion to contact the business owner of a "Romantic Kennebunkport Inn". When she mentioned the nature of the organization for which she was soliciting, the business owner replied, "I do not support the Gay Community so I cannot contribute" and "I don't believe in it" Shocking! Shame Shame Shame on this crude, rude and crass individual. A spanking is in order here.

A certain enterprising soul of ill intentions recently approached a member of the band, Agitpop,. It seems the band had a large cult following for years and has the potential for selling unreleased and older music as Mp3's on various sites. This scoundrel (who is also the promoter of Burlesque) used a friend's studio for free, then proceeded to publish the band's songs under his own name, and collected money for sales to which he is most certainly not entitled, since he has no rights whatsoever to the music. In fact, this CUR was only hired as a paid producer, many years past. To add insult to injury, his despicable behavior has interfered with the sales and collection of money to the people who truly are entitled to the profits and he has not forked over one penny to the studio or band. Shame Shame Shame on this crude, rude and crass individual. A thousand lashes are in order here, AG.
Questions from Our Readers
Dear Madame Kymara,

I'm married and live in a small town in Nebraska. I do not have a lot of money and there is not much to do for fun. I know it's morally not the right thing to do, but I feel if I don't have some fun I'm going to go bonkers! Every night when my husband goes out or to work (he is a night watchman) I put on my sexy wardrobe that I keep hidden from him and hook up with different men and women who I meet online. It was working out at first, but then my husband became suspicious. Since it's a small town, it did not take long for people to talk. Now everyone knows what I have been doing and my husband has found out! I can't even go to the grocery store without people making comments. I don't know what to do and I still want to have fun!

~Naked in Nebraska
Dear Naked,

Madame Kymara suggests that you work it, sister. Since you seem to be moving towards a career without realizing it, we suggest you relocate to a large city and pursue your dream. Dump the husband and become an entrepreneur. Few people have the ability to love their work and we can only imagine that you will have no problems reaping the rewards.

Love, Madame Kymara
Dear Madame Kymara,

I have a Masters Degree in Library Science and I am miserable. I hate my job. Ever since I can remember, I have wanted to be an artist. Two of the biggest things stopping me are that I can't draw, no matter how many classes I take and I am afraid I will not make enough money. Every day that I go to work I am more miserable. What should I do?

~Locked In The Library
Dear Locked,

Well, Dearie, you could marry for money, depending on your age. If you take a gander in the looking glass and determine that reality outweighs fantasy, we suggest finding outlets that may fatten the purse while remaining creative. Floral design, graphics, calligraphy, photography.Success in the arts is not locked into being able to draw. Explore your free time finding your creative space, which is much more fulfilling than dating the modern man.

Love, Madame Kymara
Dear Madame Kymara,

I am 53 years old and I decided that older people can be just as cool as the kids when it comes to Metal bands. So, I got a group of guys together and we started playing. One thing lead to another and we started getting gigs doing covers. Everyone really got into it, so we started writing our own songs. All of us guys are age 50 and up. It really seemed that we were getting there. So, we all went to New York City and bought metal clothes and checked out different hair styles and wigs. We really changed our look and no one can tell we are all fifty and over. A couple of the guys went out and got tats. The ladies at home don't like it much and they say we look stupid. We are still getting gigs and we draw a decent crowd. People are always asking us to do more songs when our set is over and they are all laughing and having a good time. We aren't getting as much work as we would like, but we have time and we will get there. My lady at home is giving me a lot of shit. She says that people are laughing at us. What do you think?

~Sick of her nagging
Dear Sick,

EEEEKKK, Gaaaakkk, aarrgghhhh..Madame Kymara has so many problems with this on so many levels. Can we say, "Mid life crisis?" Why, oh why did you gentlemen feel the pressing need to make a pilgrimage to New York City to buy "metal clothes" and wigs? Can you not see how ridiculous this is? Why do you say, "older people can be just as cool as the kids" then purchase the costumes of trick-or treat clowns so "no one can tell we are fifty and older"? My good man, Madame Kymara is most certain everyone can tell you are fifty or older and there is no guessing here as to why "everyone is laughing and having a good time" at your gigs. Please do yourselves a favour and investigate smooth jazz and perhaps some sort of vintage auto repair fixation. Donate those "metal" rags and wigs to your local Goodwill or Salvation Army. A proper gentleman matures with dignity.

Love, Madame Kymara
Holiday tips for gift giving and entertaining Madame Kymara Style

Madame loves to throw holiday bashes on a budget! Here we share some do's and don'ts for successful gifting and entertaining on a shoestring.

We assume that everyone is familiar with the big ugly 1970's reproduction wash basins and pitchers that most of us inherit from well meaning Great Aunts and Grandmothers. Instead of stashing that hideous beast in the attic, create an unusual punch bowl for your holiday open house. Fill the giant pitcher with your stock of punch and use the bowl as a serving piece. Coordinate the colors with fruit in a floating ice ring. Trot to your local Goodwill and look for unusual glassware to use instead of punch cups. We have acquired an entire set of hideous pitcher,bowl and 12 glasses that read "passion potion" in 1970's lettering for a mere $15.00.



Sure to be a conversation piece.

In a holiday quandary about gift giving? Having a horrid time with your budget in this dreadful economy? Why not give unique vintage gifts? Madame has recently noticed that many catalogues are offering reproduction Victorian and Edwardian items for ten times the price of the original. Why, oh why would anyone pay for cheap imitations when one can purchase the real thing for a fraction of the cost? Do check out the local Antique Mall, Salvation Army or Goodwill for gifts with character, instead of overextending.



Fashion Faux Pas

Since the Royal Wedding, we must admit we have been observing the wardrobe of the Dutchessof Cambridge. Madame must admit that we were not imperessed with the dress and did feel it fit into the criteria of "The Emperor's New Clothes" No one could repeat the pizzaz of Princess Grace and this gown was totally based on a safe and familiar design. We suggest that the Dutchess look outside of the box and modernize her look. By the way, hideous fascinators are not a fashion statement.

Next month, The true festivities begin with holiday entertaining, innovative gift giving, holiday Q's and A's and and cocktails fit for a Queen. Send your questions about Sex! Art! Music! to Kymara@Punkglobe.com All names are kept confidential.