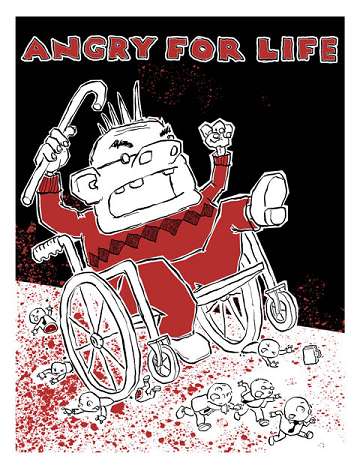 ANGRY 4 LIFE
SOME SONGS WE RECORDED 2004-2006

By Ginger Coyote
Tracks
1. Beyond The Walls
2. New Fear
3. I Like Nothing Feels Like Something
4. The Sky Is Falling
5. Ain't Nothing
6. Smoke
7. Pain Station
8.
Tear Us Apart
9. Let The Children Play
10. Dead Awake
11. No Control
12.

Cyber

Slave
13. Operation Domination
14. World Owes You- Shit
15. Who Can Sail With Out Wind

This CD is a co-release and from yet another band from San Jose that I
am not all familiar with. But these guys kick ass!! I really enjoyed to
CD from start to finish.. This CD has a collection of tunes recorded from 2004-2006.. Some of the tracks were recorded at Bart Thurber's House Of Faith in Oakland, CA..Angry 4 Life were started by Ryan and his brother
from the late Krupted Peasant Famerz and grew.. The music is Guitar driven Hardcore Punk and the lead and backup vocals are strong and good..
On "The Sky Is Falling" you can hear a Violin which is way cool..
Go to the Vinehell site and order this CD..
VINEHELL RECORDS
www.vinehell.com
ANGRY 4 LIFE MY SPACE
www.myspace.com/angryforlife