I have been rockin this band on Whatever68 and have been good friends with Louis for a few years now,Louis is an outstanding musician who inspires all around him he writes and can rock you with a band or alone,check out all his work and if you see him on the streets of NY or at a show say hi!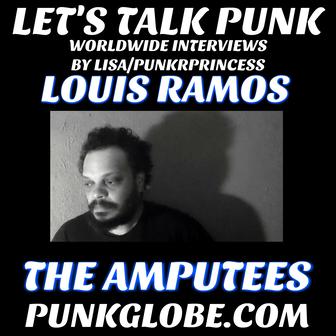 Punk Globe: Hi Louis and thanks for taking time for Let's Talk Punk tell us about how you got started including band members and position of Amputees
Louis: We started off in 2010 playing a depressing series of lower Manhattan bars, most of which mercifully have shut down. Brooklyn venues were more tolerable and some turned out actually fun. Our lineup is always set cause there's 7 of us and we're friends before bandmates so it's not a matter of being in a group which is a more conventional way of doing things. The Amputees are there and then not. However WE are constantly together doing other shit. There's Kaleen, whose main group is the phenomenal Mannequin Pussy, Geena lives in Austin and plays with tons of folks out there. Carrie is laying down some vocals for a project I'm working on. Nova, Soledad and I are also putting a new band together and Gary is busy being a productive member of society. So we are doing tons of exciting new things.
Punk Globe: How many albums do you all have out?
Louis: We have three EPs and this new one which is our first full length.
Punk Globe: Are they on CD,Vinyl,cassette?
Louis: 2 of them (SCREAM and THE HITCHHIKER'S GUIDE TO THE AMPUTEES) are on vinyl on Money Fire Records. The new full length KITTY MAGICK which is being released April 25 on Money Fire is only on digital for now.Out on cassette soon.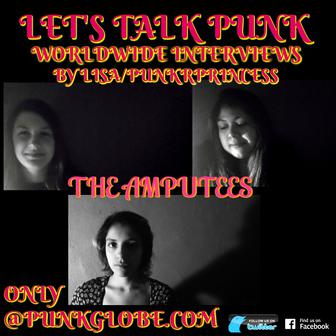 Punk Globe: Tell us of the making of your music
Louis: Well this new album is pretty much a compilation of material we recorded six years ago. These are basically our first recordings with some minor overdubs here and there.
The album was named after a rumor I heard back in 87 that Sonic Youth was gonna name their new album Kitty Magic. They wound up calling it Sister, but that name stuck with me through the years. I thank my friend John for the rumor.
The K in Magick was added because of our love of Zeppelin and my interest in Crowley.The cover designed by my daughter Eden invokes Zeppelin III's wheel with the colors of The Stones' UK Aftermath album crunched in with Master of Reality.
The album itself is pretty much about recognizing oppression within and without. Verbal, physical, mental, political sexual and existential. you can find all our music at https://theamputees.bandcamp.com/
Punk Globe: How often to you all play shows?
Louis: Rarely. I love creation.In studios I thrive. Personally for me carting off songs and rehashing them live is of little interest to me. Like you've already painted the picture, why have crowds watch you paint it again and again. This is just how I feel with my particular mode of expression, not how I feel about other working live bands. It's just me ...all my band mates love playing live.
Punk Globe: Where is your favorite venue?
Louis: My favorite venues have been gone for many years. I did enjoy playing shows at Don Pedro and a gig we did at Human Head record shop. That was awesome. Grateful to Jon Mann and Derek Hawkins of Square Zeroes for that. Both were in Brooklyn. Those dudes can always squeeze a live show out of us anytime.
Punk Globe: Have you been on any tours? and where have you gone?
Louis:We played three shows in Austin in early 2014. That was more an excuse to visit our bass player Geena and party for a week. That was a fun time.
Punk Globe: If you could play anyplace in the world where would you go?
Louis: Kim Gordon's basement.
Punk Globe: What inspires you?
Louis: Whatever I'm reading, watching or listening to..I need to keep my mind constantly occupied so I'm always being inspired by new stimuli.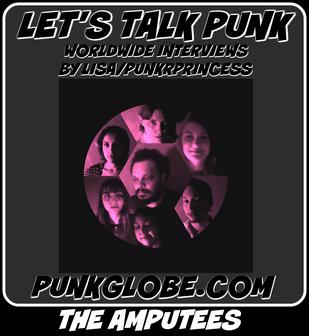 Punk Globe: Other than music what other hobbies do you have?
Louis: Books...the more books the better. I love watching the UFC...cage fighting...cause it's pure...can't be bought and no amount of hype matters once they lock those doors it's just you and that other person. Politics,technology race, advertising all slip away and it gets primitive. A glimpse into our earliest instincts.
Punk Globe: What is your opinion of the music scene today?
Louis: I don't really follow it much. I like certain bands, but I don't care much for scenes and geographic music loyalties ...I find that the realm of 20 year olds.
Punk Globe: Who are some of your favorite local bands?
Louis: I don't know about local but I love Kaleen's band Mannequin Pussy. They invoke a kind of continuity that's been lacking in rock n roll. I hear Stooges, Shangri-las, Ronettes, Nirvana, Runaways all mashed into a completely new and original thing. I also love Shellshag from Brooklyn...superior songwriting skills. Spirit of the Beehive from Philly are amazing too.
Punk Globe: Any faves to play shows with?
Louis: The now defunct Sunset Guns, Clean Girls, Earworms...all Brooklyn bands
Punk Globe: Any upcoming shows/tours you would like us to know about?
Louis: We might do one. Maybe.
Punk Globe: Any shout-outs?
Louis: Shout out to our producer John Meredith, who is a black magician behind the board and to his record label Money Fire for helping us through the years. Also to my daughter Eden. Yooooo!
Punk Globe: I want to thank you for the interview and the continued support to me and Whatever68 Radio keep rockin us
Louis: Thank you Lisa! You are awesome.