Premier of the film "American Hardcore"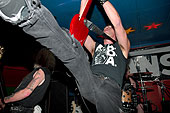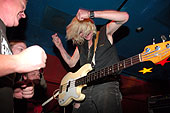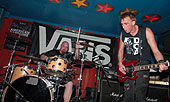 Photos by Michael Loccisano/FilmMagic
D.O.A. has just returned from witnessing themselves in "American Hardcore" and put on a great show at the Sundance Film Festival. Canada's punk rock legends D.O.A. along with the incomparable Circle Jerks blew the roof off the Star Club in Park City, Utah at Sundance, one of the world's most prestigious film festivals. The top notch performance by both of these groundbreaking bands was a perfect foil for a great film.

"American Hardcore", a new film by Paul Rachman and Steven Blush is a history of the formation of hardcore punk rock, American style. The hardcore style of punk sprung up on the west coast of North America around 1980. There was a journalist in San Francisco who coined the term after seeing bands like Black Flag, Dead Kennedys, The Dils, D.O.A. and The Avengers. Hardcore punk was seen as a non-compromising, kick the establishment in the groin, radical, political (but still full of humor) type of movement. The members of D.O.A. saw this article and thought what a great title for an album, so in 1981 they D.O.A. released the album "Hardcore 81" and that went a very long ways to making "hardcore" part of the musical vernacular.

In 2001 Steven Blush had his book "American Hardcore, a tribal history" published, soon after that, he teamed up with Paul Rachman to make "American Hardcore" a fast moving, spirited and accurate account of the movement in its heyday 1980-83.

The film features tons of great raw footage of all the key bands of the era. The story is told by the punk rock anti-heroes themselves. It is glued together with interviews and anecdotes by; Keith Morris (Circle Jerks), Joe Shithead Keithley (D.O.A.), HR (Bad Brains), Gregg Ginn, Chuck Dukowski and Henry Rollins (Black Flag) and Ian McKaye (Minor Threat) amongst others. The film adroitly captures the feeling of the time by opening with the inauguration of president Ronnie Raygun. It all seems very apropos when one thinks about today's leadership or lack thereof.
Upcoming D.O.A. "War on 45" tour dates:
On the heels of their latest release "War on 45 (March To The End)" on Sudden Death Records, D.O.A. announces these upcoming shows:
Sat. February 4th McCallum Activity Centre, Abbotsford, BC, all ages
Fri. February 24th The Well, Okanagan University College, Kelowna, BC
Sat. February 25th Sneakers, Vernon, BC
Thurs. March 2nd The Ozone, Kimberly, BC
Fri. March 3rd The Fluid Lounge, Nelson, BC
Sat. March 4th The Royal Hotel, Fernie, BC
Thurs. March 15th Pete's Night Club, Jasper, BC
Sat. March 17th The Union, Edmonton, AB
Thurs. March 31st Broken City, Calgary, AB
Fri. April 1st Canmore Hotel, Canmore, AB
Sat. April 2nd Wild Bill's, Banff, AB
For more information contact: