"I know what these kids want," says 18-year-old show organizer Zane Alexander between addressing the demands of a house packed with loads of freshly shampooed teens. They're at the Irenic in San Diego for Alexander's first joint, a surf-rockish pileup headlined by Los Angeles band SadGirl.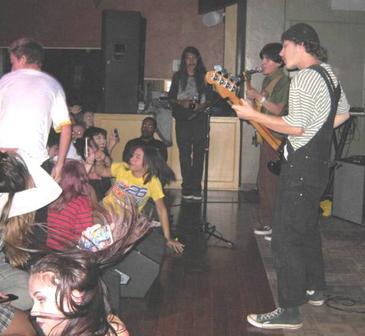 Haunting, minor key guitar echoes and Skylar Epplar's restrained percussion are the surf-like elements of opener Spooky Cigarette, which sustains Trips' (especially the Frank Mindingall/Jakob McWhinney's collab component) penchant for melodic, minor-key post-wave confections that shout "Radio friendly" without giving up a thing, including Mindingall's subtextual coming out/self redefinition story. Honestly, Spooky Cig's is the only music that's stayed in my mind – here's a video for what might be called a breakout underground hit, "Oh Well."
Spooky Cigarette - "Oh Well" [LIVE] from Jason Low on Vimeo.
Mindingall has shared that Spooky Cigarette is a sly twist on the term "spook" (for African Americans) and "fag" (for cigarette, in the U.K.) - Mindingall's gay. I like how the band goes with a subtextual approach to being gay and playing tunes; an approach also taken by Imperial Teen, The B-52s, and the Smyths, among others. That approach is about music/art first, with anything else getting our attention once we're moving to the groove. It reminds me of Lance Loud's Mumps – people knew Loud was gay, but I doubt they'd have kept listening if the band wasn't, as Ed Wood might have opined… great!
It's a lot for T. Rexico to follow. Or… not - about 80 kids who've been waiting for their heroes uphold the trend of moshing to just about anything that rocks, forming an ecstatic, phone-snapping mass into which several girls clearly take their first off-stage dives as reluctantly as new swimmers. It's a modern rite of passage that's light years away from learning to jump clear of the mayhem that attended early Teen Idols and Bad Brains shows in D.C., where I first experienced slam.
T.Rexico's opening Twin Peaks snippet is one of the dots connecting Alexander's selections – this guy might just be brilliant. Guitarist Thomas Souvannaraph affirms his surf-love with a Hawaiian shirt (he's the only musician to uphold the tradition) and on-the-ground reverb worship before faster, much more punk Beach Goons draw the biggest response of the night – the amps are shaking; the human mass expands; BGs use their 20 minutes with efficient verve.
There would seem to be little left for SadGirl, which pushes surf's boundaries by blending lo-fi skeletons with echoes from early '60s and new wave jukeboxes – tres L.A., kind of addictive. The trio's fairly slow early boil corresponds with the needs of temporarily exhausted teens to pause and refresh.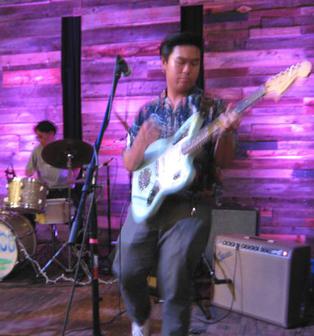 As I leave, Alexander tells me he's also taken aback by the new strain of mosh pitting being fashioned by kids just three-10 years younger than he. His all-ages showcase underscores the fertility of surf rock as a living form, sometimes evolving in new directions. Amazing how these little reinventions keep rock 'n' roll, alt surf and/or forming an ecstatic mass alive. But it's Spooky Cigarette – especially Mindingall/McWhinney's songwriting – that I'll keep following, for sure.