By: James G. Carlson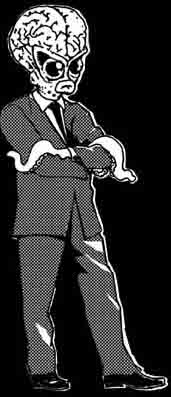 It's certainly no secret that Germany has pretty much always been home to some of the best artists and labels in underground music. Or... it's common knowledge to record nerds and obscure music enthusiasts the world over, at least. We're talking nearly every conceivable genre and subgenre here. Each one is represented to a degree, geographically and artistically, including the little categorical niches that pertain to the piece at hand. And it is in those niches that I have happened upon German artists from Rainer Hass to The Juke Joint Pimps to Reverend Elvis & the Undead Syncopators, as well as a host of other notable bands and singer/songwriters.
Not more than a month ago I received a press pack in the mail from Daniel of Germany's very own Alien Snatch! Records, the contents of which turned out to be two of their new releases -- Wheels on Fire's "Liar, Liar" and The Kidnappers' "...Will Protect You" -- along with their information sheets. And now, having had the opportunity to listen to both albums absorbedly and at length, I am compelled to lay it all down here in a review that will cover both bands equally, as well as the label that made it all possible.
Let's begin with the label, shall we?
Alien Snatch! Records. What a name for a record label. Quite frankly, I haven't exactly made up my mind if the folks at Alien Snatch! have employed the word "snatch" as a noun or a verb. Perhaps it's one of those loaded words with a "take it as thou wilt" sort of suggestion about it, decidedly clever and amusing because of the obvious dual meaning behind it. Or maybe I've just given this topic entirely too much thought, proving once again what a dork I am. Yes, I do have a tendency to over-analyze things, to complicate otherwise simple matters, and so on and so forth in the way that makes mountains out of molehills and brings to mind both hell and high water. Whether in reference to an alien abduction or a female alien's genitalia, it is more or less irrelevant, as is the speculation of such a thing, admittedly, though the fruit from that particular tree...now that's what truly interests me. And by the "fruit" of that "tree," of course I am metaphorically referring to the "albums" released by the "label."
In short, I will have you know that Alien Snatch! Records was founded back in 1999 -- a rather long running label by today's standards -- at which time its owner and operator dealt strictly with vinyl-only releases. Since then, the Berlin label has branched out not only to include other recording formats but to boast over fifty releases in those various formats. Many of those releases are bands that were either unknown or in their fragile and shaky infancy's, which no doubt shows Daniel at Alien Snatch! as the independent and underground music crusader he truly is, as a friend of startup bands and hungry artists, of the music of desperation, of sweat and youth and energy and life. Alien Snatch! isn't just a label; it's a mail order distro with over 1,500 titles in stock at any one time. A rather accomplished outfit, all things considered.
Since its late '90s inception, Alien Snatch! Records has released albums by such bands as The Mojomatics, BBQ (a.k.a. Mark Sultan), The Vermillion Sands, Hex Dispensers, Golden Boys, The Turpentine Brothers, Beat Beat Beat, Henry Fiats Open Sore, Love Boat, and a bunch of others. Not only is the label involved in the signing, recording, releasing and distribution of its artists, it follows their touring schedules, and it assists in promotion and a handful of other important functions where most small labels tend to fall short. With a tag phrase like "It came from the wilderness," and with such genres listed as polka dope, poisoned punk, garage pop, evil blues, dirty soul, proletkult beat and outlaw folk, Alien Snatch! decidedly stands beside the other great indie labels of today, like Voodoo Rhythm, Kizmiaz, Devil's Ruin, Hillgrass Bluebilly, Fat Possum, Bloodshot, Rock N Roll Purgatory, and so on.
http://www.aliensnatch.de/