By: Maggie Fox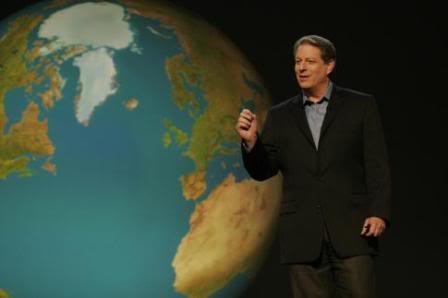 Yesterday, Al Gore issued a bold challenge from the United Nations Climate Change Conference in Copenhagen, calling on Members of Congress to pass clean energy and climate legislation in the United States by next April 22, the 40th anniversary of Earth Day.
In an inspiring speech that was interrupted often with outbursts of applause and that ended with a standing ovation, Vice President Gore made clear what's at stake this week: nothing short of the future of human civilization as we know it. And that future hangs in the balance right now while the United States debates its next steps.
After a week of tense negotiations and calls for bold action from leaders of other nations around the world, Vice President Gore issued a challenge to the United States Senate, pressing U.S. leaders to step forward and take responsibility for enacting bold solutions to the climate crisis:
"We have the means to secure our future. The question we must answer is whether or not we have the political will."
As all of you have shown time and again, we do have the collective will to solve the climate crisis. Polls released as recently as yesterday show again and again that a majority of Americans understand that the climate crisis is real and that the time for action is now. But we need to make our voices heard in Washington.
Watch a clip of the speech here and then tell your Senators we need action NOW to solve the climate crisis. Click here.
Climate change will impact the lives of almost every single person on this planet in some way in the not-so-distant future. Some countries are already feeling dramatic negative impacts, and the decisions that are made by world leaders gathered in Copenhagen this week will literally make a world of difference for the future of these countries and their economies -- as well as our own.
The science is clear. We've heard the warnings, and we know we need to respond. Historically, we have always been a nation that rises up to meet these types of challenges head on. And as Vice President Gore and so many others have noted time and again, in this case, doing the right thing by our planet also moves our country forward.
Solving the climate crisis means repowering our economy with new clean energy jobs, strengthening our national security, and restoring American moral and economic leadership in the world. But if we are going to succeed, it's clear that we will have to use the political processes in our democratic system to act together to solve these problems.
As Vice President Gore stated yesterday, "...I will ask those among my fellow citizens who share my sense of urgency to join in asking President Obama and the leadership of the United States Senate to set a deadline of April 22, 2010 -- the 40th anniversary of Earth Day -- for final action of US legislation."
My answer -- and I hope yours -- is a clear and resounding "yes!" Americans do support bold, immediate action on the climate crisis, and we know we have the political will to make it happen. It's time our leaders in Washington knew this too.
Passing comprehensive climate and clean energy legislation in the U.S. means more jobs, a stronger economy, and a safer country here at home. But it also means a greater chance that there will be a better future for people all over the world in the years to come.
We are entering a period of consequences, which is why it is incumbent upon the United States to lead the world forward. And in fact, the rest of the world is looking to us to step up. If we have any hope of solving the climate crisis, it will take nothing less than all of us.
Accept the challenge issued by Vice President Gore yesterday. Join the fight to pass climate legislation in the U.S. by Earth Day. Meet us at The Wall.