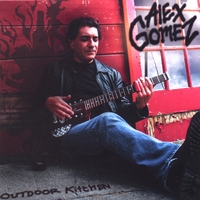 Alex Gomez
"OUTDOOR KITCHEN"
Deltalectric Records
By Ginger Coyote
Track Listing

1. One Tequila More
2. Devil Candy
3. Wake Up Call
4. Smile Now
5. I Can Tell
6. Working Girls
7. Come With Me
8. Sextacy
9. Road to Hell
10. Down The Bayou

Alex hitchhiked his way from FLA...
way across the USA... to Portland, Oregon and found himself
playing the blues....

His vocals are a cross between Mojo Nixon, George Thorogood,
Jon Spencer and throw in a dash of Leon Redbone.....
He plays a mean blues slide and if you enjoy the blues
mixed with a little punk, you will enjoy Mr. Gomez....

I enjoyed the tracks --
"Working Girls," where he really works his vocals;
and ""Sextacy,"" where he does some finger pickin' blues....
My only real wish would be a cover of the "Mr. Belvedere" theme song..