Of MONGREL
By: Rotten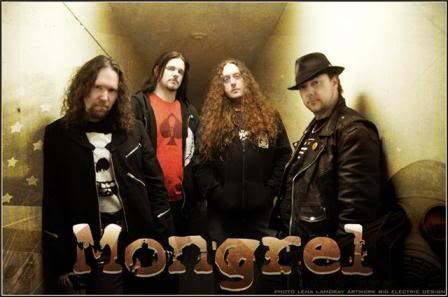 Punk Globe: Hi Adam, How have things been for Mongrel since we last caught up with you?
A: Hey Jonny. Things have been good thanks! Been keeping busy with shows, the release of our new EP "Revenge" at the end of October, looking for a new label, and trying to get our new album finished up.
Punk Globe: The new e.p REVENGE is a lot different to FEAR, LIES & PROPAGANDA, was this a conscious decision?
A: Yes and no actually. The improvement in the recording quality was definitely a conscious decision. As far as how the band sounds we have been together longer as a band now so we have gotten better playing as one I'd like to think and we also have a different drummer than we had on the "Fear, Lies, & Propaganda" cd and I think the change in playing style there impacts things a bit too. The songs themselves just kind of come out as they do. We've actually had "Catharsis" and "Beyond Repair" sitting on the back burner for quite a while now ("Catharsis" was almost recorded for the FL&P album actually) but the EP was recorded at the same time as the upcoming new album so in some ways its just a bit of a preview of what's to come with that, though don't expect the album to necessarily sound just like the EP either.
Punk Globe: How long did it take to write, and how did the collaboration with Tylor Monroe of SCARECROW HILL come about?
A: The songs were written over the past few years, some like "Catharsis" and "Beyond Repair" have been around since the "Fear, Lies, & Propaganda" recording sessions while some like "Point a Finger" we wrote just weeks before heading into the studio to record the new EP and album. As for the collaboration, one of the bands we play a lot with locally is Scarecrow Hill and they've become good friends and extended family essentially. Tylor's vocal style ranges from a more rap delivery to full on metal screams (which you'll hear when the full length album comes out, he did a guest appearance on there too) so when we went to record we thought it would be fun to bring him in on a track and "Point a Finger" seemed like an obvious choice for him.
Punk Globe: Whats next for Mongrel? I hear talk of a new album....How's it going?
A: Guess I kind of already alluded to this a bit... yes, there is a new full length album that is almost done and is slated for a Spring 2010 release. It will be called "This Means War" and should feature the other 15 tracks we recorded this year. Stylewise it ranges from straight up aggressive rock, to hard fast punk, to moody and dirgy, to a more metal range depending on the song. It will also have our cover of the Misfits "Dig Up Her Bones" on it. So along with the album will be some more extensive touring this year hopefully covering more of the US and finally getting over to the UK, Germany, etc. So we're currently looking for a European label and/or booking agent to help make that happen.
Punk Globe: Where can people buy REVENGE?
A: "Revenge" is available on itunes, amazon.com, and most major digital music stores as well as on Bandcamp.com (
http://mongrel.bandcamp.com
) where you can also order the actual CD version of it or get the downloads. The "Fear, Lies, & Propaganda" album is available on all those sites as well if anyone's still trying to find that too. You can also get both cd's and other merch on our online store at
www.MongrelBand.com
Thanks for all the support!!