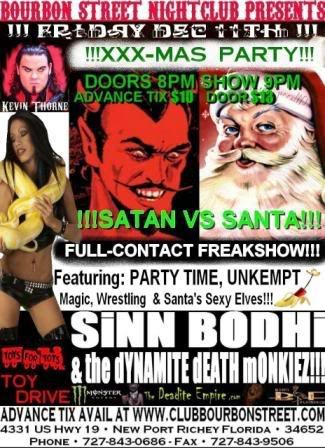 SiNN BODHi
(Formerly KiZARNY of WWE Smackdown
and the Jim Rose Circus)
Frontman: SiNN BODHi (formerly KiZARNY of WWE SMACKDOWN) The Worldz funnest masochist and full-contact birthday clown! Titan, the Worldz giantest midget standing at 7 ft 1" and weighing in at 394 pounds! Blindseed, The Worldz ONLY blind stuntman! Along with Dr. Peter Diamond & Ruby the Magicians from Hell & 632 pound Tweedle Die, the Worldz largest male lap-dancer! Plus guest performers such as Angelina Love (formerly Spike TV's Women's Knockout Champ) & Big Val the Sexy Snake Girl! And last but NOT least, Ricky 'The Rabbit' Steamboat & Fluffy the 14 foot Albino Burmese Python!...
S.B: Welllll… Picture Rob Zombie meets Jackass at Arkham Asylum and you will have a glimpse at what the dYNAMITE dEATH mONKIEZ Full-Contact Freakshow is all about… Whipcream-Thumb Tack Pie throwing, drinking boiling water with razor blades instead of ice cubes, bending iron bar in teeth, bed-o-nails stunts, tongue torch (shark hooks-BBQ Forks-electric fans!), Human Whack-a-mole, Human Dartboard, Rabbit juggling and a fist fight that makes hardcore pro wrestling look like just another night of shuffle board at the local old-age home!!!
S.B: Uncle Jimmy is one of THEY most savviest, slickest and interesting people I have ever met on planet Earth! He is the Wiley Coyote that DOES know how to catch the proverbial Road Runner! I still feel bad that poor lil slim Jim snapped into a steel chair that I may or may not have been allegedly swinging! Jake 'The Snake' Roberts was my idol, favorite wrestler and biggest nightmare when I was growing up! Now, Jake is my mentor, my opponent and my close friend! I love and respect Jake and think that he is the most creative, mysterious, misunderstood and sweetest person I have met in the wrestling business. I have had many adventures and many laughs with both elusive characters! Tormenting Jim's lovely wife Bebe The Circus Queen by incessantly imitating her French accent… Jake and I having farting contests and telling jokes I'm sure has scarred many a passer-by! And… Yes, Uncle Jim, sorry it WAS me who stuck all that bubble gum under the seats of your leopard skin Ferris wheel at your mansion! LOL
S.B: Yup! I think they are all great performers BUT I have a very eclectic range of inspirations… Wrestlers, comic book characters, musicians, actors and circus performers… Uncle Jake 'The Snake' Roberts, Uncle Jim Rose, Tokyo Shock Boys, Rob Zombie, Joker, Green Goblin, Marilyn Manson, Gene Simmons, Macho Man Randy Savage, Steven King's 'IT', Brutus Beefcake, Motely Crue, Riddler, Santa Claus and Satan!
S.B: The Human Dart Board is an old carny ritual of pain brought to the rock n roll stage by the Jim Rose Circus and Nine Inch Nails… I learned the feat working with Nicholai Diablo in across Canada . I am one of a few who is able to survive being the Human dartboard BUT I am the ONLY person on planet Earth that is able to survive the Human Dartboard feat from the front! I am also the ONLY performer to NOT use a wooden spine guard during the act (one wrong throw and a dart could easily breach the spinal column sapping the spinal fluid, instantly causing lifelong paralysis. BUT… Having the trust in the performers I work with to not stab me in the heart, sternum or spine helps… Even if the guy throwing the darts is BLIND! Good old Blindseed!
S.B: I think that Vince is a Billion Dollar Deizouche Beizag that can afford to make million dollar mistakes like Mr. Kennedy, Scotty 'Colt Cabana' Goldman Umaga, Gavin Spears, Manu, The James Boys, Ricky Ortiz, Bam Neely, Jacob Ducan, Mike Kruel, Kevin Thorn, Blindseed, Titan and myself! Vince has us all hooked from childhood. Just like kids wanting to grow up to be a baseball players or a firemen or astronauts… We follow our dreams only to have Vince play God with our lives. I am thankful to Vince for my opportunity on WWE SMACKDOWN but resentful that I had the carpet yanked from under my feet before I ever even really got started… Everyone I just listed is full of talent and was a victim of entertainment industry politics and backstabbing…
S.B: BETWEEN CHAPERS was co-written by my little brother Stevan and I several years ago. It is about new chapters in the Bible unfolding in modern day… Pre and post Armageddon, angels, devils and tones of other bizarre characters locked in social power struggles and silly situations!
PUNK GLOBE: Who is Squeaky?
S.B: Hahahahah Squeaky was my wrestling manager who just happens to be a Rubber Duck with devil horns! So?! You gotta problem with that?!?! His advice was always very sound and he was fairly cheap to feed…
S.B: I am currently in the process of producing a Freakumentary on SiNN BODHi & the dYNAMITE dEATH mONKIEZ that will be filmed with freakshow stage footage, featuring various metal bands, interviews, cameos, and lots of fun surprises! Not to mention lots of bonus stuff like Jesus vs Satan and the Donkey Show all live in the ring!!! Yes, you just read that correctly! Stay tuned freakshow fans!!!
S.B: Carnival Diablo was the most artistic stage show I have ever worked on. I originally learned a lot of my masochistic feats from the Carnival Diablo ring master Nicholai Diablo who is a 3rd generation Circus performer. Diablo has two of the best sword swallowers in the world, Countess Vanessa and Ishtvan Betyar. Nicholai is possibly the most passionate circus historian and performer that I have ever met… Some of the feats I would endure were the Human Dart Board, placing my hand in animal leg-hold traps and my finale was getting electrocuted in a live electric chair that exuded over 100000 volts and 3 amps (which is enough to kill a horse!!).
S.B: A million bucks so I can buy as many cartoon dvds as I want, solve world peace, donate to animal shelters and be able to afford to do free shows to entertain the humans of Earth!
PUNK GLOBE: What would you say to any Punk Globe reader who is thinking about trying any of your stunts at home?
S.B:Don't even think about it dummy! Just pay to come see me hurt myself instead! THEN go home to your woman or dude ravish them completely and when you're done and spooning you can brag about how you could do my stunts better then me!
S.B:Captain Lou was a high octane kinda guy when I watched him as a kid. He thought outside the box and now history repeats as I am a kinda high octane guy myself not to mention I have a long goatee tethered in rubber bands too!
PUNK GLOBE:Have you thought of appearing in an independent feature film?
G.A:I would love to act and do stunts in a feature film or on TV! I did stunts and acted in the campy comedy-horror ENTER ZOMBIE KING directed by Stacey Case in Toronto Canada several years ago. Entertaining is my crack, I don't care if it is on stage, in a ring or on film as long as people walk away happy! So if there are any filmmakers out there that want a Hell-on-wheels artzy freak to play the villain or the weirdo or the mail man or the family pet PLEASE CONTACT ME PRETTY PLEASE!!! Freddie Prinze JR, during our fight scene I promise I'll make you look good! You too Lorenzo Lamas or Paul Rubbens! Or hey you too Ted Danson or Adam West or Bill Shattener!!! Could you see me playing a lawyer in Boston Legal or a rainman-style Ewok… Or the next Crow, maybe Popeye???