By: Pamela Torres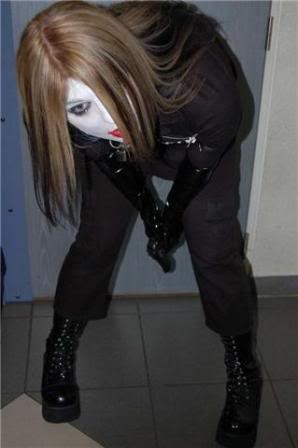 As part of this special Valentine's Day issue of the Punk Globe, I got my heart ripped from my chest cavity during an exclusive one-on-one interview with one of the most hardcore and controversial lead singers of heavy metal: O of Undercover Slut, a band that has lurked in the underground for over a decade and has actively taken part in protesting the cruel treatment of animals. Here's what O had to say:
PUNK GLOBE: Now to start things off, your band has been making records since the mid-90's. How would you compare UNDERCOVER SLUT to similar groups like Deathstars or Fashion Bomb?
'O' : We simply cannot be compared to those bands. We are not on the same level. No disrespect to those talented musicians, but we are politically incorrect and very proud of it. I don't give a fuck if people got offended by my lyrics, song titles, album titles, etcetera... I enjoy pushing the envelope as far as possible, I enjoy it very much!
PUNK GLOBE: Do fans in the United States react differently to you as opposed to crowds in Europe?
'O' : Difficult to say. In Europe, crowds are always all ages ones while in the States we are performing most of the time at 18 & over or 21 & over clubs. I'll be able to answer that question properly whenever we'll perform in all ages venues in the U.S.
PUNK GLOBE: Where does the title "AMERIKKKA MACHT FREI" come from, and is the album specifically meant to assault American politics?
'O' : "AMERIKKKA MACHT FREI" directly comes from my brain. I was inspired by Hegel's philosophy, which was actually stolen by Nazis during World War II when "Arbeit Macht Frei" was proudly written in front of those Euro concentration camps. Absolutely not an assault on American politics, more a tribute to "Amerikkka" the UCS way.
PUNK GLOBE: How about the track "ANNA NICOLE SMITH"? Some people compare her death by drug overdose to that of Marilyn Monroe. What motivated you to pay tribute to Smith?
'O' : Anna Nicole Smith being compared to Marilyn Monroe? Not quite a modern-day one. I wrote those lyrics after an interview she gave to Hustler Magazine a while back. Was actually fascinated with what I read. May she R.I.P.
PUNK GLOBE: Does the 2004 LP "COMMUNISM IS FASCISM" partially reflect your band's lifestyle? I mean, was there alot of hardcore sex and drugs involved?
'O' : That might surprise you but I don't do drugs. Never did, not willing to unless to commit suicide. The thing is I suffer from depression and I like to know what's going on around me, drugs won't cure my depression for sure, actually will fuck me up a little more. That's why I don't do any drugs. Hardcore sex? Sex is always hardcore! Isn't it?
PUNK GLOBE: How long have you been an animal rights activist?
PUNK GLOBE: Another UNDERCOVER SLUT song that fascinates me is "BLACK CNN", where you mix heavy metal with gangster rap music. Are you a big fan of 2 Live Crew and Public Enemy?
'O' : I don't give a fuck about 2 Live Crew, however Public Enemy is the bomb! Several years ago, we played at the Cat Club in L.A., right after our show the promoter noticed a Public Enemy patch on my coat, then he called someone and handed his cell phone to me, on the line was Flavor Flav screaming "Welcome to America!", we chated for a couple minutes, it was a real honor to discuss with such a legend.
PUNK GLOBE: Did you take part in any other bands before forming UNDERCOVER SLUT?
'O' : For a couple years, I lived in the U.K., precisely London, Tamworth and Birmingham where I formed a Glam/Punk band "a la Crüe meets Pistols". Drummer and bassist were English, guitarist was half Dutch-half Italian. We recorded a couple demos, the last one in Birmingham in Black Sabbath's rehearsing studio. Received rave reviews in the U.K. and in France but never performed live.
PUNK GLOBE: Just recently, President Obama's new health care reform bill was passed. Do you think there's still hope that America's way of life will change for the better?
'O' : Frankly, there would have been more hope for black people with Malcolm X than with Obama. While Martin Luther King was nothing but a dreamer, Malcolm X was a real threat. Obama is a black dog on a leach the same way George W. Bush was a white dog on a leach. Open your eyes, don't be fooled and realize the very same masters are behind that leach. Regarding health care, of course, all American citizens need social security. You deserve it! Poverty inside any civilized society shouldn't exist!
PUNK GLOBE: Anything else you'd like to say to our Punk Globe readers?
'O' : "AMERIKKKA MACHT FREI" will be released as a Digipack CD and on Vinyl LP (with 2 different covers) via Deadlight Entertainment/Underclass Distribution circa March 2KX. Still looking for an American distribution deal... Join us on MySpace at:
www.myspace.com/undercoverslut
License UNDERCOVER SLUT at:
offensiverecords@aol.com
Gratitude to you Pam for the freedom of speech.