"http://www.w3.org/TR/xhtml1/DTD/xhtml1-transitional.dtd">
"Where's Howie?!!!"
Bugnut Records
Review By: Ginger Coyote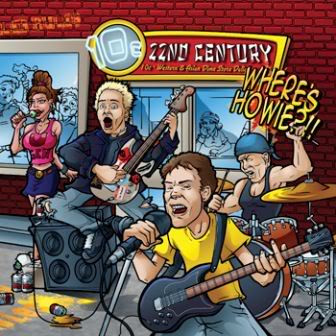 Tracks
U Generation
Teenage Underwear Model
Howie the Skid
California
Human Race
Runaway
Echo Beach
I Read It On The Radio
No Secrets
Peculiar
Boy was I excited when I went to the PO Box and found my very own personally autographed copy of 22ND Century's second CD "Where's Howie"... The message that guitarist Tim Plommer left made me blush... Forget that Tom Bergeron type demeanor he emits to the audience... Anyways back to the CD.. 22ND Century has the one and only Zippy Pinhead playing drums and the talented Duane Chaos on bass and they work well together providing a strong backbone sound... Plommer has that Johnny Ramone technique of being able to play both rhythm and lead guitar with ease .... The music is "fun tongue in cheek" old school punk.. Lula was very impressed by Duane's charms and talent at a recent San Francisco show helping to promote Susanne Tabata's film "Bloodid But Unbowed". Of course my personal favorite is the 2nd track "I Was A Teenage Underwear Model" and "Howie The Skid" answers the title of the CD.. All around the CD is well done and well worth buying.. Check out 22ND Century's Banner Ad on the home page of Punk Globe... You will be very happy you did......