Let me just begin by saying that this is not a best-of year end list. I am confessedly not qualified to say what the best of anything is (I doubt anyone is, honestly). Instead, this is simply a list of 2017 releases that I personally happen to consider standouts. This list would undoubtedly vary from person to person; such is the beauty of individuality coupled with the subjective nature of music. That is partly what makes music the amazing art form that it is. And 2017 had no shortage of noteworthy releases.
---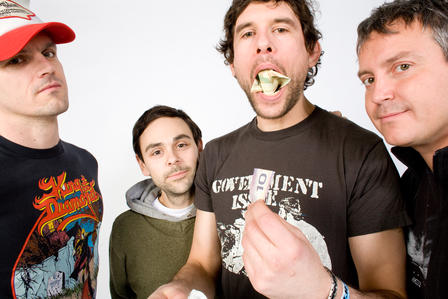 Propagandhi – 'Victory Lap'
Propgandhi is a band that needs no introduction. This Canadian punk four-piece has released several albums throughout the years, some of which have become scene favorites. For some who grew up listening to Propagandhi's early material, the band's shift in sound that arrived with "Potemkin City Limits" (2005, Fat Wreck Chords) was something to get used to. As for me, my favorite Propagandhi albums to this day are 'How to Clean Everything' (1993), 'Less Talk, More Rock' (1996), and 'Today's Empires, Tomorrow's Ashes' (2001). When the shift in sound became less punk and more rock meets melodic hardcore, I took a brief step back from the band. Now, having revisited Propgandhi's later releases, like 'Supporting Caste' (2009) and 'Failed States, (2012), I am now able to appreciate them as albums from a talented band that has evolved. The band still deals with important social and political issues and conveys them exceedingly well lyrically, and the music is decidedly more complex and mature. And Propagandhi's new album, 'Victory Lap,' the band's seventh full-length and first album in five years, is truly an exceptional collection of songs and shows that there is yet more room to grow for this band.
---
Converge – 'The Dusk in Us'
Many of you are probably familiar with the long-running Massachusetts-based band Converge. Fusing elements of hardcore, grindcore, punk, and metal, Converge has earned itself quite a following since it formed in the early '90s. The band's 2001 release and landmark album 'Jane Doe,' which many still consider a masterpiece to this day, transformed a large portion of the band's fan base into a cult following. It has remained so throughout the years of constant touring and great releases such as 'You Fail Me' and 'No Heroes.' Most recently, Converge released its ninth studio album, 'The Dusk in Us,' the band's first in five years. The album has already been praised highly by both critics and fans alike and is considered by music news sources one of the best metal albums of the year.
---
Tera Melos – 'Trash Generator'
Sacramento's experimental rock trio Tera Melos has recently released 'Trash Generator,' the band's third full-length and first album since 2013's 'X'ed Out.' While the band prefers not to use the term "math rock" to describe its sound, it tends to end up listed in that particular category. This probably has much to do with the band's style of employing unconventional song structures. More than anything, though, Tera Melos' sound is experimental indie rock, new wave, punk, and jazz, all thrown together into one glorious and super-weird sound that is all its own. Since its release on August 25, 2017 on Sargent House Records, Trash Generator has received mostly positive reviews.
---
Tired Minds – 'Loom'
On June 16, 2017, Tired Minds, an Australian post-hardcore outfit released its album 'Loom' on Sydney-based independent label Art As Catharsis. This album I found especially impressive because, having not known about Tired Minds existence prior to this release, the songs were expertly crafted, plenty creative, and full of emotion. If you are a fan of Converge, Dillinger Escape Plan, or Cattle Drums, Tired Minds' music will likely appeal to you.
---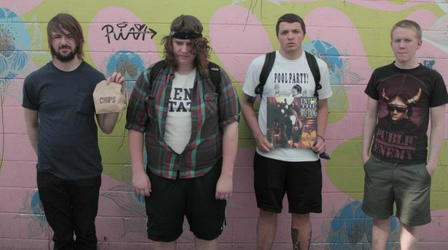 CityCop – 'The Same Stories That Never Get Old'
Akron, Ohio's CityCop released an album in 2017 titled 'The Same Stories That Never Get Old.' One can refer to CityCop as screamo, mathy post-hardcore, or emocore; the truth is, they all apply, and they are all elements of the band's latest songs. Released in July by Small Mammal Records these eleven songs were actually recorded in 2015 in Pittsburgh, Pennsylvania. The band then decided to release the album digitally and on vinyl, with the latter limited to three hundred copies. The vinyl seems to be sold out at this point, but the digital version is still available.
---
The Lillingtons – 'Stella Sapiente'
After what seemed like a period of inactivity for the band, during which frontman Cody Templeman focused most of his time and effort on his primary project Teenage Bottlerocket, Wyoming-based punk band The Lillington's returned with a new full-length on Fat Wreck Chords. Titled 'Stella Sapiente' (roughly translated, it means "wisdom of the stars"), these twelve songs show The Lillingtons taking a slightly different direction sound-wise. It's less pop-punk and more a hybrid of fringe rock and bizarro punk with occasional friendly metal riffs. 'Stella Sapiente' definitely proved a worthwhile album.
---
Choir Vandals - 'Dark Glow'
Released by Animal Style Records this past summer, 'Dark Glow' by the Choir Vandals was just the kind of fresh and highly addictive alterna-pop and indie rock album the world needed. While so much out of that particular scene seemed like so much recycled and regurgitated material that was neither new nor especially good. And while Choir Vandals' sound is reminiscent of a time in music history when new-wave and punk spoke to the counterculture, and then fast forward to the era when alternative had peaked, began its decline, and was forced to take a backseat to indie rock, it is also very much the music of today. The Choir Vandals' 'Dark Glow' was definitely a personal favorite of mine.
---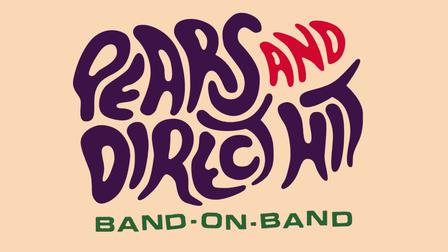 PEARS / Direct Hit! - 'Human Movement'
Two Fat Wreck favorites, New Orleans' punks PEARS and Milwaukee's pop-punks Direct Hit, teamed up for a split on which they each contributed five originals and one cover of their counterpart's material. After PEARS joined Fat Wreck they re-released their debut full-length, 'Go to Prison,' and its follow-up, 'Green Star' (2016). Direct Hit has been equally busy with the label, first releasing 'Wasted Mind' in 2016 and then 'Domesplitter' in 2017. Now there's this split, 'Human Movement,' which is so good that I have listened to it a ton of times and will continue to listen it.
---
Emperor X – 'Oversleepers International'
Chad Matheny (known as Emperor X) is a singer/songwriter whose songs run the gamut from stripped-down acoustic to catchy indie rock to electro-pop to punk, and more. This is one artist who is not content to limit himself to a single genre. Nor is he content to sit still geographically, as he is always crisscrossing the country and oftentimes traveling overseas on tour. Because he has a vision impairment that has left him legally blind, he is not able to operate a vehicle and therefore forced to use public transportation to tour, but that has not stopped his movement. Speaking of overcoming challenges, Matheny wrote the songs from his 2017 album 'Oversleepers International' while battling and ultimately beating an advanced case of testicular cancer. Matheny has no shortage of talent and determination, and that is evident on 'Oversleepers International' (Tiny Engines).
---
Quicksand – 'Interiors'
Emerging from the very active hardcore scene of the early '90s, New York's post-hardcore outfit Quicksand released two great albums, 'Slip' (1993) and 'Manic Compression' (1995), before breaking up in October of '95. Since then the members of Quicksand have reunited for a handful of shows, yet not for an album until they released 'Interiors' (Epitaph) in August of 2017. Fans of bands that haven't released albums in many years often regard the announcement of a new album with some degree of doubt that it will actually be decent. In case of Quicksand's 'Interiors,' the new songs were a pleasant surprise. The ban hasn't missed a beat in terms of chemistry, style, musicianship, and composition. 'Interiors' causes a bit of nostalgia for those who were involved in the hardcore scene in the early to mid '90s, yet their sound remains fresh and relevant. Hopefully we don't have to wait another twenty-two years for another album.
---
All Pigs Must Die - 'Hostage Animal'
All Pigs Must Die is an American supergroup consisting of members of Converge (Ben Koller), The Hope Conspiracy (Kevin Baker), and Bloodhorse (Adam Wentworth and Matt Woods). 'Hostage Animal,' which was released toward the end of 2017 on Southern Lord Records, is the band's third album. Combining grindy hardcore and crusty punk, the band churns out a sound that is brutally heavy and full of dark energy. This is certainly one of the rare instances in which metal and punk are combined exceedingly well.
---
Slowly Building Weapons - 'Sunbirds'
Speaking of bands that combine punk and metal exceedingly well, Sydney's Slowly Building Weapons did so on its latest album, 'Sunbirds,' on the Art As Catharsis label. Slowly Buildings Weapons fuse together elements such as blackened hardcore, experimental punk and indie metal to arrive at a colossal sound that crushes and rips simultaneously.
---
There were a bunch of other notable releases of 2017. I could go on and on. But this is where I should probably wrap things up. Hopefully 2018 will give us even more in the way of awesome releases.