by Pamela Torres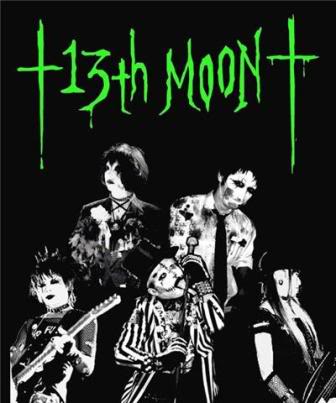 To start off the year 2010 with a bang and a few hexes, I got to conduct an exclusive interview with one of the spookiest and most twisted new bands to come around; a macabre Japanese four-piece called †13th MOON† who are busy posting new songs on their myspace page and promoting their first indie CD "Dance to the Death."
nAo12xu: We are †13th MOON†...the Deathrock fiends from Tokyo... We have been playing together for 3 or 4 years now.
PUNK GLOBE: It seems rare for a psychobilly band like yours to come from Japan. What other artists inspired you to go this route?
nAo12xu: It's funny you said that. Actually, psychobilly bands are not as uncommon as you think in our country. There's definitely a good, strong scene especially here in Tokyo. But just so you know, we DO NOT consider outselves as that kind of band. Rather, we are more in the Gothic, Post Punk vein. Our sound is pretty much routed from groups like The Bauhaus, Siouxsie & The Banshees, Sex Gang Children, Christian Death, 45 Grave. Oh, and we also love dark 80's Anarcho bands like Rudimentary Peni.We all have been in punk projects before †13th MOON† was formed.
PUNK GLOBE: Ah, my apologies! Now, what are your favorite horror movies?
nAo12xu: Halloween,Texas Chainsaw Massacre, Nosferatu, Return Of The Living Dead, and The Cabinet of Dr.Caligali!
PUNK GLOBE: Do you believe in ghosts, witches or the supernatural?
nAo12xu: I don't want to believe it, but I am quite sure they all exist!!
PUNK GLOBE: Alot of your concert footage was shot on video by DJ Sisen who has made a big name for himself in Japan's underground club scene. How did you get to meet him?
nAo12xu: Well,that's easy! We ourselves often do shows around Japanese Gothic scene in the same kind of clubs as Sisen so it didn't take long for us to become friends. We love him for being so supportive. .
PUNK GLOBE: Was it was it like to perform at the Drop Dead Festival in Portugal?
nAo12xu: It was so exciting going to the DDF! It was so much fun! We will be returning to the Drop Dead Festival in Lithuania next summer!
PUNK GLOBE: Do you think the visual kei scene is overrated?
nAo12xu: I can't stand J-rock actually. I never bother listening to it! haha.
nAo12xu: For that, you can visit our myspace and buy it from us directly!!
PUNK GLOBE: Last but not least, is there anything you want to say to our Punk Globe readers?
nAo12xu: Hopefully we can play in America someday, but at the moment we have no real plans to go overseas. Right now we are focused on heading to the 2010 DDF and gaining more followers here in Japan.
Welcome to the darkside! HAHAHAHAHAHAH!!